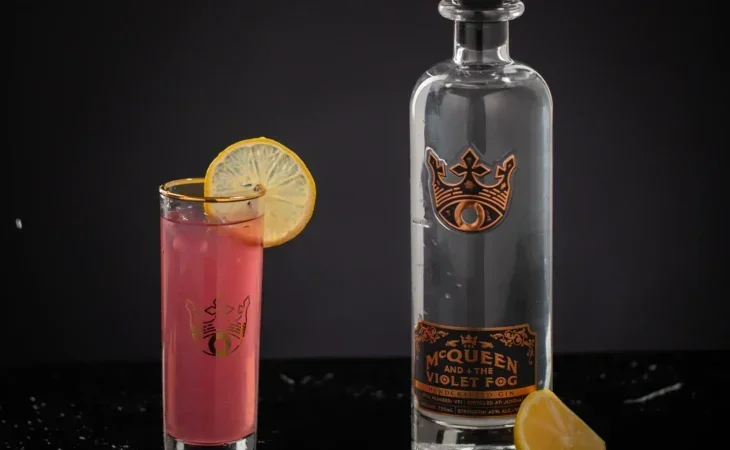 Pimm's is a staple of the British summer (a summer that dramatically swings between heatwaves and downpours). This week's cocktail recipe blends the beloved fruity liqueur with a unique small-batch gin called McQueen and the Violet Fog.
Conversely, McQueen and the Violet Fog isn't produced in the UK where the majority of gins are produced. Instead, it is distilled and bottled in the scenic hills of Jundiaí in southeast Brazil. The gin is distilled in a traditional copper pot still and each batch yields less than 500 liters per distillation. 
The gin has a whopping 21 botanicals (the average number for gin is between six and 10) — a number of which are rarely found in gin. The botanicals are sourced from all over the world, and six of them are the 'signature' botanicals: Hand-picked basil leaves from India bring a peppery aftertaste, fragrant rosemary from Portugal, fennel seed from the Mediterranean adds a touch of spice, calamansi (aka the Philippine lime) from the South Pacific provides citrus notes, star anise from Vietnam adds a licorice flavor, and Brazilian-grown açaí for a subtle hint of dark chocolate.
The botanicals are blended with a 120-proof neutral spirit and steeped for 24 hours, allowing the alcohol to extract the flavor and essential oils. 
The result is a complex yet smooth gin — perfect for sipping over ice. Or, in this case, to create a refreshing thirst-quenching cocktail for a hot summer's day.
[See also: Delicious Cocktail Recipes for World Gin Day]
Ingredients:
2oz McQueen and the Violet Fog
4 oz lemonade
0.5 oz Pimm's
Lemon wedge
Method:
Fill a Collins glass with ice. Add McQueen and the Violet Fog to glass. Pour in lemonade and stir. Add more ice if preferred. With a cold bar spoon, layer Pimms on top. Garnish with a fresh lemon wedge.
See more Cocktail of the Week recipes here.