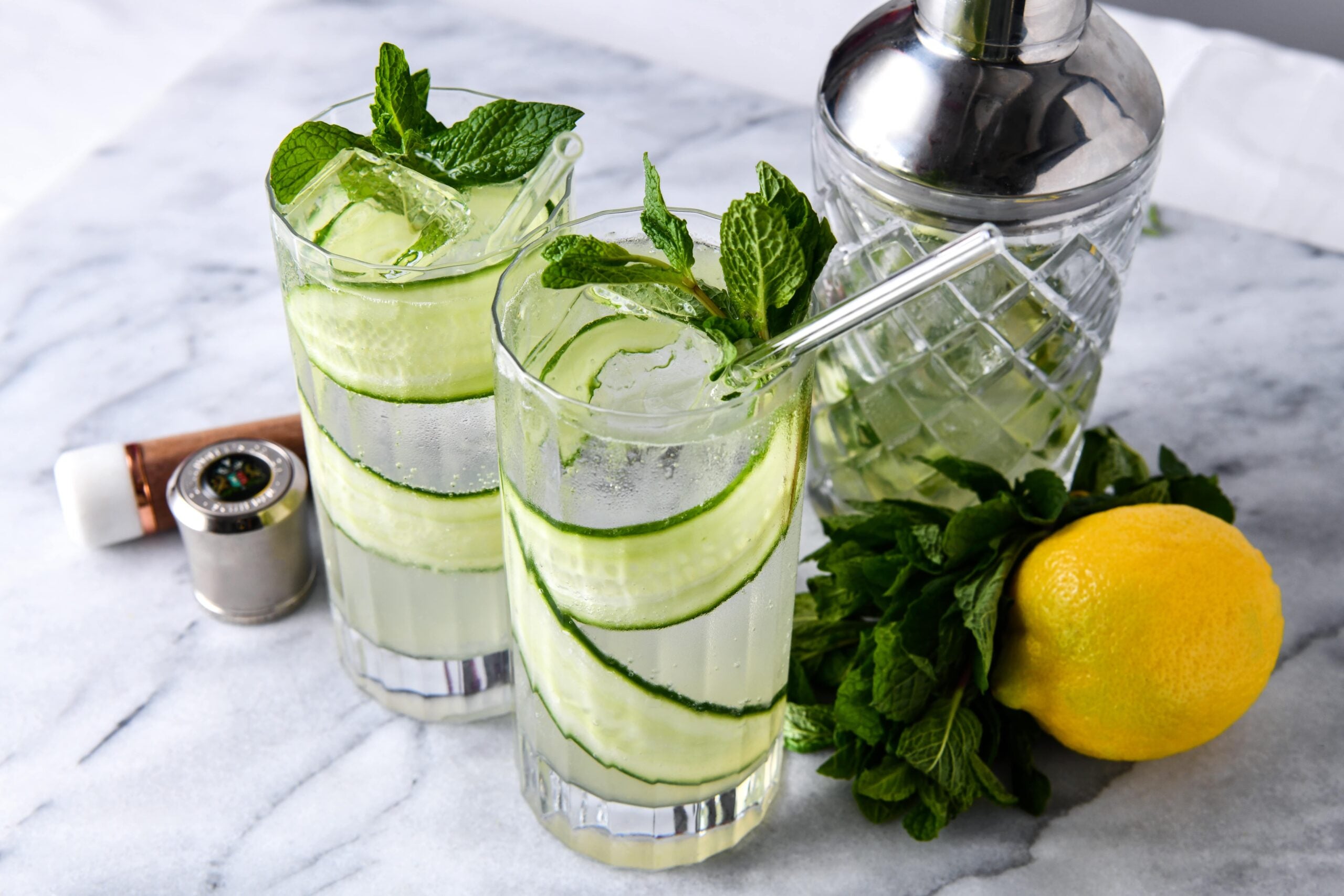 Saturday, June 12 marks World Gin Day – and what better way to toast to the occasion than with a delicious gin cocktail?
Having originally launched over ten years ago by a gin enthusiast in the UK, World Gin Day has now spread across the globe, with gin enthusiasts from all four corners using the occasion to celebrate their favorite spirit. What was first created as a "medicinal" liquid back in the 1700s has now transformed into one of the most commonly drunk spirits in the world. Thanks to a recent rise in popularity among a younger generation, more inventive and ever more premium brands are consistently coming to the market, elevating the status of gin as we know it.
Our favorite recipes come from some of the most revered distillers, brands and bars around the world, with a few classic gin cocktails as well as some more inventive flavor combinations on the round-up.
[See also: Unusual Methods Making Wine and Spirits Sustainable]
The Bee's Knees by Barr Hill Gin
Produced in Barr Hill's Vermont distillery, Barr Hill Gin is an ode to America's hardworking bees, which are so pivotal to our delicate ecosystem. The distillery is focused on sustainability throughout the entire process, using 100% solar energy to power the craft of its gin and working closely with beekeepers to ensure the bees' habitats are protected.
The on-site cocktail bar is dedicated to showcasing the importance of making premium spirits sustainably. As well as using heat repurposed from the distillery to minimize energy usage, the bar is committed to educating its customers on the essential role that bees play and the importance of protecting them.
The award-winning gin is crafted using juniper in a custom-built still before being finished with raw honey which acts as a botanical carrier. The result is a unique gin with distinctive floral notes – perfect for cocktails. And, in true reflection of Barr Hill Gin's dedication to protecting the honeybee, the distillery's best-loved cocktail recipe is the classic Bee's Knees, named after our buzzing insect friends.
Ingredients:
2 oz Barr Hill Gin
¾ oz fresh lemon Juice
¾ oz raw honey syrup
Lemon twist garnish
Method:
To make honey syrup: Mix two parts honey with one part hot water and allow to cool.
Combine ingredients in a shaker, add ice, shake and double strain into a chilled cocktail glass. Finish with a lemon twist garnish.
The Silver Smash by Nolet's Gin
Crafted using a unique and never-used-before combination of botanicals, Nolet's Silver Gin is on a mission to entice a new generation of drinkers – and is quickly becoming one of the nation's favorite premium gins in the process.
Nolet's Silver Gin boasts a captivating fruity yet floral flavor profile, with notes of rose, peach and raspberry all lingering on the palette. The vibrancy of this gin makes it best enjoyed simply. Try it topped with soda water with a touch of lemon, or for a World Gin Day special, try out The Silver Smash, which teams Nolet's with some of gin's most classic pairings: cucumber, mint and lemon.
Ingredients:
1¼ oz Nolet's Silver Gin
¾oz simple syrup
1 oz lemon juice
Soda water to top
Cucumber slices
Mint leaves
Method:
Muddle cucumber and mint with simple syrup and lemon juice in a mixing tin. Add NOLET'S Silver, ice and shake well. Strain into an ice-filled highball glass. Top with soda, and garnish with a sprig of mint and a cucumber ribbon.
The 90th by The Bar at The Dorchester
Created by The Bar at The Dorchester manager Giuliano Morandin to celebrate the iconic hotel's 90th anniversary, The 90th gin cocktail is inspired by the era in which the hotel first opened. As well as featuring some of the most popular ingredients of the 1930s, including gin, sherbet and port, The 90th also draws on Asian flavors in the form of Umeshu – a Japanese plum liqueur.
While most international travel hasn't yet been given the green light, recreating a cocktail from your favorite hotel is the perfect way to toast to World Gin Day at home. The Bar is a true London landmark and has long been known as one of the best, not to mention most discrete, spots in Mayfair, with its fantastic cocktails and impeccable service making it a must-visit when the city welcomes international visitors once more.
Ingredients:
35ml The Dorchester Old Tom Gin
10ml Forbidden Fruit liqueur
5ml LBV Port
5ml Umeshu
20ml pink grapefruit and plum sherbet
Crystal tuille to garnish
Method:
Chill your glass, then fill a cocktail shaker with ice and all of the ingredients. Shake, remove the ice from the glass, strain and pour from the shaker. Garnish with the crystal tuille to finish.
[See also: Cocktail Recipes for National Margarita Day]
The Indigo Aviation by Magellan Gin
Scan the cocktail menu at any of the finest bars in the world and you're sure to find an Aviation. The tried and tested combination of gin, maraschino liqueur, crème de violette and lemon juice creates a deliciously light and floral cocktail, with an impressive violet hue.
Although the core ingredients of this time-honored cocktail recipe are best respected, World Gin Day is the perfect opportunity to experiment with your choice of gin. One of our favorites is Magellan Gin, which is triple-distilled in France and uses orris roots to achieve its distinctive blue color. The gin's peppery notes cut through the usual floral flavors of an Aviation, creating an intriguing take on a classic.
Ingredients:
1½ oz Magellan Gin
¼ oz Creme de Violette
½ oz Luxardo maraschino liqueur
¾ oz Lemon
Method:
Add all ingredients to a shaker. Shake thoroughly before straining into a chilled coupe.
Sunny Cove by Salcombe Gin
Crafted at the brand's waterside distillery in Devon, UK, Start Point is Salcombe Gin's award-winning flagship gin. Distilled using the highly precise London Dry method, Start Point gin leads with classic citrus flavors and is impressively versatile, making it the perfect choice for a refreshing gin cocktail such as the brand's own Sunny Cove recipe.
Start Point uses some of the finest botanicals from around the world, many of which can be traced back to the cargoes carried by the 'Salcombe Fruiters' ships that traveled during the 19th century. Salcombe Gin is immensely proud of its maritime ties, as well as incredibly respectful of the world's oceans. The distillery is committed to donating to the Marine Conservation Society with every bottle of Start Point sold, as well as offering carbon-neutral shipping, using renewable energy and prohibiting plastics.
Ingredients:
1 oz Salcombe Gin 'Start Point'
½ oz elderflower liqueur
Fever-Tree Elderflower tonic water
4 medium strawberries and one for garnish
2 thin slices of cucumber
10 mint leaves
Extra mint sprig
Method: Place 10 mint leaves into a highball glass, fill with ice and leave to one side. In a Boston shaker muddle together the fresh strawberries, cucumber, Salcombe Gin Start Point and elderflower liqueur. Fill with ice and shake vigorously. Double strain the mixture over the ice into the old highball glass. Top up with Fever-Tree Elderflower tonic water and a little crushed ice. Garnish with a sprig of mint and half a strawberry.
The Roldan by High Goal Gin
Taking its name from the sport of polo (which is how the brand's three founders originally met), the all-new High Goal Gin is on a mission to elevate the world of American gin making. The gin has been the product of a years' worth of meticulously tasting and tasting, with the final result featuring the finest botanicals selected from across the country's southern states.
The primary notes of citrus and mint make High Goal Gin impressively refreshing – ideal for drinking at a midsummer game of polo. The clean taste of this new gin makes it best highlighted in a simple cocktail, with The Roldan utilizing the winning combination of strawberry and basil to let the gin sing.
Ingredients:
2oz High Goal Gin
1-2 strawberries
Basil
Method:
Place strawberries in a shaker and muddle(or mash with a spoon). Add gin and ice to the shaker and shake a few times. Pour into a stemless wine glass and finish with basil to garnish.