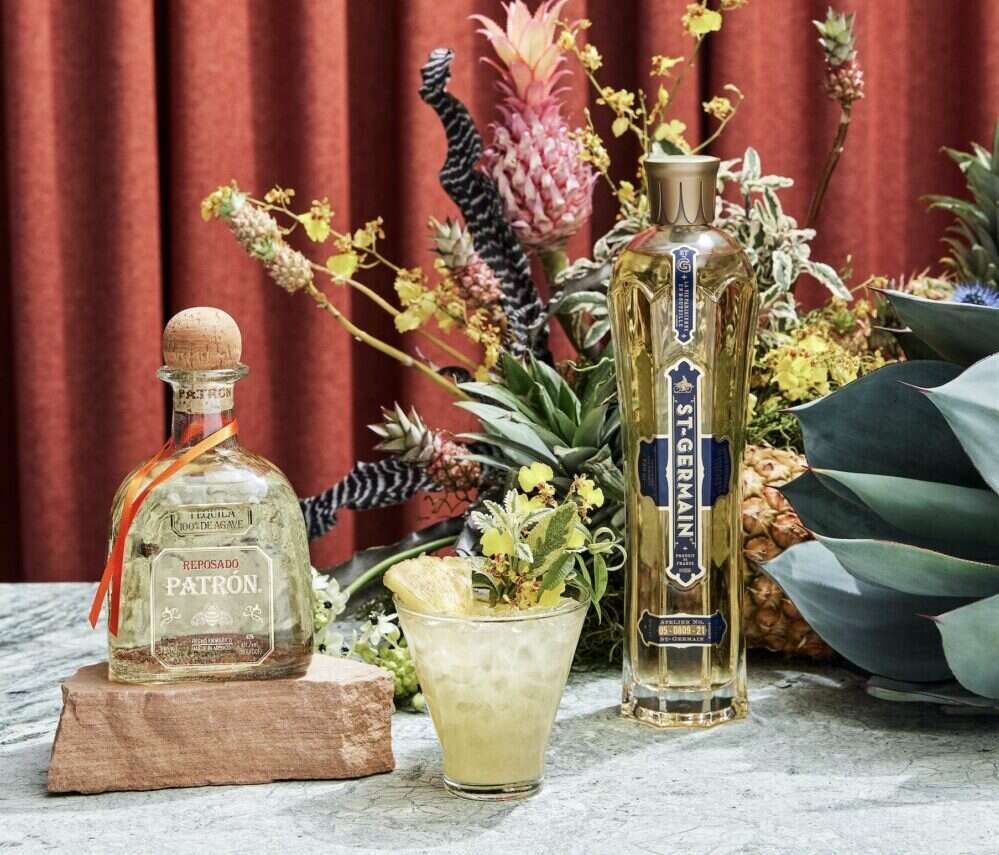 This week's cocktail recipe, the Piña Gardenrita, is the result of a trio of influences. Patrón Tequila and St-Germain Elderflower Liqueur worked with artist and floral maestro Maurice Harris to create the inventive and aesthetically pleasing cocktail. 
Maurice Harris, a Los Angeles-based artist, founded Bloom & Plume, a bespoke floral studio. His vibrant, whimsical arrangements have caught the eye of many an admirer, and Harris is no stranger to working with a number of high-end brands. In this recipe, Harris complements the concoction with a mini bundle of mint, lemon verbena, sage, and camomile blooms. According to Harris, "flowers are one of nature's biggest complements, and I just like to add my two cents." 
The recipe calls for Patrón Reposado, providing a smooth, clean taste with a subtle oaky flavor that goes deliciously with the sweeter elderflower liqueur. Each bottle of St-Germain Elderflower Liqueur is composed of approximately 1,000 elderflower blossoms. The blossoms are hand-picked in the spring, and each bottle is marked with the year in which the flowers were harvested.
[See also: The Story Behind the Challenging Dom Pérignon 2010 Vintage]
Ingredients:

1.5 oz Patrón Reposado

.5 oz orgeat

.75 oz lime juice

.5 oz St Germain Elderflower Liqueur 

.75 oz charred pineapple juice

7-8 leaves of pineapple mint

Pineapple wedge

Pinch of salt
Method:
Add ice cubes to a shaker. Add Patrón, orgeat, lime juice, and elderflower liqueur and shake quickly for four to five seconds. Fine strain over crushed ice in a rocks or collins glass. Garnish with a large spring of pineapple mint and a wedge of charred pineapple if desired. To create the charred pineapple, cut a whole pineapple into spears and discard the tough centerpiece. Grill on open flame or in a grill pan for five minutes.