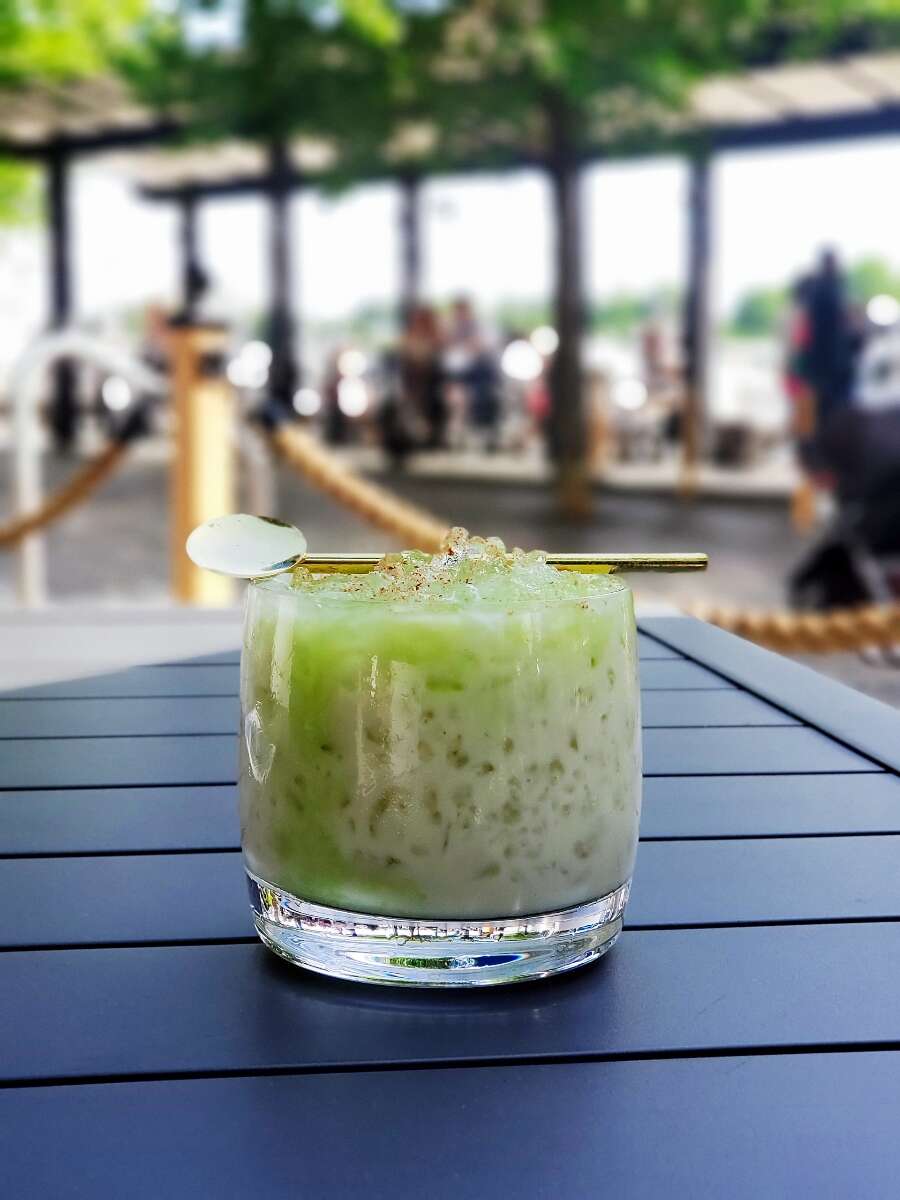 The Sinh To Bo cocktail is a creamy blend of 'avocado cream cordial' and Remy Martin V. The recipe, created by award-winning chef Kevin Tien, is inspired by a Vietnamese avocado shake called 'Butter Fruit Shake,' a must-have for the hot spring and summer months. 
The cocktail is part of a newly launched menu at Moon Rabbit in the InterContinental Washington DC – The Wharf, Tien's latest venture. The restaurant is named for the noble rabbit in the Buddhist Jataka fable, Tale 316. The mythical story sees an old man beg for food, and while other animals gather food for him, the noble rabbit offers its body in sacrifice by throwing itself on a fire in order to feed the man. However, the rabbit was not burnt and the old man reveals himself to be a powerful deity. Touched by the rabbit's bravery and selflessness, the god drew a likeness of the rabbit on the moon. 
[See also: Cocktail Recipes for National Margarita Day]
Moon Rabbit opened in late 2020 and serves reinterpretations of Tien's family recipes; the menu intended as a 'love letter' to Tien's heritage as a first generation Asian-American. Think: Chim cut chien bo (fried quail), a popular Vietnamese street food that Tien batters and fries 'Louisiana-style,' a nod to his time spent growing up in Lafayette, La. There's a personal touch to the restaurant's decor, too — Moon Rabbit is filled with lush plants in homage to Tien's grandmother's own plant-filled home. 
Ingredients:
2 oz Remy Martin V

.75 oz Frangelico
3 oz Avocado Cream Cordial
Avocado Cream Cordial:
2 Avocado

14 oz Condensed Milk

28 oz Whole Milk

14 oz Simple Syrup
To make the avocado cream cordial, combine avocado, condensed milk, whole milk and simple syrup into a blender and puree until smooth. Then, combine all ingredients in a rocks glass and fill halfway with crushed ice. Swizzle and combine components until incorporated. Top with fresh crushed ice and grated nutmeg.
See more Cocktail of the Week recipes here.