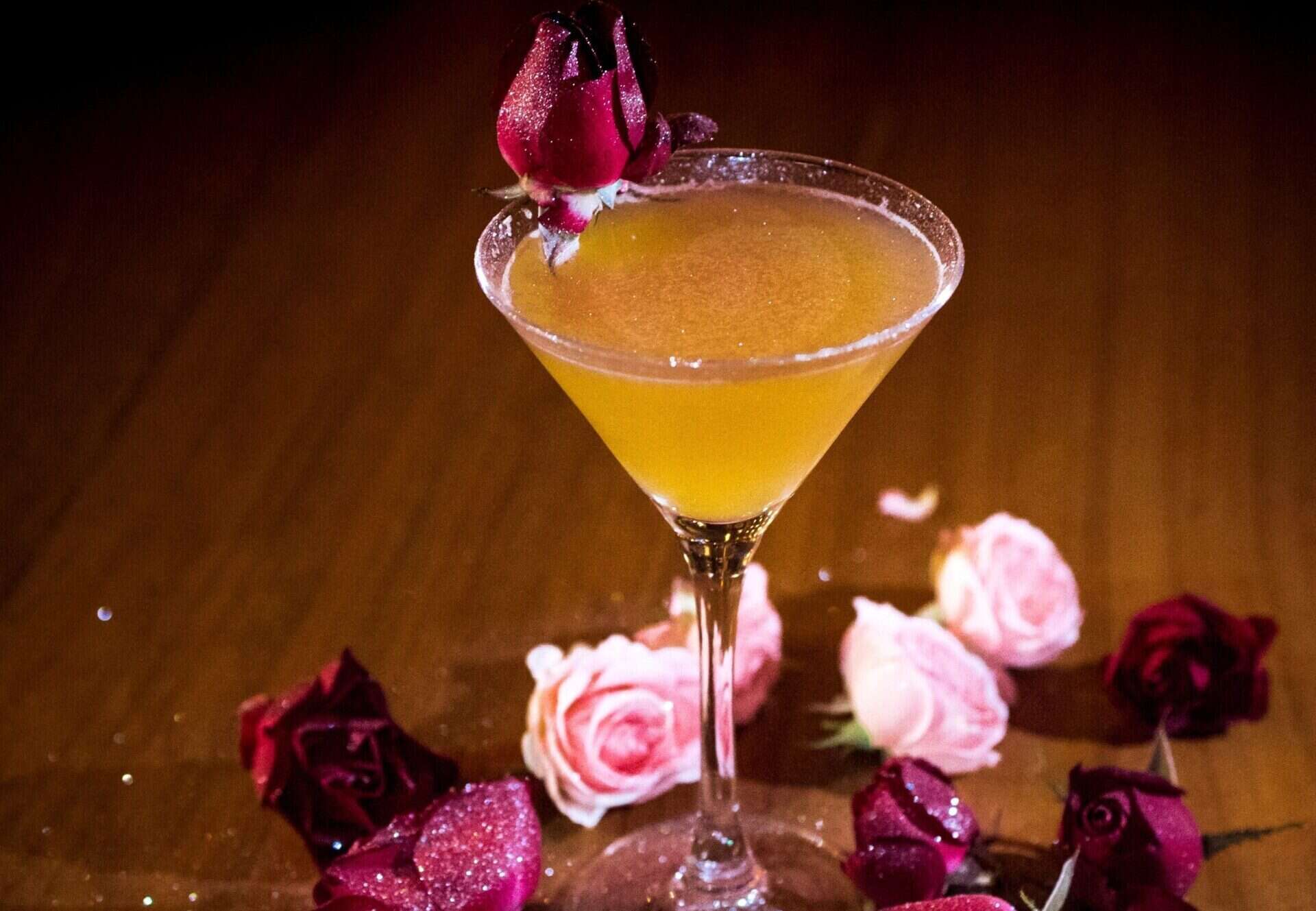 As we know, Valentine's Day 2021 is going to look a lot different than usual. However, whether you're planning a virtual cocktail-making date or organizing a special night in with a loved one, all is not lost: we have compiled our favorite Valentine's Day cocktail recipes from the world's best brands, hotels and bars to help you make this year as special as ever.
Lose One's Heart by Nobu Marbella
Found on Malaga's Golden Mile, which is home to the area's most lavish properties, Nobu Marbella is a sanctuary for couples seeking luxury and privacy. Although the hotel is grown-ups-only, guests are invited to rediscover their playful side and indulge in all the hotel has to offer, from epicurean delights to poolside cocktails – ideal for a romantic getaway.
However, with Covid-19 continuing to limit travel, the hotel is bringing the vacation to you with the release of its Valentine's Day cocktail: Lose One's Heart (pictured above). The cocktail is awash with strong tropical fruits and ginger, with the addition of spicy chocolate and cinnamon from the Brugal 1888 Rum providing extra depth of flavor.
Ingredients:
1 oz Brugal 1888
0.5 oz falernum
0.5 oz lime/yuzu juice
4 oz orange/pineapple juice
Method:
Start by adding the Brugal 1888 to a glass and topping with the falernum. Add the lime and yuzu juice mix before finishing with the orange and pineapple juice. Add to a martini glass with an edible flower or glitter to garnish.
[See also: Luxury Valentine's Day Gift Guide for Him]
La Vie en Rose by Terre Blanche, Provence
Sharing a name with one of the most famous French love songs of all time, La Vie en Rose is a suitably romantic cocktail to enjoy with your loved one this Valentine's Day. Imagined by Terre Blanche Hôtel in Provence, the La Vie en Rose recipe celebrates the best of French ingredients. From Perrier and Monin to St. Germain and of course champagne, this cocktail is about as French (and as romantic) as it gets.
A tribute to Art de Vivre, translating into "the art of living," which is the French practice of enjoying life to its fullest, Terre Blanche's Valentine's Day cocktail delivers a much-needed message in a decidedly unusual year.
Ingredients:
1 oz vodka
4 oz St. Germain liqueur
2.5 oz Monin rose syrup
6.5 oz Perrier
1.5 oz Mumm rosé champagne
Method:
Place ice cubes in the shaker to refresh it. Then add the vodka, St. Germain and the Monin rose syrup. Close the shaker and shake for a few minutes. Pour into a cocktail glass of your choice before topping with Perrier and rosé champagne.
Black Velvet by Lobos 1707 Mezcal
Intended to ignite flames this Valentine's Day, Lobos 1707  has released a self-proclaimed sultry cocktail recipe in time for the holiday. The newly launched spirit brand uses a unique aging process to create its mezcal that results in a smoky yet smooth flavor, with just a subtle hint of spice.
Teaming Lobos 1707 Mezcal with red wine and apricots makes for an unusual but intriguing combination, perfect for an experimental cocktail masterclass date at home.
Ingredients:
1.5 oz Lobos 1707 Mezcal
0.75 oz red wine syrup
0.75 oz lemon juice
1 bar spoon of apricot jam
1 dried apricot
Method:
Combine all liquid ingredients and apricot jam with ice in a shaker. Shake thoroughly before straining and then serve in a rocks glass. Garnish with a dried apricot.
[See also: Luxury Valentine's Gift Guide for Her]
Blushing Rhum by Rhum Barbancourt
With the aim of encouraging lovebirds to try cocktail making at home, Rhum Barbancourt has released an easy-to-follow yet impressively delicious Valentine's Day cocktail recipe. The Blushing Barbancourt calls for Rhum Barbancourt Réserve Spéciale, which is distilled in Haiti from pure sugar cane juice before being aged for eight years in Limousin oak.
The result is a powerful and complex flavored rum with rich aromas including fruit, vanilla and pepper that is equally enjoyable when sipped alone or used in a cocktail.
Ingredients:
2 oz Rhum Barbancourt Réserve Spéciale
1 oz fresh lemon juice
1.5 oz simple syrup
1.5 oz diced cucumber
1 large strawberry
Method:
Muddle cucumber and strawberry in a cocktail shaker, then add the remaining ingredients and shake vigorously with ice. Strain over fresh ice into an old-fashioned glass and garnish with a strawberry slice.
The Yucunaí by Grand Residences Riviera Cancun
Tucked in an old Mexican fishing village, Grand Residences Riviera Cancun is a hidden coastal treasure with more than just a touch of luxury. With expansive views across the ocean, the resort is a sought-after destination for travelers seeking a romantic getaway. However, for those unable to travel this Valentine's Day, the resort's bar team has shared the recipe for its signature Yucunaí cocktail (meaning love drink).
Mixing tequila, pomegranate and honey with just a touch of chili, the Yucunaí cocktail promises to transport you and your loved one to more exotic settings.
Ingredients:
1.5 oz tequila
Pomegranate seeds
2 oz cranberry juice
A dash of agave honey
Orange and Tajín chili to garnish
Method:
Macerate one tablespoon of pomegranate seeds in a shaker until juice is obtained before adding the rest of the ingredients and mixing thoroughly. Serve on the rocks with a slice of orange, Tajín chili and pomegranate.
See more of our Cocktail of the Week recipes here.