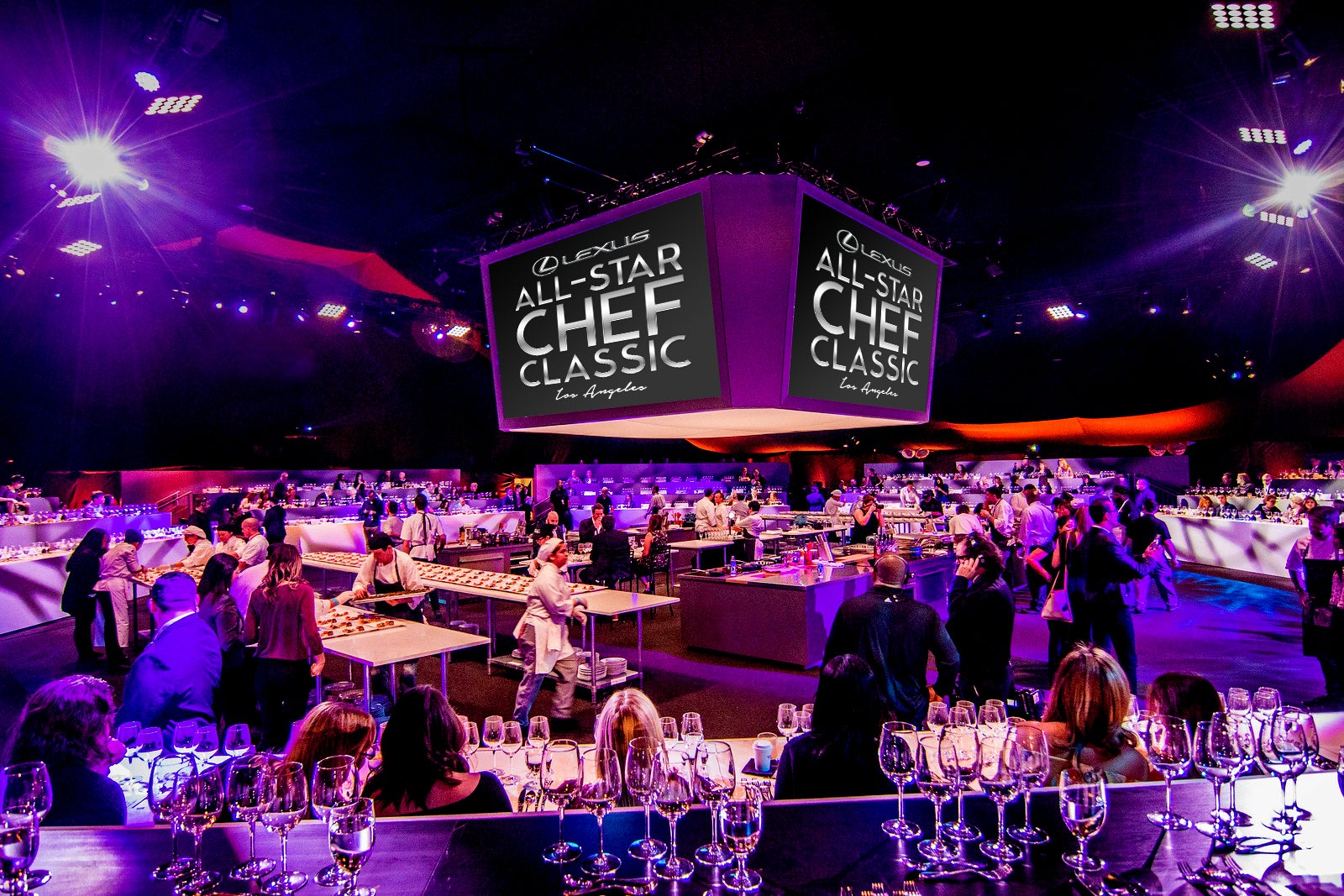 Returning for its sixth year to Los Angeles, the Lexus All-Star Classic hosts some of the world's best chefs through interactive, multi-course dinners and exciting experiences.
Sponsored by Lexus and LA Live, the four-day festival welcomes Lexus owners, car aficionados and culinary connoisseurs to enjoy many multi-course dinners and a chance to speak with their favorite chefs. The festival is hosted at the custom-designed Restaurant Stadium, the venue is specifically designed for this one-of-a-kind event that successfully engages the 300-seat venue and treats them to a kitchen-side experience. The result is a fun and interactive evening where chefs can walk between the tables to speak to guests enjoying the meals. Also throughout the weekend, the Chefs Tasting Arena will host 18 chefs from around the world with booths. Families can walk around each in an open market-style setting tasting bites from all over the world.
During the weekend, Master dinners will be hosted each night: October 2 is the French Masters Dinner with a curated selection on French wines and a lesson on cooking traditions; October 3 is the Spanish Masters Dinner; October 4 is the fine-dining Korean Masters Dinner and Carneval, which brings together 18 chefs to try their hand at making a spectacular meat dish; October 5 is the Italian Masters Dinner and Grill & Chill, where chefs create their best seafood dishes. These dinners will be hosted in the Restaurant Stadium.
Chefs in attendance include Lexus Culinary Masters Stephanie Izard, Daniel Boulud, Ludo Lefebvre and Michelle Bernstein. In addition to attending the festival, even being chosen as a Lexus Culinary Master is an honor in its own right: Lexus hand selects each chef based on their attention to detail, innovative techniques and unique serving experiences they bring to guests.
There are two levels of tickets available: general tickets for the seated Masters Dinners and a Platinum VIP ticket for a more elevated experience closer to the Restaurant Stadium's kitchen.
For more information, visit lexusallstarchefclassic.com