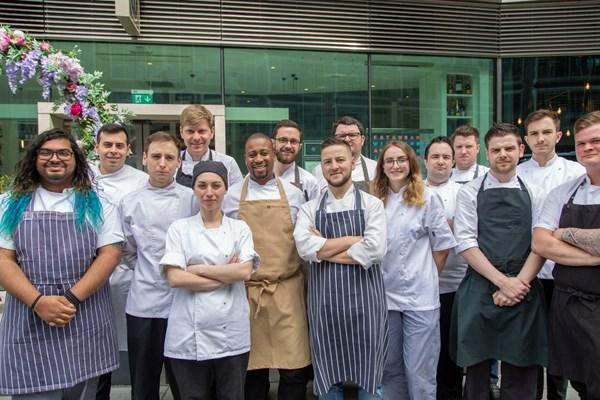 Matthew Hurry has been named M Restaurants' Young Chef of the Year 2019 following a summer-long competition involving 16 of the United Kingdom's biggest culinary talents.
Hurry, a 26-year-old sous chef at Hotel Café Royal's Laurent restaurant in London was announced as the winner of the coveted award last week during a night of celebration at the renowned M Victora Street.
The competition is only open to chefs aged under 30 and each of the 16 competitors were charged with the task of creating a menu that displayed world-class culinary talent but was also commercially viable.
Their menus were then served to and scored by a group of expert judges including James Knappett, Adam Handling, Alyn Williams and Sabrina Gidda, as well as members of the public over the course of 16 nights. The four chefs with the highest scores were invited to the final gala dinner.
Hurry was joined in the final by fellow Londoners Luke Bryan of Kricket, Jordan Kerridge of The Stafford London and Jamie Warley of St Ermin's Hotel. They each served their choice of dish from the menu that they created before Hurry was chosen as the winning chef.
Hurry presented a poached lobster with lobster bisque and coral, following Bryan's cuttlefish with Goan sausage. Kerridge served South Downs lamb with peas, mint and glazed carrot for the main before, Warley brought proceedings to a close with a dessert of celeriac parfait, caramelized banana, truffle and bacon.
The winning menu from Hurry also included ingenious dishes such as a chilled courgette velouté with a peppermint emulsion, and a pineapple and rum upside-down cake.
This is the third installment of the M Young Chef of the Year award, which was first created to celebrate cooking talent in the UK. Hurry received a trip to the Champagne region of France courtesy of event sponsors Pommery.