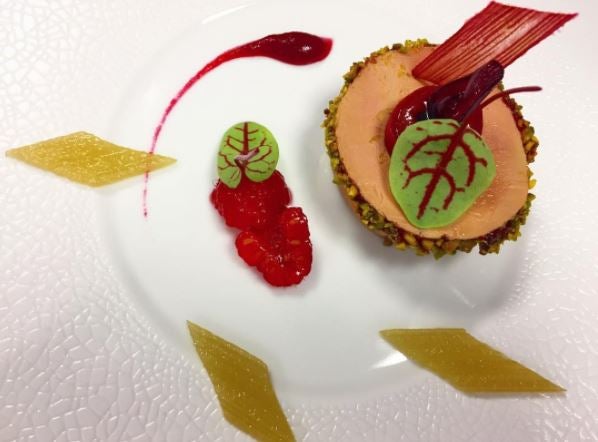 Choosing the best restaurant in Paris can be challenging when there are so many Michelin starred dining venues to take in, so we've selected some of our favorites. We take a look at some of the most outstanding Michelin restaurants in Paris to seek out on your next visit.
Pierre Gagnaire
At Pierre Gagnaire, dishes exhibit the culinary experimentation the revered chef Gagnaire is so famous for. Lavish multi-course meals here are introduced with a amuse-bouches that whet the appetite for what is to come, from egg ravioli and ricotta with apple, to fish in a cauliflower jelly and glazed monkfish.
Lasserre
Lasserre's rich history is definitely a part of the dining experience here. Audrey Hepburn, André Malraux and Salvador Dali were regulars, it harbored Resistance fighters during the war, and it was while dining with Malraux that Marc Chagall decided to paint the ceiling of the Opera Garnier. But its illustrious past comes second to the food; chef Christophe Moret–formerly of Plaza Athénée–and pastry chef Claire Heitzler, create flavorful plates worth traveling for.
Saturne
Incorporating wood, metal and stone, with bouquets of flowers and an open kitchen, Saturne is an inviting space to dine within. And the cooking shows a similar talent for detail and harmony with flashes of inspiration; the chef and the sommelier, Sven Chartier and Ewen Lemoigne, work hand in hand to pair fine ingredients with natural wines. At dinner, guests can tuck into a six-course tasting menu, which showcases the way this restaurant balances energy with elegance.
David Toutain
Restaurant critics have consistently praised chef David Toutain's eponymous restaurant since it opened in December 2013. Toutain attracted considerable attention in the kitchens of Agapé Substance, before taking a break from the capital for some culinary adventures around the world. The grand opening in December was therefore bolstered by a sense of homecoming.
La Table du Lancaster
A stone's throw from the Champs Elysées but a world away from the crowds, La Table du Lancaster is hidden away in the luxurious Hôtel Lancaster, and as discreet as it is enchanting. This two Michelin-starred venture was run for many years by Michel Troisgrois who has three stars at the Maison Troisgros in Roanne, but in November 2012 was passed to the executive chef Julien Rocheteau. The décor is timeless and immune to the capital's trends.
For more inspiration on where to eat on your travels, take a look at the world's Top 100 Restaurants.