Set on a private stretch of beach in Watch Hill, Rhode Island, Ocean House, a Relais & Châteaux and Forbes AAA Five-Diamond property, is one of New England's finest (and historic) properties. First opened in 1868 just after the Civil War, it soon became the elite escape for distinguished families. The Victorian hotel still retains its notable yellow facade and houses artifacts and restored furnishings from the decades.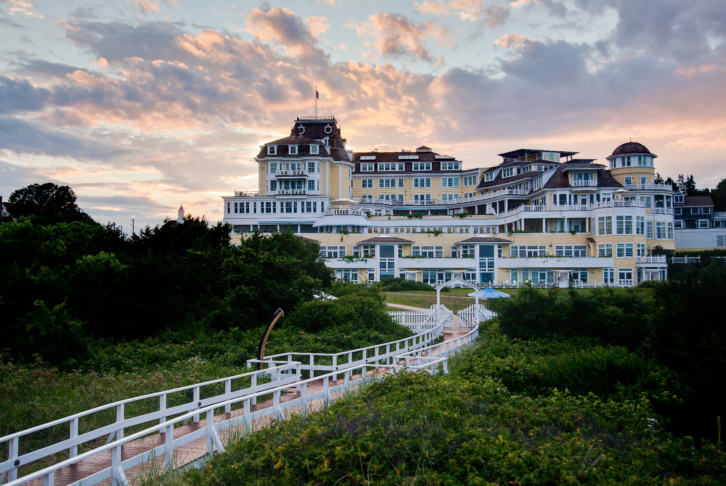 On May 2, Ocean House will expand its culinary programming to include a three-part series Farm + Vine: Women & Wine experienceas part of their renowned Center for Wine & Culinary Arts program. Hosting three dinners over the course of the summer, acclaimed female chefs and vintners from around the country will host the intimate events to provide unforgettable experiences for Ocean House guests. Guests will sip on varietals from female-owned wineries at the Center for Wine & Culinary Arts before sitting down for a three-course dinner at newly opened Coast, the state's only Five-Diamond restaurant.
Kicking off the May 2 event is chef Anita Lo (her New York City-based restaurant, Annisa, held a Michelin star for nine consecutive years). Lo will present her dishes with Catena Wines, led by Laura Catena who is based in Argentina.
The next event on June 13 welcomes chef Gaby Dalkin (you can view her creations via Instagram, @WhatsGabyCookin). This dinner will be paired with Chêne Bleu wine.
The final dinner on September 5, Barbara Lynch, a Boston-based chef with seven culinary restaurants and shops will prepare a delicious meal paired with La Sirena wines.
During these dinners you'll get to mingle with the chefs, vintners and likeminded guests as you celebrate these womens' accomplishments and dine on delectable bites. Exciting opportunities, including getting signed copies of chefs' books and other special gifts, will be presented at each dinner. Reservations are currently being taken and dinners will begin at 7 p.m.
From $135 per person, +1 855 318 6102, oceanhouseevents.com 
Photos: Ocean House
More from Elite Traveler