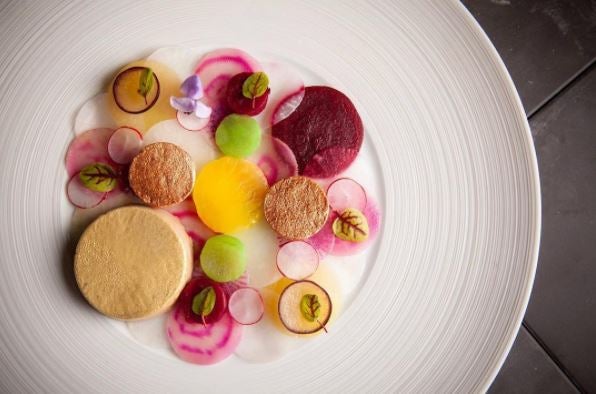 By Lauren Jade Hill
Combining a bounty of premium local produce with the city's international influence and thirst for creativity, Amsterdam has an abundance of outstanding dining spots. A select few of these then set themselves apart under the expertise of world renowned chefs, and a price that matches the elevated dining experiences they afford; we take a look at the most expensive restaurants in Amsterdam that are most worth paying a visit to.
&Samhoud Places
Drawing on the philosophy that gastronomy has the power to inspire and connect people, ultimately making the world a better place, service specialist Salem Samhoud joined forces with chef Moshik Roth to open the fine dining restaurant &Samhoud Places. Awarded two Michelin stars just three months after opening, the restaurant was quick to establish its place on the city's dining scene with its creative fine dining plates; for the best experience, go for the Inspiration Menu at $190, which encompasses dishes like Butterfly Inspired by Damien Hirst combining goose liver, blackberries, almond and hibiscus, and From the North Sea combining turbot, radish, dashi, kombu, tanaisie and hibiscus.
Ciel Bleu
Located on floor 23 of Hotel Okura Amsterdam, the two Michelin starred restaurant Ciel Bleu commands views over the city, with elegant interiors of muted tones and contemporary chandeliers. Here, the seasonal cuisine of chefs Onno Kokmeijer and Arjan Speelman take diners on a culinary tour of the world through international flavors. The local seafood, cheese, vegetables, herbs and flowers are brought together with premium ingredients from across the globe, then paired with wines from organic and biodynamic boutique wineries in the Old and New World. The Tasting Menu of dishes like king crab with Baeri caviar, ice cream of beurre blanc and preserved lemon costs $180, with an additional $107 for wine pairing.
Bord'Eau
Tucked into the Hotel De L'Europe Amsterdam, the two Michelin starred restaurant Bord'Eau showcases the cuisine of award-winning chef Richard van Oostenbrugge who takes exceptional ingredients from the surrounding land and sea to create a culinary journey for guests. The degustation menu incorporates nine courses, with dishes such as veal tartare with potato 'os a moelle', smoked herring and Kaluga caviar, and langoustine poached in duck fat with katsuobushi Albufeira and coffee. This tasting menu costs around $144.
For more inspiration on where to eat on your travels, take a look at the world's Top 100 Restaurants.