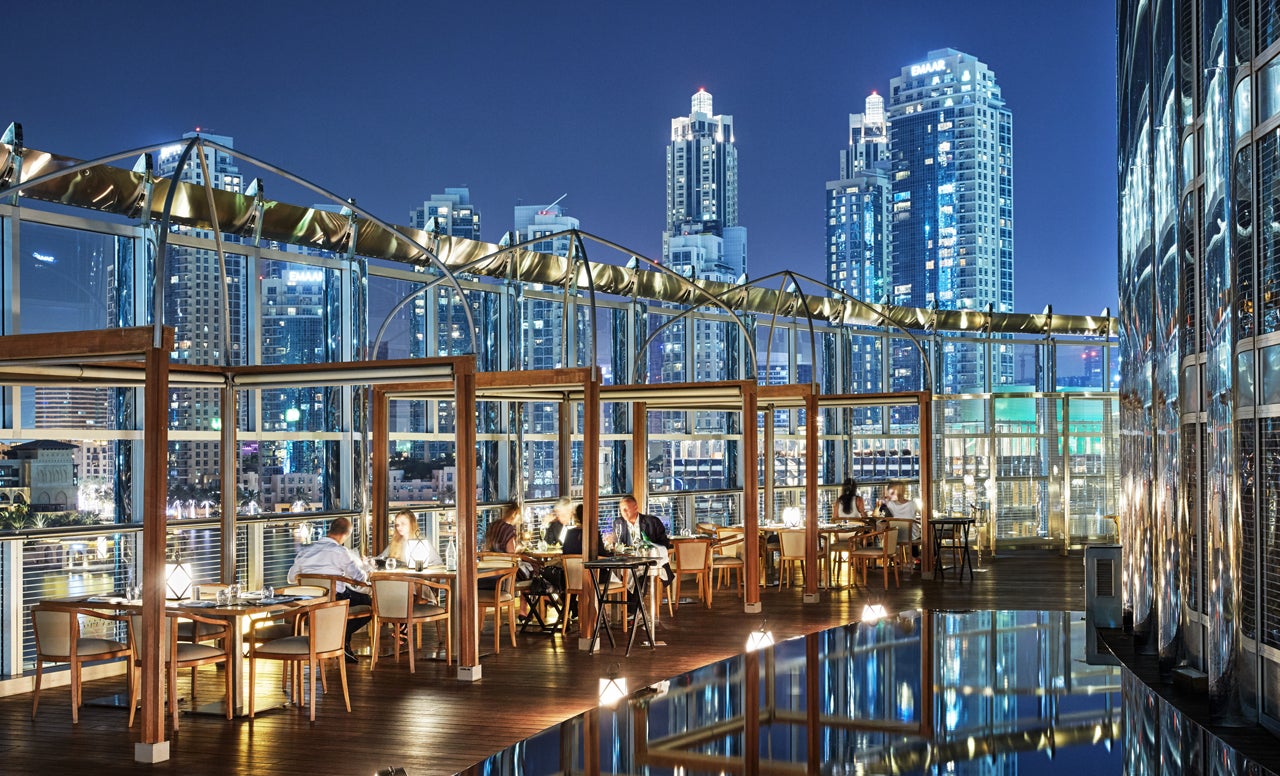 While Dubai has yet to receive a Michelin Guide, the bustling city is at no loss for fine dining restaurants. As the largest city in the UAE, Dubai is a global destination drawing in travelers from around the world to remark at its stunning architecture and high-end hotspots. International cuisine abounds in this Middle Eastern hub, but its native dishes are at the heart of Dubai. See our picks of the best Indian restaurants in Dubai.
Bombay Brasserie
The luxurious Taj hotel's signature restaurant, Bombay Brasserie, serves up a mix of classic and contemporary Indian cuisine from an open kitchen. The bold flavors found in the food are complemented by vivid interior decor. Chef de Cuisine Ajay Negi incorporates modern techniques to craft traditional dishes in an exciting way.
Armani/Amal
In the sophisticated Armani Hotel Dubai, Armani/Amal provides dinner with a stunning view of The Dubai Fountain and Downtown Dubai. The restaurant emphasizes authenticity, honing in on regional cuisine and upholding traditional cooking methods. From curries to tandoor specialities, dishes are meant to be shared and can be paired with beverages while you listen to the sounds of India from live musicians.
Indego by Vineet
Under Michelin-starred Chef Vineet Bhatia, Indego brings the best of Indian cuisine to Dubai's two-towered Grosvenor House. Vineet is renowned for his innovative approach to Indian cuisine, applying these techniques at his restaurants in London and Geneva as well as with the in-flight dining he oversees for Qatar Airways. The menu offers a variety of starters, vegetarian options and contemporary Indian courses as main dishes. The sharing menu features lobster tikka masala, rogan lamb shank and goan fish, while a biryani selection includes prawn and wild mushroom among others.
Mint Leaf of London
What began in London as an Indian dining group has made its way back across to Dubai as Mint Leaf of London restaurant. On the 15th floor of the Emirates Financial Towers, South Tower, Mint Leaf offers a contemporary take on traditional Indian cuisine. Authentic flavors are enhanced by elegant plating in this fine dining restaurant, designed with dark slate and henna-inspired accents. For the full experience, order the vegetarian or non-vegetarian tasting menu and dine on tarragon roasted paneer tikka and tandoori prawn makhni while you look out over the dazzling Burj Khalifa.
Tresind
Housed in the Nassima Royal Hotel, Tresind is a favorite for its upscale atmosphere and gastronomic expertise. Its name, a compound word for "très India," shows its dedication to the regional cuisine. The restaurant offers guests the option of a shared menu or a seasonal a la carte menu, featuring items like deconstructed pani puri and wild mushroom chai. Enjoy the molecular gastronomy of Tresind while taking in views of the Burj Khalifa and Sheikh Zayed Road.