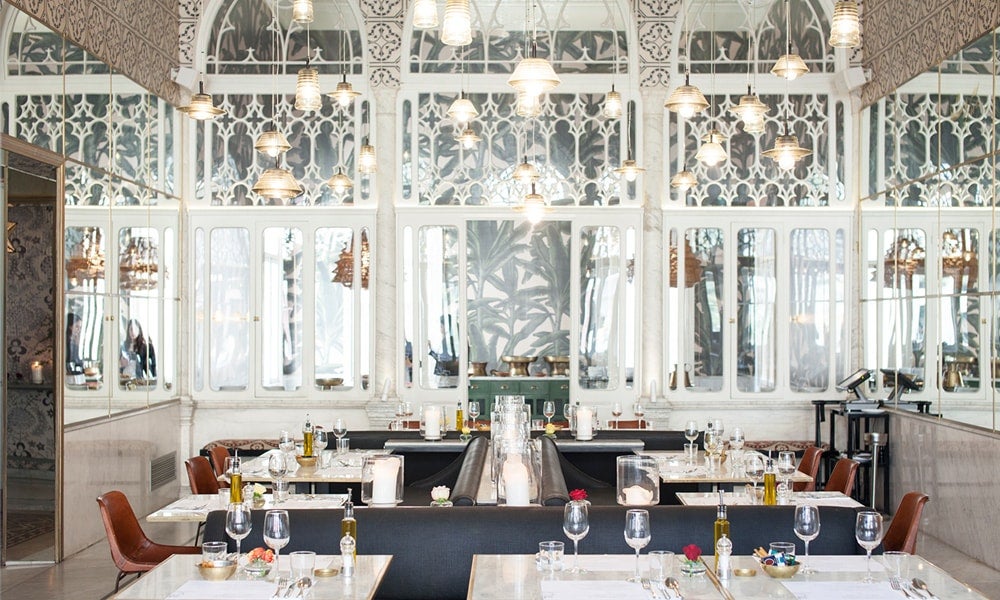 One of the oldest cities in the world, Lebanon's capital Beirut has established a dining scene that draws on its ancient history. Today's Lebanese cuisine features traditional ingredients like Middle Eastern herbs, garlic, lemon juice and olive oil. Beirut's position on a peninsula in the Mediterranean Sea allows for fresh seafood to serve as a staple in local dishes, flavored with regional spices for distinct Lebanese flair, though the seaport has also created a way to introduce international cuisine to the city. These are our picks of the best restaurants in Beirut.
Em Sherif
In the Achrafieh district, Em Sherif restaurant is fine dining of the old world. The decor recalls that of a lavish, antique mansion in the Oriental style. A seasonal menu encompasses local delicacies from manakish zaatar to lahme mechwiye. After an elegant meal, head out to the terrace for a shisha (hookah) as part of the traditional experience.
Babel Bay
Beirut's newest luxury destination, Zaitunay Bay, sits on the Beirut Marina for easy access by yacht. The entertainment district is home to 18 shops and restaurants, including the innovative Babel Bay. Focusing on Lebanese cuisine, Babel Bay incorporates the fresh seafood at its fingertips into the flavorful dishes.
Liza
Modern yet elegant, Liza boasts a serene airiness where Lebanese cuisine can be savored. Signature dishes include lamb shank confit, citrus marinated chicken and shrimp with fennel, tomato, bulgar and arak. The extensive menu also includes an array of hot, cold and barbecue dishes as well as sharing menus for four or more guests. Sip Liza's "Cocktail of the Month" while indulging in this upscale version of traditional cuisine.
Centrale
For a taste of France in Beirut, reserve a table at Centrale. When the weather permits, guests can dine in the rooftop bar and pair dishes with classic and signature cocktails. The restaurant also features a high-ceilinged dining room boasting a 1,500-bottle wine cellar as well as an air-conditioned garden where you can dine on seasonal French fare among gardenias.
facebook.com/pg/centralebeirut
Indigo on the Roof at Le Gray
Atop the Le Gray Beirut hotel, Indigo offers a stunning outdoor terrace for dining under the Lebanese sun by day and in view of the city lights at night. The Mediterranean-inspired menu is comprised of meat and seafood dishes, from Thai baked sea bass to the signature beef wellington. Each Friday, Indigo offers a barbecue menu with surf & turf as well as iced shellfish. Indigo's generous wine cellar has won numerous awards, making a glass enjoyed alfresco a must.