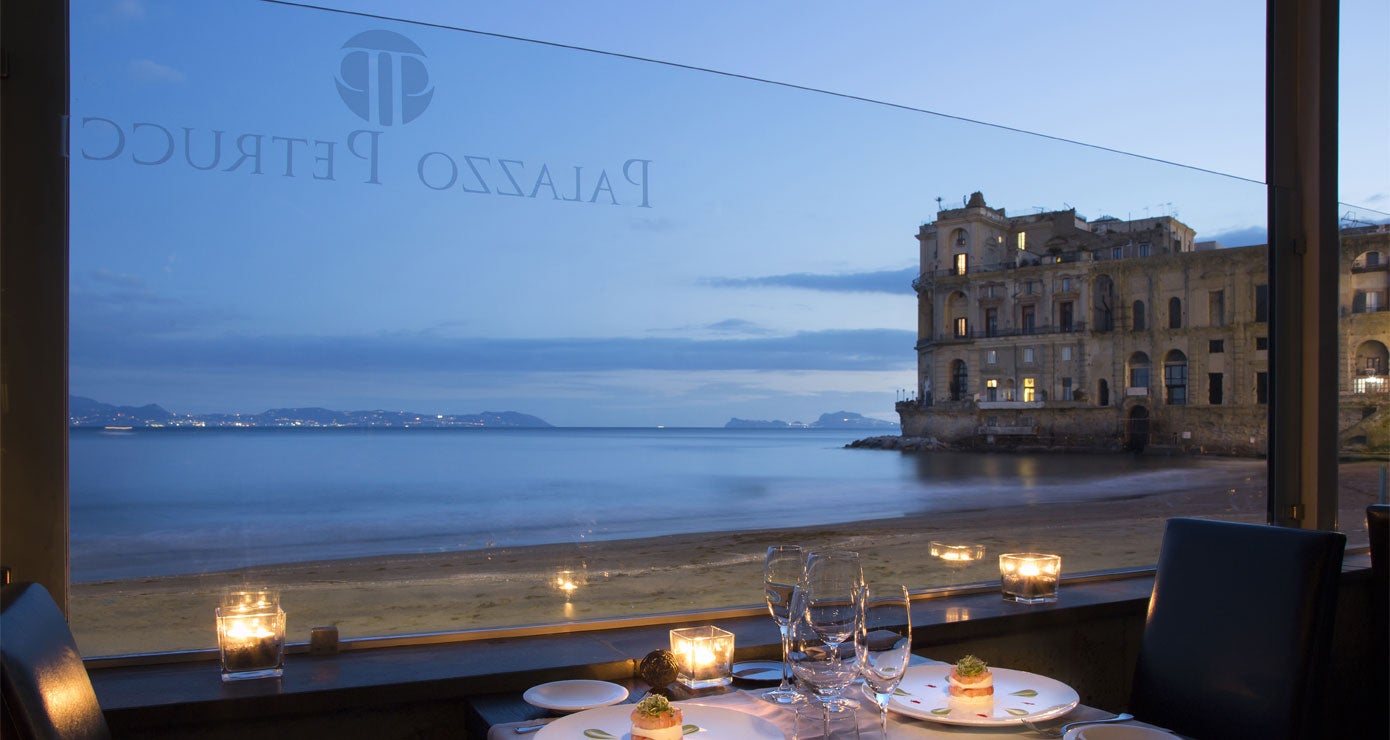 Neapolitan ice cream, Neapolitan pizza. Campania's capital of Naples is famous for its regional cuisine. Dean Martin sang the praises of Naples in his hit, That's Amore, crooning about the birthplace of pizza, but its coastal location means restaurants serve the best pizza as well as the best seafood around. Whether you're eager to try a local delicacy like spaghetti with ragù sauce, or are craving a fresh fish dish, these are our picks of the best restaurants in Naples.
Il Comandante
Awarded one Michelin star in 2012, Il Comandante is Romeo hotel's fine dining restaurant overlooking the Bay of Naples. Chef Salvatore Bianco crafts Italian cuisine that brings together the flavors of Naples with international influences. Il Comadante means 'the captain' in Italian, and that nautical spirit is evident in the waterfront restaurant's decor. For the menu, main courses range from mullet with scallops to anise marinated pigeon. Or, opt for the six- or eight-course menu with Chef's choice for a comprehensive experience.
Palazzo Petrucci
Formerly housed in the old stables of historic Palazzo Petrucci at Piazza San Domenico Maggiore, the restaurant relocated to the Villa Donn'Anna beach in Posillipo. The new setting offers gorgeous beachfront views with refined interiors designed by architect Alfredo Galdi. Guests can watch Chef Lino Scarallo at work in the restaurant's open-plan kitchen where exquisite lasagna with buffalo mozzarella and marinated prawns are cooking up. Choose a wine from nearly 600 labels in the glass cellar, both local and international, that can be seen from the sleek dining room. There's also a gourmet pizzeria onsite for a taste of the city's most famous dish.
Veritas
With one Michelin star, the menu at Veritas changes with the season. The focus is on fresh seafood sourced from local fishermen, paired with homemade breads and desserts. Select appetizers, first dishes, main courses and dessert, or opt for the tasting menu to sample a bit of it all. Veritas' wine cellar abides by the 'Giancotti method' of making every wine on the list available by the glass so that guests are able to try different expressions with Chef Gianluca D'Agostino's dishes in an artsy atmosphere.
Sud
With its name literally translating to 'south,' it's no surprise that Sud restaurant has Southern Italy at its core. Holding one Michelin star, Sud offers a tasting menu composed by the chef and consisting of two starters, a first course, second course and dessert that highlight Southern Italian cuisine. Award-winning Chef Marianna Vitale also presents a seven-course menu of her choosing that can be paired with wines from local vineyards
Taverna Estia
Chef Francesco Sposito developed a passion for cryogenic cooking that has since found a place at his family's restaurant, Taverna Estia. In 2016, the restaurant earned its second Michelin star for its gastronomy-centered cuisine. Guests can choose from three tasting menus: Campaia, Campare and Expression of search. The additional Impressions section of the menu represents travels with dishes like smoked artichokes stuffed with foam of pecorino, fried cod dish and homemade ravioli with pork ragù. Honoring the tradition of Neapolitan coffee, Taverna Estia also features a coffee from the world menu with various selections to savor.