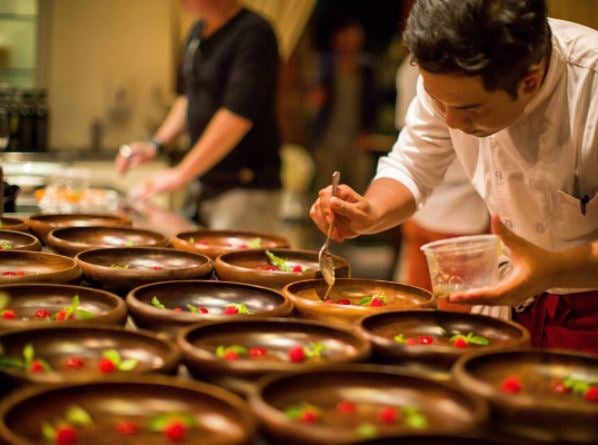 By Lauren Jade Hill
With its bountiful local produce, rich culinary identity and wealth of breathtaking scenery, Bali has an abundance of outstanding places in which to sample the island's fare. We take a look at the seven best restaurants in Bali for both local and international cuisine.
Locavore
As its name suggests, this fine dining restaurant in Ubud places the focus on the produce that's so abundant in Bali. Using sustainably sourced ingredients such as the local spiny lobster, oysters from Sumbawa Island and Balinese abalone, the chefs create multi-course set menus named Locavore and Herbivore, while incorporating influence taken from Indonesia and Europe into each fine dining plate. Dishes include smoked catfish with pineapple, Kerang Darah clams, kale, cucumber and spicy Batak sauce.
Mozaic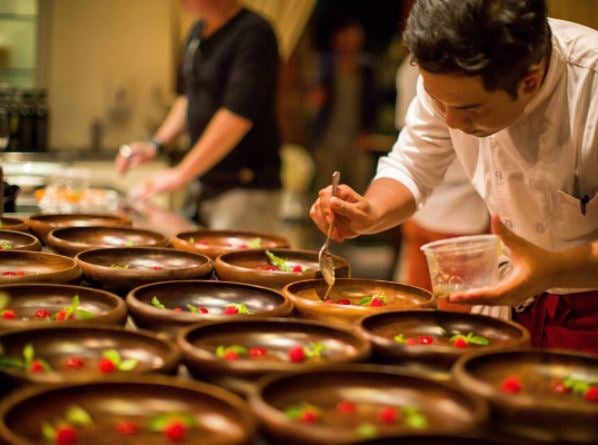 On entering along a walkway through tropical gardens, guests arrive in Mozaic's atmospheric dining space amid tropical flora. Here, chef Salans creates an ever-changing menu that reflects his inspiration as well as the flavors of the season. By foraging ingredients from Bali, using produce from the sea, and sourcing some of the world's finest ingredients, Salans prepares multi-course degustation menus with dishes such as Gindara carpaccio smoked to order with Balinese rice husk, fresh cumin leaf and seaweed crisp.
Kaum Bali
With a name that translates to 'clan' or 'tribe', Kaum strives to provide an authentic Indonesian dining experience by using indigenous cooking techniques and exotic ingredients from small-scale producers. The interior of Kaum Bali is then designed to impress with a long communal table running down the center of the space, based on the way tribes traditionally eat together, with walls panels that have been stamped with motifs and bespoke ceramic tableware. Reflecting Indonesia's heritage, the menu includes dishes such as gohu ikan tuna: fresh tuna marinated in coconut oil, calamansi juice and fresh belimbi with kenari nuts and ginseng leaves.
Sundays Beach Club
Located on the white sand shores of Bali's Bukit Peninsula, Sundays Beach Club is an idyllic spot for ocean-view dining. Created by acclaimed Australian chef James Viles, the menu here utilizes fine local ingredients by working closely with local producers. The diverse menu incorporates seafood such as Jimbaran snapper cooked over the charcoal grill, international plates such as tuna poke, and local specialties such as nasi goreng.
Di Abing Bali
With its vantage point on the hills of Ubud, Di Abing affords guests sweeping views over the Osh river valley. On the restaurant's split-level veranda, diners are served fusion Mediterranean and Asian cuisine by Bornean chef Wuisan Chandra, from a crab, grape, mascarpone, caper and tobiko appetizer, to a smoked duck and quinoa salad and crispy pork belly with pineapple and pepper sauce, with a selection of fine wines to choose between.
CasCades Bali
Located just outside Ubud on a ridge overlooking the verdant Valley of the Kings, CasCades boasts a remarkably scenic setting. Within the high-ceilinged Balinese thatched dining area, guests are served fine dining plates, which showcase top quality ingredients from across the globe such as Wagyu beef and Canadian lobster. For the full experience, diners can opt for the European or Indonesian degustation menu.
BLANCO par Mandif
Specializing in degustation-style Indonesian heritage cuisine, BLANCO par Mandif takes pride in sourcing the best ingredients to be found nearby, from both sea and land. Chef Mandif Warokka takes these ingredients to create fine dining seven, nine and 13-course menus of sumptuous plates like fresh caught fish with dabu-dabu relish, belimbing wuluh and sour broth. Each dish comes with wine pairing.
For more inspiration on where to eat, take a look at our list of Top 100 Restaurants in the World.