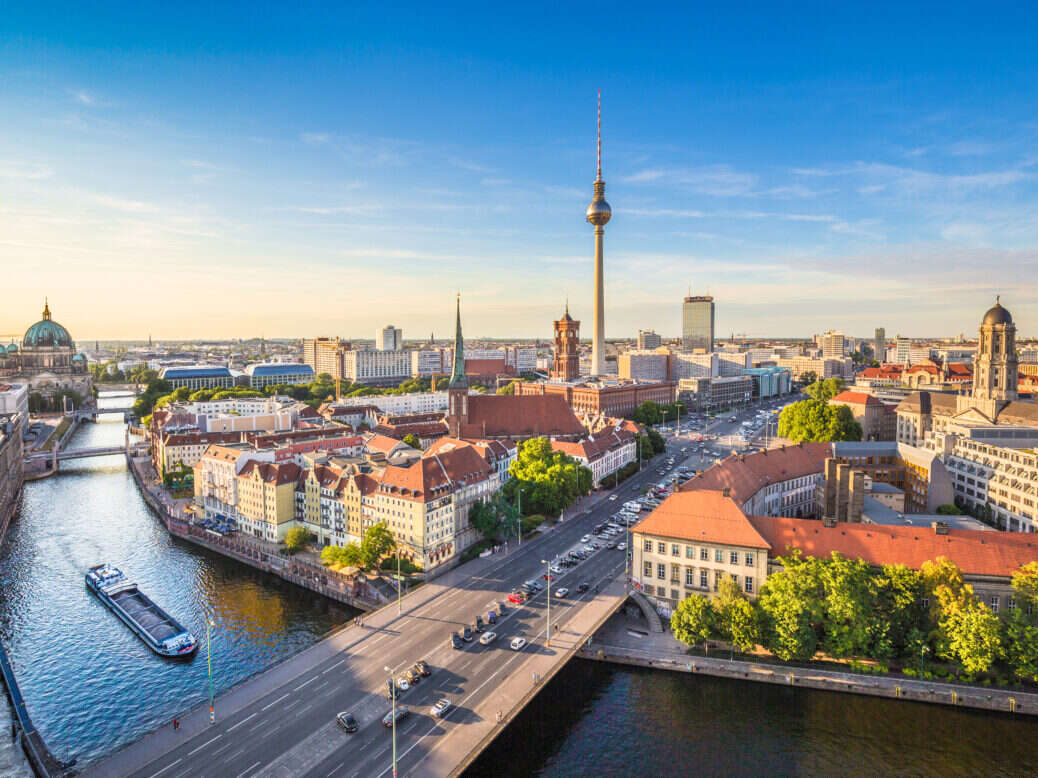 Berlin has not only a rich and complex history, but it is also a real gourmet hotspot. According to the Michelin Guide, Germany's capital houses over 70 Michelin-starred restaurants, which gives tourists and residents a vast choice, from traditional recipes to groundbreaking experiences. 
Sustainability, quality and creativity are all vital elements in the classification of the best restaurants in Berlin. If you are after the elegance and tradition of Lutter & Wegner or renowned chefs like Tim Raue, Berlin is the right place for you.
Hugos
With its 14th-floor location, Hugos has definitely an unforgettable view. The diners can enjoy the city from the top while also experiencing one of the best Asian fusion meals Berlin has to offer. 
Hugos has earned one Michelin Star in 1999. Chef Eberhard Lange's motto is "Every guest should just feel comfortable", and he offers an eight- or six-course menu that perfectly complements sommelier Manfred Welter's varied and extensive wine list.
The restaurant's cuisine is a mix of regional produce and international recipes, which is also perfectly captured by the experimental 10-course menu that can change at any time.
Lutter & Wegner
Lutter & Wegner is one of the most traditional restaurants Berlin has to offer. It is a true institution, active since 1811 on Charlottesnstrasse, and it provides classic dishes like schnitzel and the famous and super sweet Sacher torte. 
Over 700 wine labels are available to enjoy, and its wood-panelled walls are adorned with them. Lutter & Wegner is a proud example of Berlin's richest culinary heritage.
Grill Royal
The Grill Royal, Berlin, is famous for its steaks, this restaurant is a staple of Berlin's gourmet experiences.
Open seven days a week, Grill Royal offers its diners a unique experience where their meal awaits them in an open glass fridge. In fact, with an open kitchen display, the customers can admire the rich cuts of meat in the big fridges on the other side of the room. The establishment is located on the banks of the Spree River on Friedrichstrasse, and it is also famous for its celebrity guests, who love to dine there.
[See also: The 6 Best Things to do at Night in Berlin]
Facil
Two-Michelin-star-recipient Facil is a temple for kitchen director Michael Kempf and chef Joachin Gerner. Located on Potsdamer Platz, in the Mandala Hotel Berlin, this establishment has become very well known for its sophisticated and innovative cuisine.
The dishes are complex and well-thought, offering the diners an experience that will be hard to forget. From tradition to innovation, Facil offers a vast choice of recipes only cooked with regional and seasonal products.  
Tim Raue
World-renowned chef Tim Raue has had a troubled past, but it never stopped him from rising above. As an adolescent, he was a gang member, but now he is the holder of two Michelin Stars.
There are three main menus in Raue's restaurant: Hummingbird, Koi and Vegan. The inspiration behind them came from both Singapore cuisine and culture. They feature delicious and light ingredients, achieved by abstaining from cooking with carbohydrates or white sugar.
[See also: The Best 5 Restaurants in Vienna]
Rutz
Rutz is the highest-rated restaurant in Berlin. In fact, it not only holds three Michelin Stars but also has been recognized with the Michelin Green Star, which celebrates sustainable culinary practice.
Head chef Marco Muller has also been acknowledged as the 'best chef in Germany', thanks to its eight-course Inspiration menu which allows the diners to try everything this establishment has to offer. 
Rutz is also an understated restaurant as, despite its sophisticated and refined reputation, it carries a serene and discrete atmosphere.