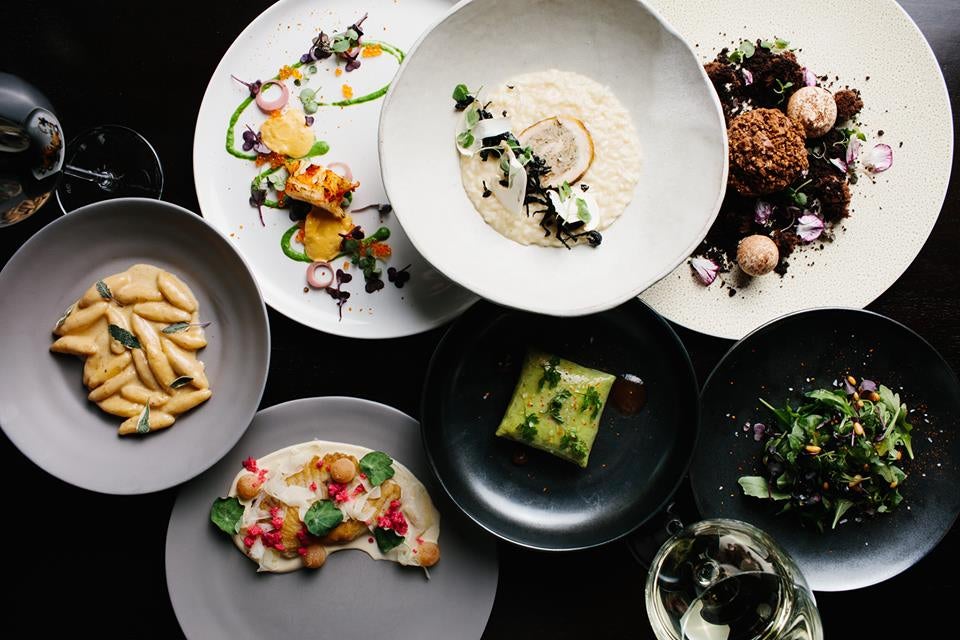 The Windy City is famous for its pizza, so it's no surprise that the city's fine dining restaurants master other Italian classics too. From Michelin recognition to neighborhood favorites, Italian restaurants are an integral part of Chicago's fine dining scene. These are our picks of the best Italian restaurants in Chicago.
Balena
In Lincoln Park the charming, industrial-esque Balena has earned a Bib Gourmand from the Michelin Guide. Hearth-fired pizzas delight with gourmet combinations like grilled artichoke and spinach or clams with pancetta and garlic. Pastas are made in-house, from classics like gnocchi to tajarin with truffles, sage and grana toscano. Feel truly Italian with a sip from the vermouth menu, or opt for a craft cocktail like the Balena negroni.
Spiaggia
At Spiaggia, modern Italian cuisine is complemented by exquisite wines from the restaurant's 700-bottle list. To experience the best of food and wine, choose the eight-course La Scelta di Rachael tasting menu with Reserve Italian pairing. The one-Michelin-starred fare includes savory caviar with burrata and chives as well as pasta, seafood and meat dishes like the dry-aged porterhouse with truffle hollandaise.
Osteria Langhe
Be transported to Piemonte through the melding of fine wine and fine Italian fare at Osteria Langhe. Opened in May 2014, Osteria Langhe has quickly established itself as one of the best Italian restaurants Chicago has to offer. Enjoy homemade pastas made with seasonal ingredients and an array of Italian desserts like panna cotta and pasticcino. Close your meal with classic digestivi after enjoying wines from the expansive list.
Riccardo Trattoria
Previously the Executive Chef of Bice, Riccardo Michi set out with wife Veronica to establish the eponymous Riccardo Trattoria. The lengthy menu features a variety of classic pasta, meat and seafood dishes as well as Italian desserts like gelato. Rare wines from Riccardo's cellar (La Cantina di Riccardo) are available to complement your Tuscany- and Milan-inspired meal. The traditional Italian cuisine has earned Riccardo Trattoria Bib Gourmand recognition in the Michelin Guide.
Ceres' Table
Honoring tradition, Ceres' Table crafts classic Italian dishes with ingredients sourced from local farmers. The menu changes seasonally to accommodate the freshest regional produce, offering vegetarian cuisine as well as other Italian favorites. Order traditional chicken cattitore and lobster risotto or select a handmade artisan pizza like the diavolo with meatballs. Ceres' wine menu is entirely Italian for an authentic experience at this Bib Gourmand restaurant.