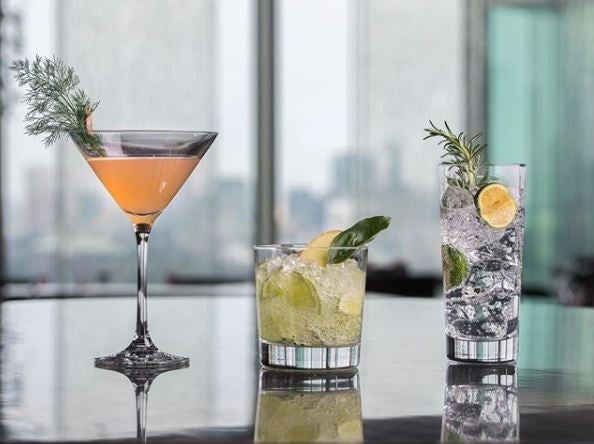 To see the captivating view of this dynamic city's skyline with a well-crafted cocktail in hand, pay a visit to Tokyo's most outstanding sky-high venues. These are the five best rooftop bars in Tokyo.
Sky Lounge Stellar Garden
Located on floor 33 of the Prince Park Tower Tokyo hotel, this lounge and bar offers unparalleled views of Tokyo Tower and the surrounding cityscape, which is particularly impressive when the city lights up each night. Arrive before sundown for afternoon tea or come for the bar's cocktails incorporating seasonal ingredients and selection of wine. Try to get a seat right by the floor-to-ceiling windows for uninterrupted views of Tokyo's celebrated landmark.
Oriental Lounge
In one of the city's most celebrated luxury hotels, Mandarin Oriental Tokyo, you can find this sophisticated lounge and bar just off the lobby on the 38th floor. Plush furnishings, a fireplace and Mandarin Oriental's distinct style make this an enticing space to while away an afternoon or evening in, with afternoon tea, cocktails and fine liquors from around the world. After the sun has set, look out at the captivating skyline while soaking up the ambiance created by candlelit tables and live music.
New York Bar
Undoubtedly one of Tokyo's most famous hotels, owing to its place in the movie Lost in Translation, the Park Hyatt Tokyo has become an iconic setting. The New York Bar sits high up on the hotel's 52nd floor and was designed to evoke the vibe and cosmopolitan spirit of New York City. As jazz musicians make an appearance each night, guests can take their pick from the bar's range of premium whiskies, and both classic and original cocktails. The bar also boasts the largest collection of Californian wines in Japan. Take a look on the website for updates on which musicians will be performing next.
Peter: The Bar
This sleek bar at the top of The Peninsula Tokyo combines striking interior design incorporating silver sculptural trees and purple and gold accents with views over the city through floor-to-ceiling windows. The Imperial Palace Gardens, Hibiya Park and Ginza are all within sight. The bar fills up at night as guests sample the bar's signature cocktails, such as the Peninsula Highball combining Japanese whisky Hakushu, vodka flavored with jasmine tea, soda and lemon peel.
Andaz Tokyo Rooftop Bar
All the way up on the 52nd floor of the five-star hotel Andaz Tokyo, this is the highest rooftop bar on the list, making the semi open-air terrace a breath-taking setting to take the cityscape in. The Japanese-style interior incorporates a series of different spaces including an intimate tea lounge, high ceilinged bar and the panoramic terrace. The cocktails then incorporate Japanese teas, sake and seasonal ingredients such as the local fruit. All of this comes together to provide a venue with a great sense of place.