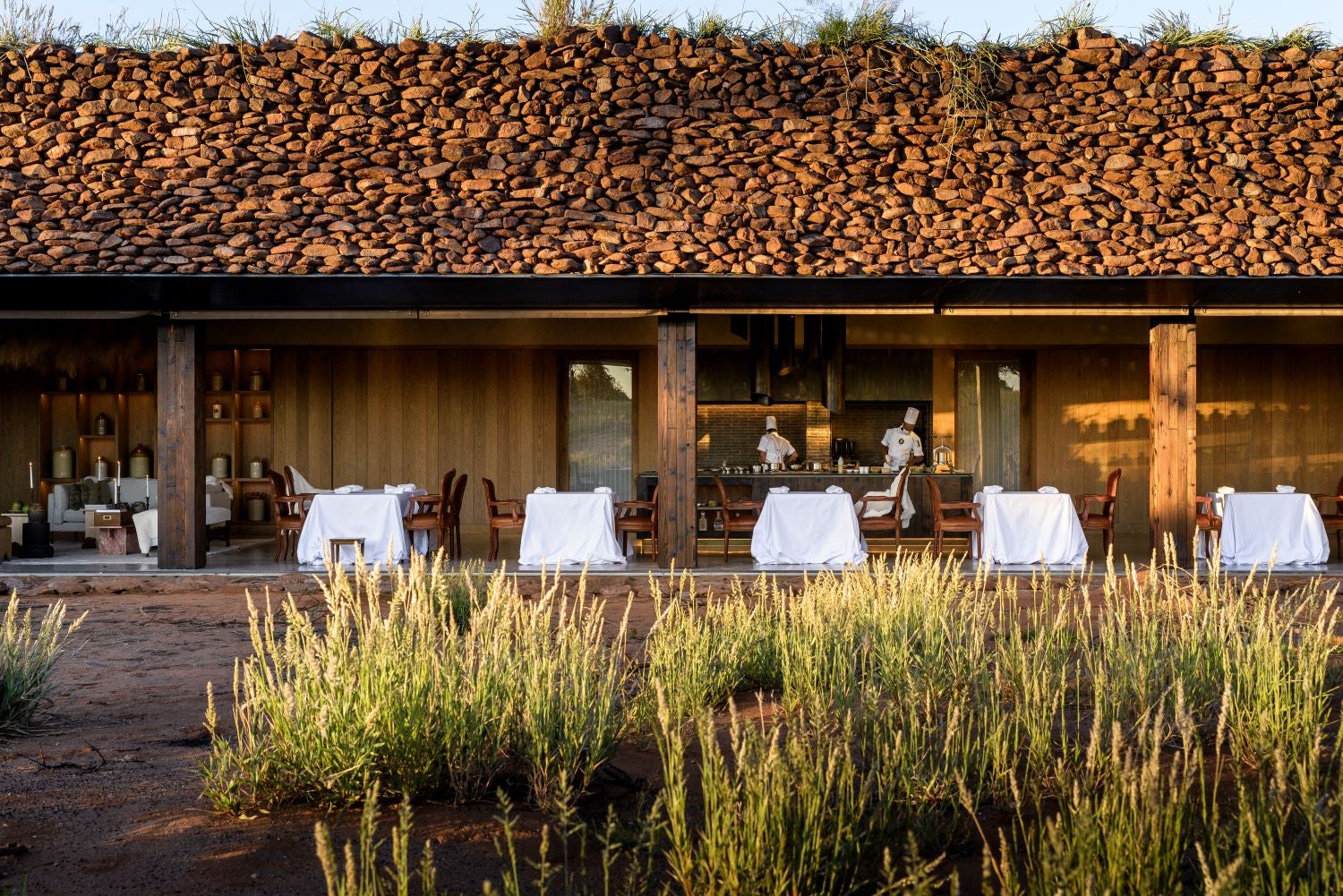 When South African chef Jan Hendrik van der Westhuizen visited Boscia House, a one-hundred-year-old farmhouse situated at Tswalu Kalahari, he knew that it would be the place that would bring him home to open Klein JAN. 
The 38-year-old chef, something of a celebrity in his home country, had enjoyed huge success in the glittering French city of Nice with his one-Michelin star restaurant JAN. But having grown up on a farm in rural Mpumalanga province, as he set foot on the Kalahari sands, he felt an instant connection to the rugged savannah.
Bypassing South Africa's foodie capital, Cape Town, Klein JAN's unconventional home is nestled within the remote plains of South Africa's largest privately owned game reserve, Tswalu Kalahari in the Northern Cape's Green Kalahari region. An eco-haven with just two luxurious camps accommodating 28, Tswalu Kalahari has one of the lowest guest footprints of any South African camp — an ethos van der Westhuizen was keen to emulate in the kitchen. 
In the years and months leading up to the opening, the acclaimed chef began an immersive expedition through the Kalahari, exploring its ingredients, producers and traditional creative cuisine born out of the remoteness of the region. It is this that provided the inspiration for the menu at Klein JAN, a magically immersive dining experience that finally opened its doors for the first time earlier this month. 
Only accessible to non-resident guests of the Tswalu Kalahari for lunch (never dinner) on specific dates of the month, reservations open three months in advance. Those lucky enough to dine at the enchanting eatery are in for a meal unlike any other. 
[See also: The Leading Countries for Sustainable Fine Dining]
Interior 
As a diner at Klein JAN, your journey begins at the unassuming whitewashed Boscia House. Much of the century-old cottage remains untouched, sensitively brought back to life to maintain its original charm, something van der Westhuizen fell for instantaneously: "l felt my Ouma Maria's (van der Westhuizen's beloved grandmother) presence, as though she had just left the farm kitchen to fetch some eggs, "said the chef. "That was when I knew I wouldn't want to change anything
about Boscia House; she only needed to be restored."
Stepping inside is like stepping back in time as diners are guided through the antique-adorned interior to the back veranda of the cottage, shaded by an aged tin roof. It is here guests will enjoy canapés whilst learning a little bit of the history of the house.
Canapés complete, diners are led under the earth via a helical staircase accessed via an old water tower, away from the desert heat to a depth where the temperature drops to a steady 15˚C. Here, guests will pass through a crypt-like, twenty-meter-long root cellar – a concept that was first developed in the 18th century, pre-refrigeration, which Klein JAN uses today to house much of its locally-sourced produce. 
The final destination is behind a sliding door, which reveals in stark contrast a luxurious and modern fine dining space housed in a new, sustainably built underground structure. With the kitchen in full view, guests can sink down on stylish chairs repurposed from old oak wine barrels from the Cape Winelands as the wilds of the Kalahari serve as the backdrop. 
Chef
Klein JAN represents van der Westhuizen's first restaurant on home soil. A slight detour from the refined French-South African cuisine the chef has become known for at JAN; here, he is focused on championing modern Kalahari cuisine. 
Within the kitchen, he works alongside the executive chef for Tswalu Kalahari, Marnus Scholly, and a passionate team who are just as committed to celebrating local provenance, heritage and culture.
Menu 
Local ingredients, culinary traditions and sustainability define the menu at Klein JAN, which has been designed to tell the stories of the Northern Cape, past and present.
The restaurant works with local independent organic producers, farmers and artisans who share its low impact ethos. Sourcing ingredients solely from the Northern Cape ensures the restaurant's menu is filled with under-explored regional ingredients such as pecans,  pistachios and dried fruit as well as organic grains, cheeses and pasture-reared beef, lamb and pork.  
Keen to challenge what is possible in a semi-arid environment where water is scarce and food is precious, waste is kept to a minimum, with leftover ingredients fermented or pickled and stored in the root cellar.  
Klein JAN's eight-course tasting menu is just as unique as its setting. Served alongside a selection of local fine wines, exquisitely plated dishes such as the Braai broodjie macaron (van der Westhuizen's innovative take on South Africa's beloved barbeque sandwich) and the unique Sago dates and camel milk (sago is a type of starch extracted from the root of tropical palm stems), which aim to showcase local ingredients at their finest. 
janonline.com/restaurantkleinjan