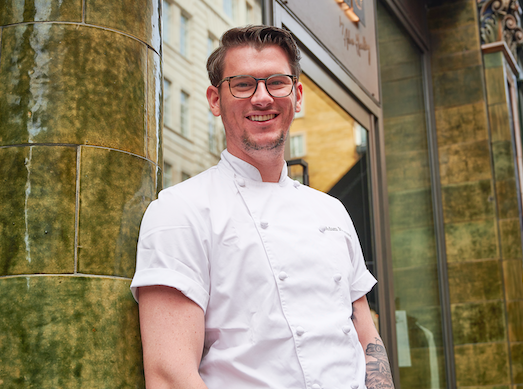 Renowned British chef Adam Handling has launched a new ultimate Father's Day feast to ensure families can still honor the day in fine style at home.
Although much of the United Kingdom is seeing lockdown measures eased, restaurants will certainly not be open in time for Father's Day on June 21. The Father's Day at Hame package offers everything a family of four needs to mark the day properly.
The three-course menu has been specifically designed to reflect the food that Handling loves to eat with his family. This includes the Ultimate Steak & Chips dish taken from his Frog restaurant. The dish is likely to be a firm favorite with many fathers and the optional extra of a 1/2 lobster would elevate it to something extra special.
The package is filled with all of the high-quality ingredients needed to make a feast for a family of four. All you need to do is combine the prepared ingredients and finish off the cooking, with a helpful video from Adam to show you how it's done. Then sit down and enjoy.
Handling has also called on the help of Kelvin McCabe, director of drinks at the Adam Handling Restaurant Group, to pair four exceptional wines to complement the Father's Day feast. All four of the wines can be added to the order individually or together.
The meal for four is priced at £250 ($320) with delivery available throughout the UK and is only available between June 19 through June 21.
The Father's Day at Hame by Adam Handling
Crab, radish, grapefruit
Frog's ultimate Steak & Chips
Rum & raisin fondant
(Add on truffled cheese as £35 supplement)
Optional wines
Cuvée Friedrich 'Founders Blend', Laibach Vineyards, Stellenbosch,  South Africa – 2016
Gaia, Grosset, Clare Valley, Australia – 2011
Barolo 'Perno' Riserva, Sordo Giovanni, Piedmonte, Italy – 2009
 Domaine de La Grange des Pères, IGP Vin de Pays de l'Hérault, France – 2016