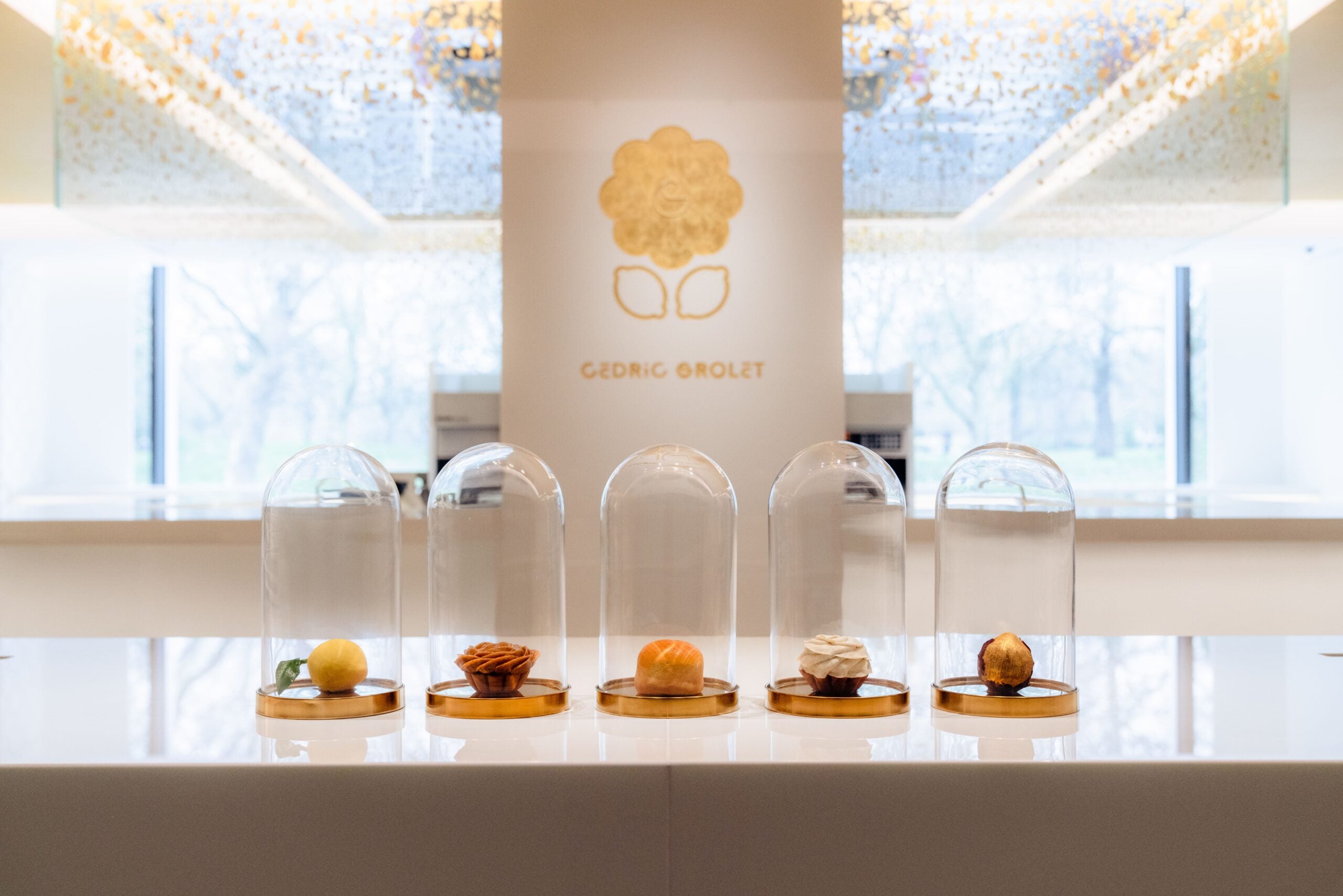 Renowned French pastry chef Cédric Grolet is taking his contemporary creations international with the opening of his first patisserie outside of his home country. Throwing open its doors today in time for those all-important Valentine's Day purchases, Grolet's newest outpost has found a home in London's prestigious The Berkeley hotel.
Celebrated throughout France for his inventive edible creations, Grolet has become something of a celebrity chef garnering millions of social media followers, a celebrity fanbase and block-long queues for his existing Parisian patisseries. Cédric Grolet at The Berkeley will harness the chef's signature flamboyance and flair, with his showstopping sweet creations, including the mind-boggling trompe-l'oeil flower and fruit cakes, available to takeaway.
As well as daily fresh patisserie takeaways, Cédric Grolet at The Berkeley will also be offering a more immersive experience in the form of the intimate Chef's Counter tasting. Held in the center of the patisserie overlooking the kitchen, the exclusive tasting is open to just eight people per sitting, each of whom will be treated to a seasonal menu of sweet and savory signature pastries, accompanied by champagne.
[See also: The Best Hotels in London]
The new patisserie will be the first place in the world where Grolet's fruit and flower-themed desserts can be enjoyed in the same place, with his existing French locations selling each variety separately. In addition to his usual repertoire of sweet and savory treats, the pastry chef's newest outpost will be home to an exclusive trompe-l'œil scone in homage to the classic British afternoon tea.
"London was the first city I ever visited outside of France," said Grolet on his decision to open shop in the city. "It has always had a very special place in my heart, and to open in this incredible city is a longtime dream. We couldn't let this occasion pass without creating something unique for the capital – a trompe-l'œil scone especially for the Brits."
[See also: Jean Imbert Takes the Helm at Plaza Athénée]
The patisserie itself has been expertly designed by French interior designer Remi Tessier in order to do justice to the creations it will be serving. Imagined as a 'pastry lab' in a modern reinterpretation of the classic patisseries of Paris, the space is futuristic in its aesthetic with stainless steel, white stone and gold leaf coming together to create a functional yet undeniably artistic finish.
As well as the dedicated patisserie, Grolet's residency at The Berkeley will also expand into the neighboring Berkeley Café. This informal dining spot will serve up French-inspired dishes from breakfast through dinner, with two additional menus especially showcasing Grolet's creations, as well as an inviting champagne offering.
Cédric Grolet at The Berkeley is open seven days a week; Chef's Counter from £135 ($183) per person. The Berkeley, Wilton Place, London, SW1X 7RL