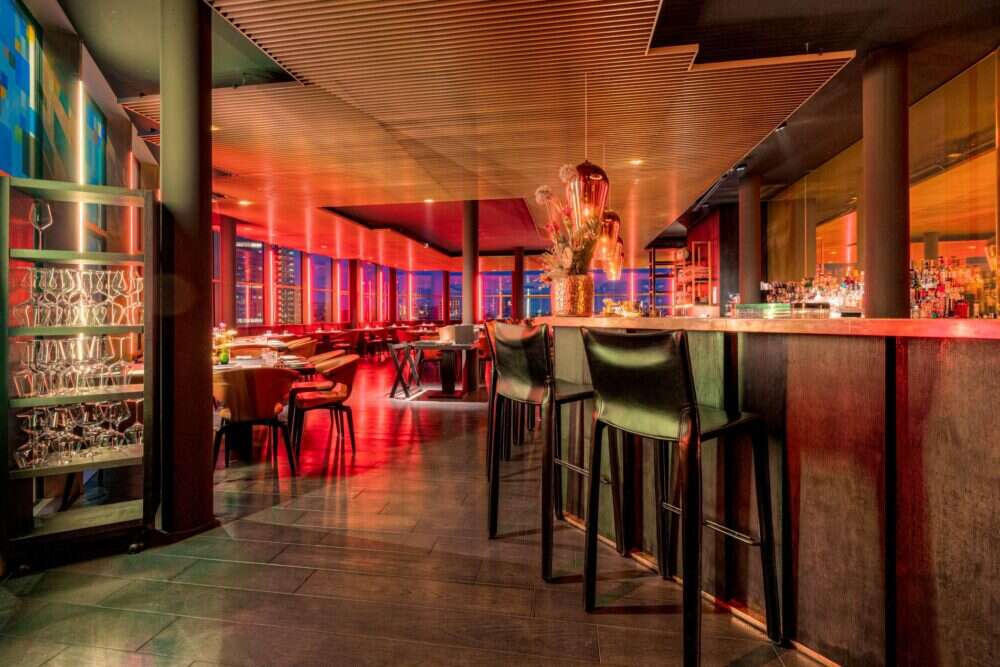 As you step out of the gilded elevator and into GOLVET, you are rewarded with a unique view of Berlin's Potsdamer Platz from a height of 100 ft. As the sun sets, the view transforms into a twinkling skyline, epitomizing GOLVET's trendy Berlin aesthetic crossed with Manhattan glamour.
The GOLVET team prides itself on using the highest quality, locally sourced and 100% sustainable ingredients to create surprising and boundary-pushing dishes across their five- or seven-course menu.
The restaurant's newest seasonal menu is titled "Der Frühling," meaning "Spring," and is the first time GOLVET has offered a vegetarian version of the full tasting menu as part of its aim to continue testing its culinary skills and scope.
[See also: The Best Vegan Restaurants in the World]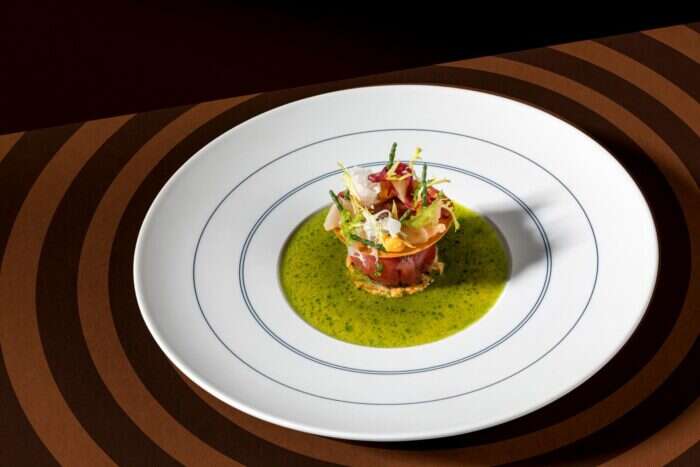 Chef
Head chef Jonas Zörner developed his craft at two double-Michelin-starred locations: FACIL at Berlin's Mandala Hotel and then the iconic Dolder Grand in Zurich.
Zörner began working at GOLVET as chef de partie in 2018, and his skill and dedication meant he quickly worked his way up to junior sous-chef and then sous-chef.
He became GOLVET's executive chef at the beginning of 2020, so his tenure has been defined by the adaptability and resilience needed to weather the trials of the past two years.
[Read More: The Best Fine Dining Restaurants in Germany]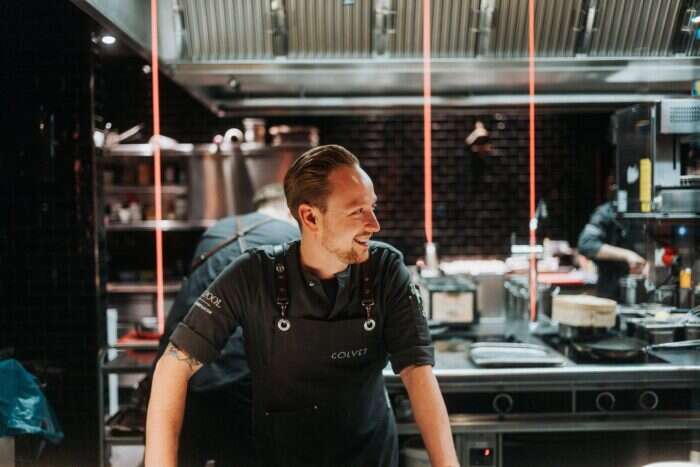 Menu
GOLVET has in the past often received high praise for its vegetarian side and à la carte dishes, so this season has chosen to, for the first time, promote those vegetarian dishes to their own full tasting menu.
"The times in which a vegetarian has the same dishes as the 'normal' dining, only without animal as the main component, are long gone,"  Zörner says. "I want to show full focus on two menus, where none is inferior to the other."
Highlights from the menu include the Burnt turnip, served with red cabbage, in a chamomile and milk emulsion, the artful plate served on a bed of straw.
Those eating from the traditional menu enjoy main dishes of Fried chicken in okroschka sauce, and Line-fished turbot topped with spinach and bouchot mussels.
[See also: The Chefs Fighting to Make Fine Dining Sustainable]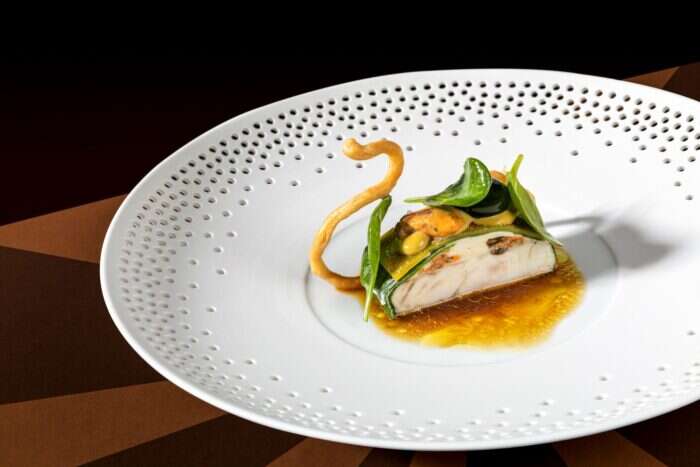 Meanwhile, those eating the vegetarian menu are served Potato foam topped with black truffle and a fried potato wreath. This is followed by a Chickpea and aubergine dish that bursts with North African spiced flavorings and sweet pomegranate, enjoyed with a eucalyptus granita to refresh the palate.
Zörner believes creating this full vegetarian menu has been a true test of his craft, as you cannot rely on a single ingredient as the center of the dish, as you often can with meat or fish.
"Fish or meat stand on their own, whereas you need to understand the complexity of vegetables to tease out the maximum potential of each product," he says. "It is not uncommon that our vegetarian dishes are chosen as the best and most beautiful of a menu."
[See More: London's Apricity Joins the New Wave of Eco-Conscious Cuisine]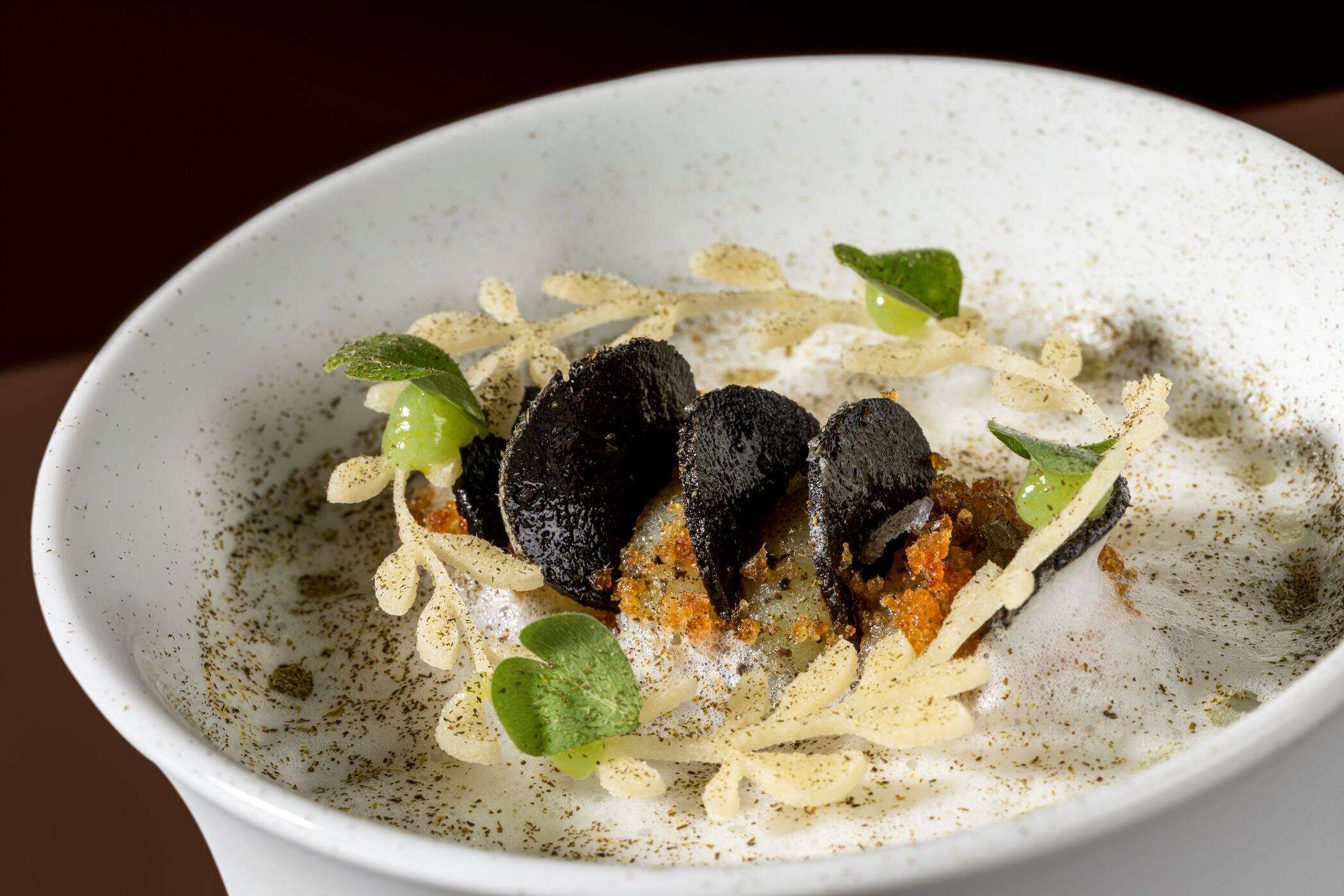 For many, the desserts will be the star of the show at GOLVET. The Roasted banana with white chocolate and poppy seed is a playful and rich twist on the old-school banana split, while the Tahitian vanilla with chocolate soil, parsley and beetroot is sweet, sharp and bursting with flavor.
The five- or seven-course menu is accompanied by an optional wine pairing designed by bar manager Yannick Walter which spans refreshing biodynamic whites, an oaky Austrian red and even an unfiltered orange wine from the Alsace region.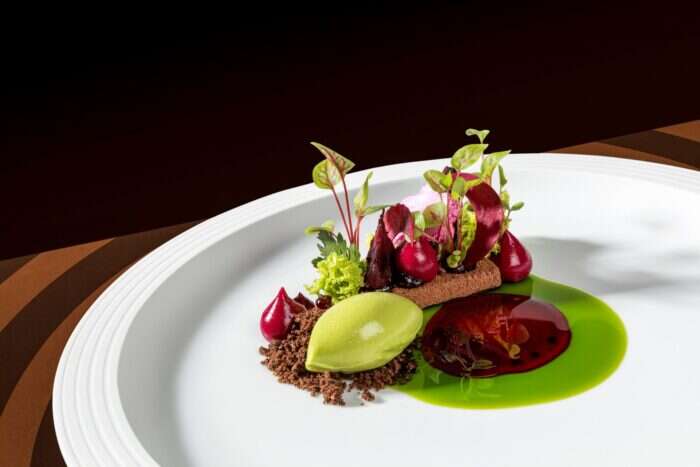 Interior
GOLVET considers itself "casual fine dining," combining beautifully presented culinary excellence with a modern and dynamic atmosphere.
The dark wood, leather seating, upbeat music and colorful lighting features create a buzzing ambiance where diners can chat uninhibited, while the friendly and attentive staff are the perfect accompaniment to the stunning food.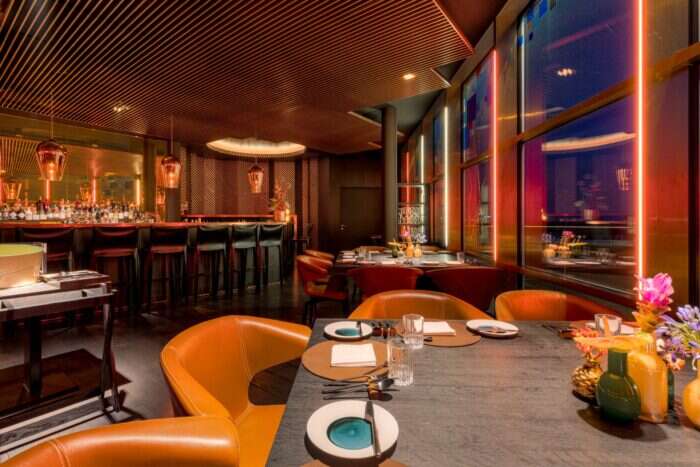 GOLVET, Potsdamer Str. 58, 10785, Berlin
[Read More: The 6 Best Restaurants in Berlin]