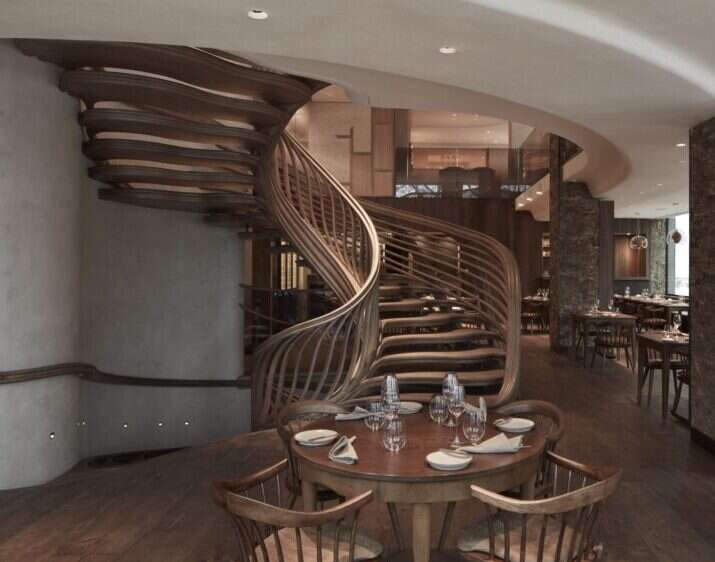 London's Michelin-starred HIDE restaurant and its sibling café HIDEAWAY have announced a partnership with Crate to Plate, a local urban farm concept that aims to pave the way for a more sustainable approach to sourcing fresh ingredients, as well as improve supply chain security.
Crate to Plate harnesses hydroponic technology to grow a range of crops, including herbs, leafy greens and microgreens, without using soil; instead, produce is grown directly in a nutrient-rich water solution with the help of LED lights. Hydroponic farming uses up to 95% less water than traditional soil methods and allows high-quality produce to be harvested all year round without the use of pesticides and toxic chemicals.
Currently, around 60 – 70% of ingredients consumed in the UK are sourced from European countries. However, Crate to Plate's innovative farming technique allows produce to be grown in local urban environments, which not only ensures optimal freshness for inner-city restaurants but also minimizes the environmental, not to mention financial, impact of sourcing ingredients overseas. Crate to Plate aims to deliver its produce within 24 hours of harvesting in environmentally friendly plastic-free packaging, ensuring that the ingredients are as fresh as is possible.
[See also: The Best Alfresco Restaurants in London]
"The food I serve is only as good as the ingredients I use. Crate to Plate supplies salads and herbs that simply could not be fresher: grown in London and delivered the very morning they are picked, they are on the customers' plates within 24 hours," says HIDE co-founder and executive chef Ollie Dabbous.
"They use the latest technology and employ young horticultural students to look after each farm. It is a project whose standard of practice and ethics are matched by the quality of its produce. At HIDE, we've grown our own herbs using a hydroponic system for the last few years and now we're very proud to work with Crate to Plate to bring even more nutritious and flavorsome ingredients to our dishes," he continues.
HIDE's at-home menu, which has been available throughout the UK's multiple lockdowns, already features Crate to Plate ingredients, with the restaurant's culinary team planning to showcase the breadth of its produce on its menu of modern British delights as it re-opens this month.
HIDE re-opens for outdoor bookings on April 12.