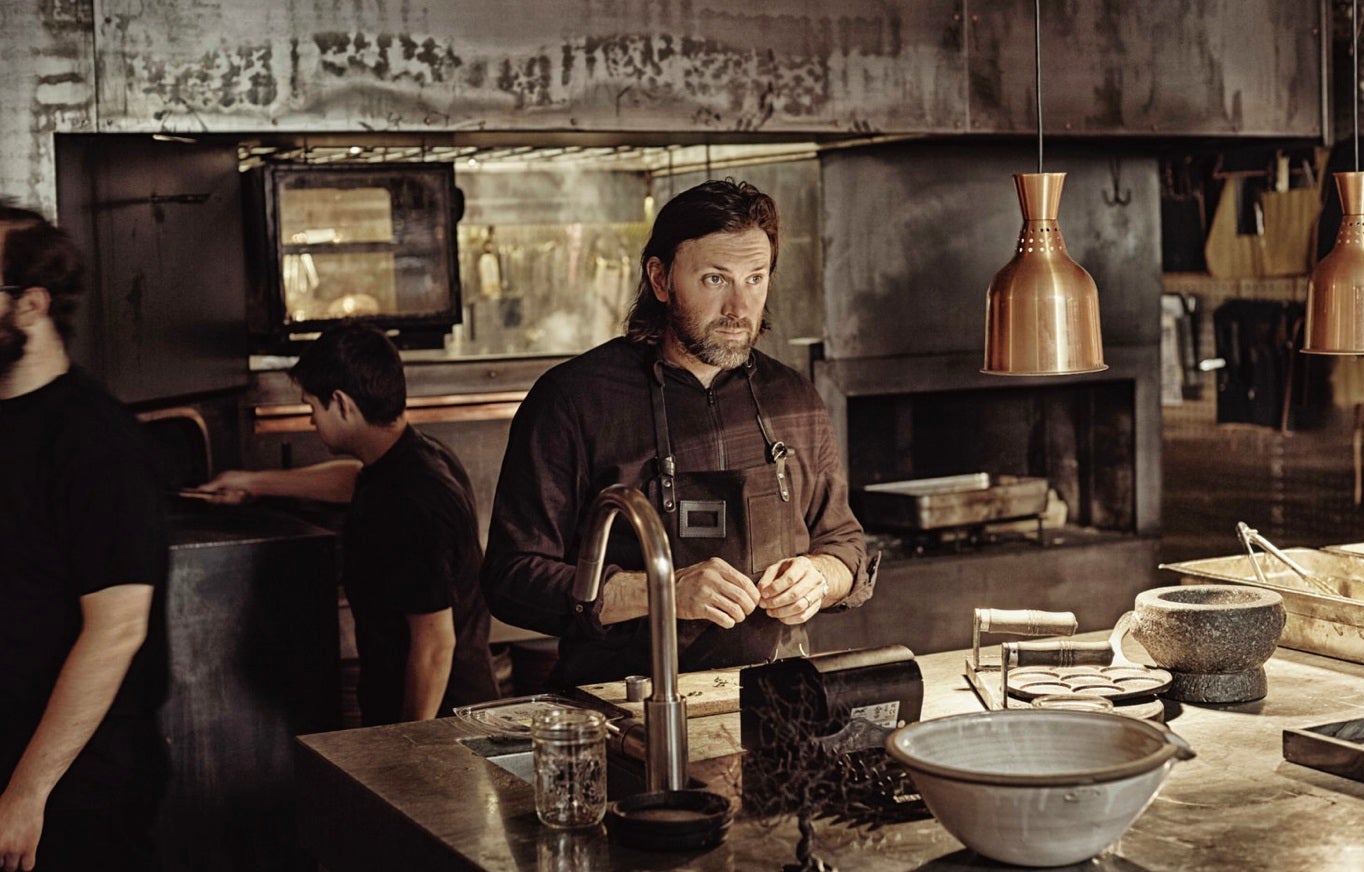 Famed Swedish chef Niklas Ekstedt long harbored ambitions of opening a restaurant in London, a city he called home as a child. A couple of months ago this dream became a reality when he unveiled his first restaurant outside Sweden, launching Ekstedt at The Yard at Great Scotland Yard Hotel in the city he "fell in love with" all those years ago. 
[See also: Our Favorite Restaurant Openings of 2021]
And the dining scene in his adopted home has welcomed the chef with open arms. And why wouldn't it? Ekstedt's signature style of wood-fired 'old Nordic' cooking earned his acclaimed namesake restaurant in Stockholm a Michelin-star. At the chef's new London outpost, diners can expect the same level of dedication to conjuring up slow-cooked smokey delights.
Ekstedt is famous for shunning modern cookery appliances (there's not a water bath in sight)  in favor of ancestral techniques. That is, cooking with open fire. This has led to the Nordic chef being branded the "godfather of wood-fired cooking."
Though it can feel a bit like cooking with fire may be the latest trend to be having a culinary moment,  few chefs can claim to have been quite as committed to the craft as Ekstedt. 
Chef
In 2011, with two restaurants already under his belt as well as a television show in his native Sweden, Ekstedt decided to take a break from the limelight. The chef went off-grid to live in a wooden cabin in the forest with his family—without electricity or gas—and hone his skills in the age-old tradition of cooking with fire. It is this that has defined the creative chef's brand of cookery for the past decade and brought him critical acclaim (and that Michelin star) at Ekstedt in Stockholm which he opened in that same definitive year. 
Sustainably sourced local food has become part of the chef's ethos, whether foraging in the woods for blueberries or mushrooms, or cooking meat over an open hearth.  Though vegetables are certainly part of his culinary armory, he believes that eating meat and fish can be sustainable if done consciously, taking much of his inspiration from the Sami, an indigenous group of Scandinavian people who "live from the reindeer, the meat and the land," he says. 
Menu 
Though the cookery may be Scandinavian, the seasonal ingredients that make up the three- and seven-course tasting menus at Ekstedt at the Yard in London are predominantly British, sourced from local farms and producers. 
In a somewhat magical, somewhat medieval open kitchen—which contains what the chef describes as "the Stone Age equivalent of a microwave" with a smoker, fire pit, and wood-fired oven and stove—Ekstedt and his London team set about signature dishes: Oyster flambadou with smoked apple, beurre blanc and nasturtium (nasturtium is a sweet and peppery flower), alongside Ember baked leeks, charcoal cream,  white fish roe and smoked deer. 
There is also reindeer, a staple of the Sami diet. Ekstedt smokes it and serves it alongside smoke-infused celeriac, black pudding and smoked baked roots. 
London diners enjoying Ekstedt at the Yard's seven-course tasting menu will be treated to two desserts. First, an arctic cloudberry sorbet to cleanse the palette, then a Cep (porcini mushroom) souffle with a refreshing pine needle ice cream and wild blueberries.
A creative cocktail menu and natural wine list accompany dishes, while those not drinking alcohol can opt for a kombucha pairing. 
Interior 
Ekstedt at the Yard's interior was designed as part of the new Great Scotland Yard Hotel, not separate from it. The former home of the London Metropolitan Police was transformed by international interior design firm Hirsch Bedner Associates  (HBA) in 2019 as part of a $160m transformation.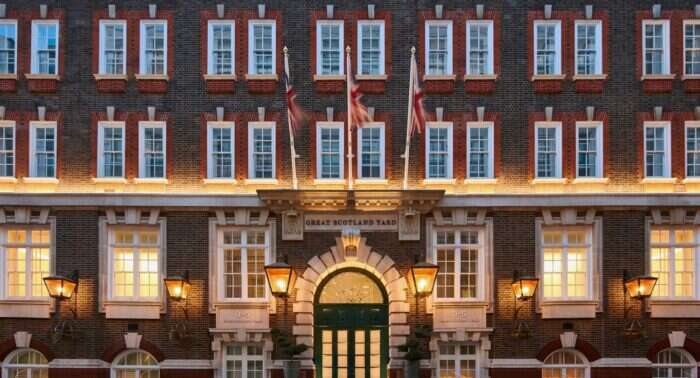 Behind its Edwardian facade, the five-star hotel's aesthetic combines Edwardian-inspired hues and patterns with bursts of color, contemporary artworks, and nods to the building's previous life. The restaurant feels somewhat pared down in comparison, offering a cozy yet sophisticated space with the kitchen at its very heart. 
Ekstedt at the Yard, 3-5 Great Scotland Yard, London, SW1A 2HN, ekstedtattheyard.com
[See also: The Ultimate Foodie Staycation at Crockers Henley]