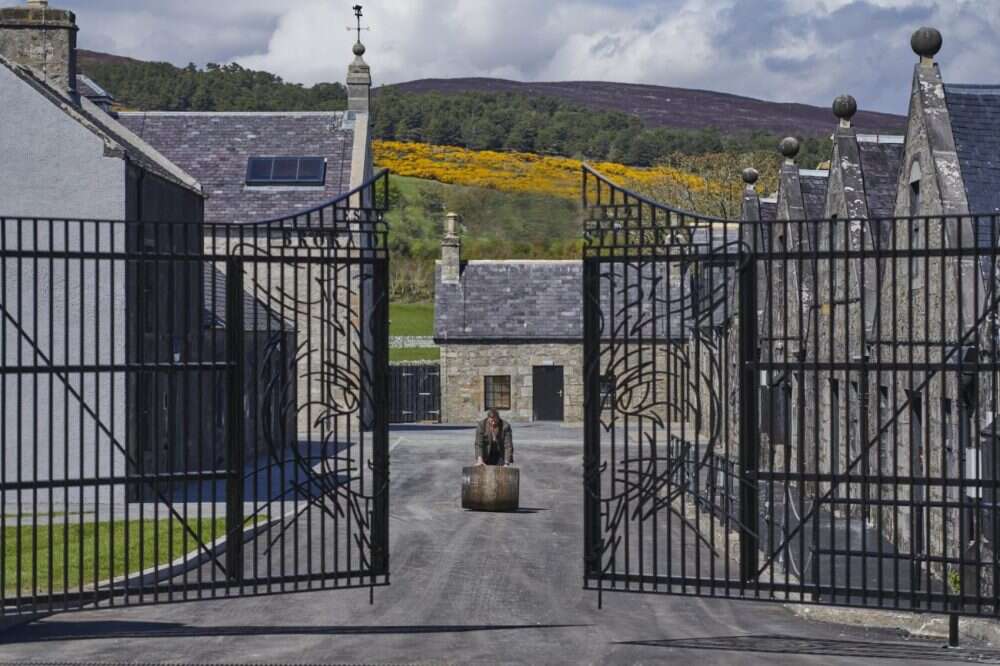 When the restoration team first walked into the famous Brora whisky distillery three years ago, it appeared as if time had stood still. Production had stopped suddenly in 1983 and workers had simply downed their tools and walked away. The team set about bringing Scotland's most fabled ghost distillery back from the dead. This week, the resurrection was complete. The first cask was filled and a new era began.
Brora's legendary reputation is the symbol of Scotch whisky's great revival over the last decade. It closed in 1983 due to oversupply and underwhelming demand. Unbeknownst to distillers at the time, a large proportion of Brora's leftover stock would age beautifully. At the same time, demand for aged single malts rose rapidly. As the demand went up and supply went down, the price sky-rocketed. Today, the last remaining bottles from Brora's original stocks sell for tens of thousands of dollars (the most recent release, the Triptych collection, is priced at $41,400).
In 2017, owning company Diageo invested $43m to bring Brora and its Islay counterpart Port Ellen back into working condition. With demand soaring, it might have seemed like a no-brainer, but the task ahead was huge. Not only did Diageo have to assemble a team who could rebuild the distillery and recreate the same spirit that whisky connoisseurs have come to cherish, but it would also have to make it fit for a long future ahead.
Stewart Bowman, the new master distiller whose father worked at the distillery before it closed in 1983, was the perfect man for the job. He said: "In 1983, my father wrote in an old distillery ledger 'Commencement of Brora Distillery silent season (undetermined period)'. Growing up in the village we often wondered whether Brora would ever return, but today we filled the first cask. It is with great pride that I can now say to my father, the Brora community, and all the 'old hands' that worked at Brora and helped to craft a legendary whisky, that the stills are alive and we are making Brora spirit once again."
Working alongside whisky archivist Joanne McKerchar, Bowman sought to discover how Brora was made at a time when record-keeping was patchy at best. Combing through ledgers and interviewing workers who still live in the local town, the pair were able to unlock key details that should help them recreate the same spirit that it once did.
McKerchar said: "When we first opened the doors at Brora we walked into a time capsule. As a historian and an archivist for malts, I had never seen anything like that before. It was unbelievable just how untouched it was: as if the guys had just finished their shift and walked out – but, of course, nobody then came back in. What must they have been thinking the last time they flicked that light switch or they locked the doors not knowing whether we were ever going to see this place open again? You're not just looking at stills or a physical building, it's all of the emotion that would have went with that last day that suddenly comes flooding back and then that coupled with a big question: so what are we going to do now, and what lies ahead of us, and how are we going to achieve this? It was quite overwhelming."
[See also: It's Still Not Too Late to Invest in Scotch Whisky]
No expense was spared in Diageo's efforts to recreate every detail of the original distillation process. Diageo transported the original stills hundreds of miles across Scotland to its Abercrombie Coppersmiths to have them refurbished by skilled hands, the original stillhouse was rebuilt brick-by-brick and it also installed a traditional rake and gear mash tun to mimic the exact process from 1983.
The rebuild, of course, is only part of the challenge. Now, it is time for Bowman's work to begin in earnest. Only time will tell whether the efforts have been worthwhile. Bowman, who filled the first cask just this week, reminded a group of select journalists that we will not be seeing a bottle of new-era Brora on the shelves for some time yet. There is no plan when it comes to a future release. The whisky will ultimately decide that. Indeed, Diageo has no intention of turning the distillery into a center of mass production. Instead, it will be carefully controlled, building up to a maximum of 800,000 liters a year.
These limited quantities will hedge the bets as Diageo waits to see if this new-aged spirit lives up to high expectations. It is all part of a long-term plan to ensure the site remains sustainable. And although so much effort has been put into rebuilding the past, the distillery is fit for the future. The entire site is carbon neutral, running entirely off on-site renewable energy. This not only helps to lower the business's operating costs but keeps it in line with the industry's goal of becoming completely carbon neutral by 2040.
[See also: The Best Scotch Whisky Brands in the World]
Brora, a small town sitting on the shores of the North Sea, will also reap economic benefits from the inevitable influx of whisky pilgrims. The distillery has already announced two immersive tours for when the doors open to outside visitors in July. The Eras of Brora ($850 per person) not only includes an extensive tasting session but also grants access to the key craftspeople behind the distillery's success.
Brora Triptych is available for purchase globally at the distillery and from its website for an RRP of £30,000 ($41,400).