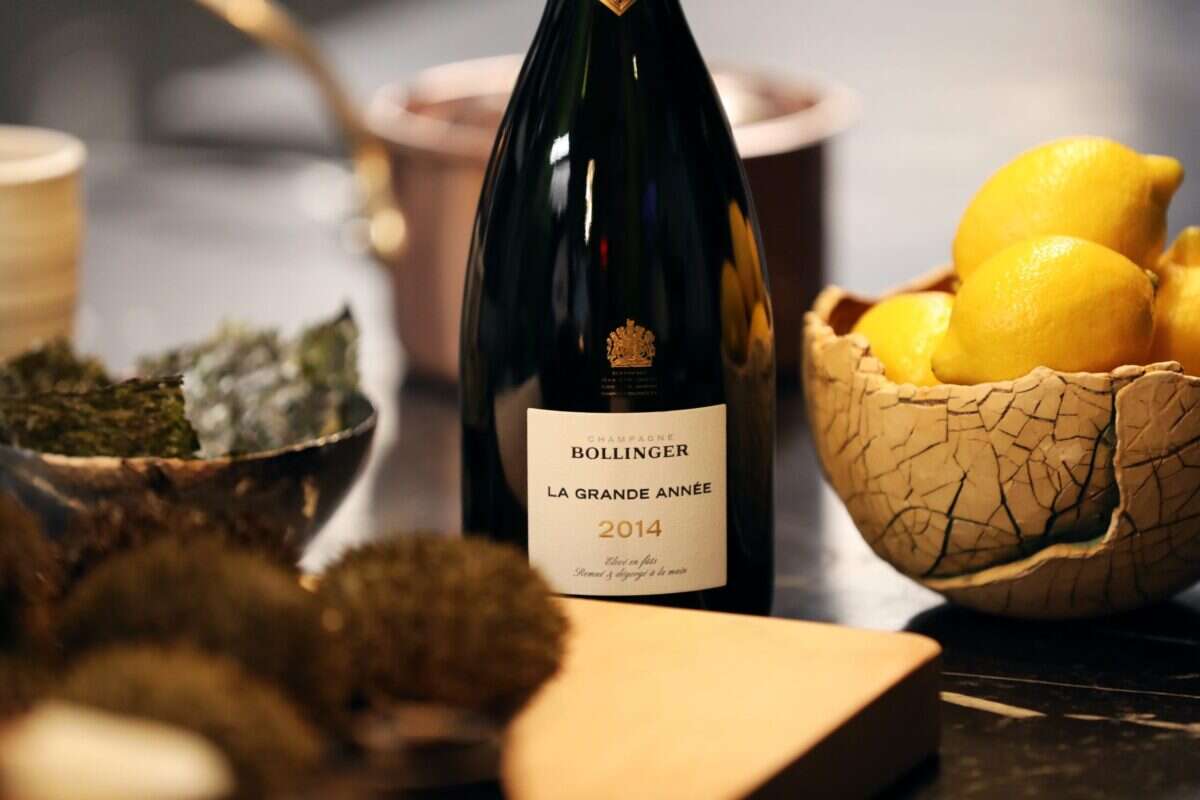 The wait is over to taste Bollinger's much-anticipated new vintage prestige cuvée, La Grande Année 2014. To celebrate its release, the iconic Champagne house enlisted Michelin-starred chef, Gabriel Kreuther, to create the perfect pairing.
This April, diners can visit Kreuther's eponymous restaurant on 42nd street in New York to sample the new recipe, accompanied by a glass of bubbly. Known for his luxurious seafood dishes that reflect his French heritage, the talented chef has created a delicate Alaskan King Crab cannelloni served with a sea urchin coulis, parmesan crisp, and yuzu gel topped with Osetra caviar and nori seaweed.
Taking inspiration from Japan, Italy and France, Kreuther has created what he calls a "melting pot dish" to bring out the mineral, sea-air notes of Bollinger's Grand Année 2014.  "The sea urchin has a velvety texture with the sweetness of the crab," he says. "It's a dish that is mimicking the evolution of the champagne in the glass, it's moving as we go, creating layers.
"It keeps evolving like a symphony in your mouth which is beautifully balanced and clean. To me, it's a perfect match."
[See more: The Best Champagne Brands to Try in 2022]
Kreuther sees many parallels between Bollinger's efforts in the vineyards and his own in the kitchen. "The champagne is made by people that love what they do and work with a lot of integrity," he explains. "That's what we're trying to do in our food, by ensuring the quality of the product and the authenticity of the flavors."
La Grande Année 2014 is made with 61% Pinot Noir (mainly from Aÿ and Verzenay) and 39% Chardonnay (mainly from Chouilly and Oiry) and produced in small, neutral barrels at the winery. Second fermentation takes place for more than eight years on the lees in bottles with natural corks, while riddling and disgorgement are performed manually.
A particularly sunny June followed by a bitingly cold July and August preserved the fruit's delicate acidity and resulted in a rich, complex wine with flavors of citrus and orchard fruit (think peach, apple, pear and Mirabelle plum) that gradually opens up to reveal its full intensity in the glass.
"It changes your thoughts about what a true champagne is," reflects Kreuther. "A true champagne is more than an aperitif like most people think of, it is truly a wine to be enjoyed. I wish more people would drink champagne just like a great wine in a big wine glass."
Bollinger's epicurean adventure, dubbed La Grand Traversée, doesn't stop with chef Kreuther's innovative plate of food. The Champagne house has also partnered with a selection of the most exciting culinary talents from coastal towns around the world to create their own pairing dishes including Christopher Coutanceau of the three Michelin star La Rochelle; Eric Kragh Vildgaard of the two Michelin star Jordnær in Copenhagen; Fabrizio Mellino of the two Michelin star Quattro Passi in Italy's Sorento peninsula; and Viki Geunes of the three Michelin star Zilte in Antwerp.
[See more: How Champagne is Going Green]