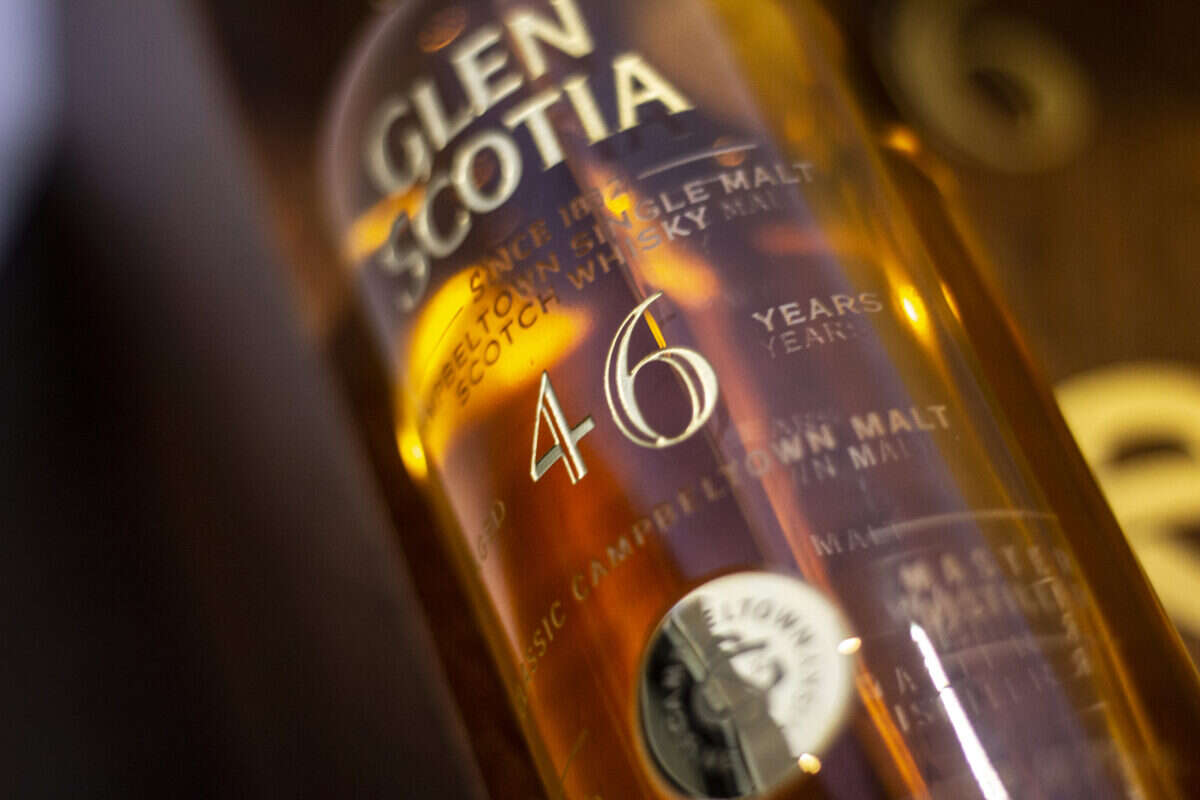 Glen Scotia has entered the fine and rare Scotch category for the first time with the release of a 46 Year Old whisky. Limited to just 150 individually numbered bottles, the expression is not only Glen Scotia's oldest whisky but its rarest as well.
The Glen Scotia 46 Year Old is another significant step forward for the distillery, which despite having 190 years of history behind it, is only now finding its feet as an established single malt whisky.
Those 190 years have been beset by decades of depressions, prohibitions, booms, busts and even closure. Even at the start of this century, the Campbeltown distillery existed only in blends and independent bottles. It had no voice of its own.
Today, it holds the titles of Distillery of the Year and Whisky of the Year (for its 25 Year Old), awarded by the coveted San Francisco World Spirits Competition in 2021.
[See also: The Best Scotch Whisky Brands in the World]
Master distiller Iain McAlister, who took charge of the Glen Scotia stocks in 2008, has played a huge part in the turnaround. All of its significant success has happened under his watch, to the point now where demand is starting to outstrip supply. It was also he who found a small parcel of heavily aged whisky and nurtured it to the point that it could be bottled as a fine and collectible spirit.
"It's been unbelievable," McAlister tells Elite Traveler. "It's been beyond everyone's wildest dreams. I started in 2008. If we consider where we were back then, you couldn't get a bottle of Glen Scotia pretty much. There was no sales channel. Glen Scotia didn't really exist. When you consider where we are now, it's been absolutely remarkable."
Within three years of McAlister's arrival, the 46 Year Old was moved from its original refill bourbon cask into a first-fill bourbon cask. This was part of a project to improve the quality of the casks throughout the warehouse. The whisky was then moved to an oloroso sherry cask for the last four years of its maturation, infusing it with another layer of depth. But more than making a fine whisky, McAlister was also trying to make it tell a story.
[See also: The Macallan Celebrates New York in Latest Whisky Release]
He says: "You have really got to understand what story that liquid is trying to tell. Has it got that Campbeltown character? With refill bourbon, you get a lot of tropical aspects. With first-fill bourbon, you enhance it and add some spice and coconut. Then the sherry aspect changes the dynamics, but you're also introducing another historical element too. It is a precious liquid. It's from a time that has long since passed so you've really got to do it justice and make sure it works on a number of different levels."
The historical element McAlister speaks of pays homage to Campbeltown's past. Once home to 29 distilleries, the Scottish peninsula was the whisky capital of the world at the start of the 20th century. Because of its thriving port, it was easy to source sherry casks from Spain and they were thus a vital part of production. Today, sherry influence is considered a pillar of Campbeltown whisky, even though just three of those original 29 remain open today.
McAlister has certainly achieved his aim with the 46 Year Old. The liquid has all the characteristics of a typical bourbon whisky but with light elements of Christmas spices and a touch of sea spray. It has retained a remarkable freshness for its age and is light and oily on the palate, true to the distillery's character.
It is a notable debut in the heavily-aged category and will draw more eyes to the exciting project. But with Glen Scotia's stocks still recovering from a tempestuous past, is this 46 Year Old more of a unicorn than a sign of things to come? Lending insight into the stock at his disposal, McAlister says it is the latter.
"There are small parcels of stock from the 1970s and the 1980s," McAlister says. "That obviously gives us something quite interesting to play with. When you consider the history of Glen Scotia, there are periods of time when it hasn't been managed well, so it's more luck than judgment that we have the stock that we do have."
[See also: Tasting Notes: Last Drop Distillers 2022 Collection]
Today, the whole Campbeltown region is thriving. Glen Scotia is in high demand, to the point they are considering expanding their production beyond 500,000 liters per year; its neighbor, Springbank, is probably the most highly-regarded distillery in Scotland right now; and applications for two new distilleries have recently been approved by the local council. It's an exciting time, and this 46 Year Old, the second oldest whisky to ever come out of the region, puts another feather in its cap.
McAlister says: "Whisky has been this area's life for better or worse, so I think it's a golden opportunity, a moment in time, and it is potentially crowing moment the renaissance of Campbelltown as a region. Glen Scotia has reached that pinnacle of whisky production."
Glen Scotia 46 Year Old Tasting Notes
Nose: A bouquet of tropical fruits, particularly mango and pineapple. Amazingly vibrant for such an old whisky with hints of fresh orange, caramel and a touch of sea spray. Time in the glass brings forward more sherried notes and a dash of pepper.
Palate: An oily mouthfeel. Delicate and vibrant. Tropical fruits carry through with pineapple notes mixing delicately with sweet vanilla. Melted brown sugar blends beautifully with notes of baked apples and orange zest.
Finish: Long. The sherry influence and oak spices come to the fore right at the end in the form of cinnamon and nutmeg, intertwined with the Campbeltown sea spray.
Score: 9 – A wonderful example of how cask finishes can transform a whisky. Sherry and bourbon influences are perfectly balanced to deliver an evocative narrative.
Glen Scotia 46 Year Old will be available from specialist retailers and direct from the distillery at an RRP of £6,750 (approx $8,820), glenscotia.com