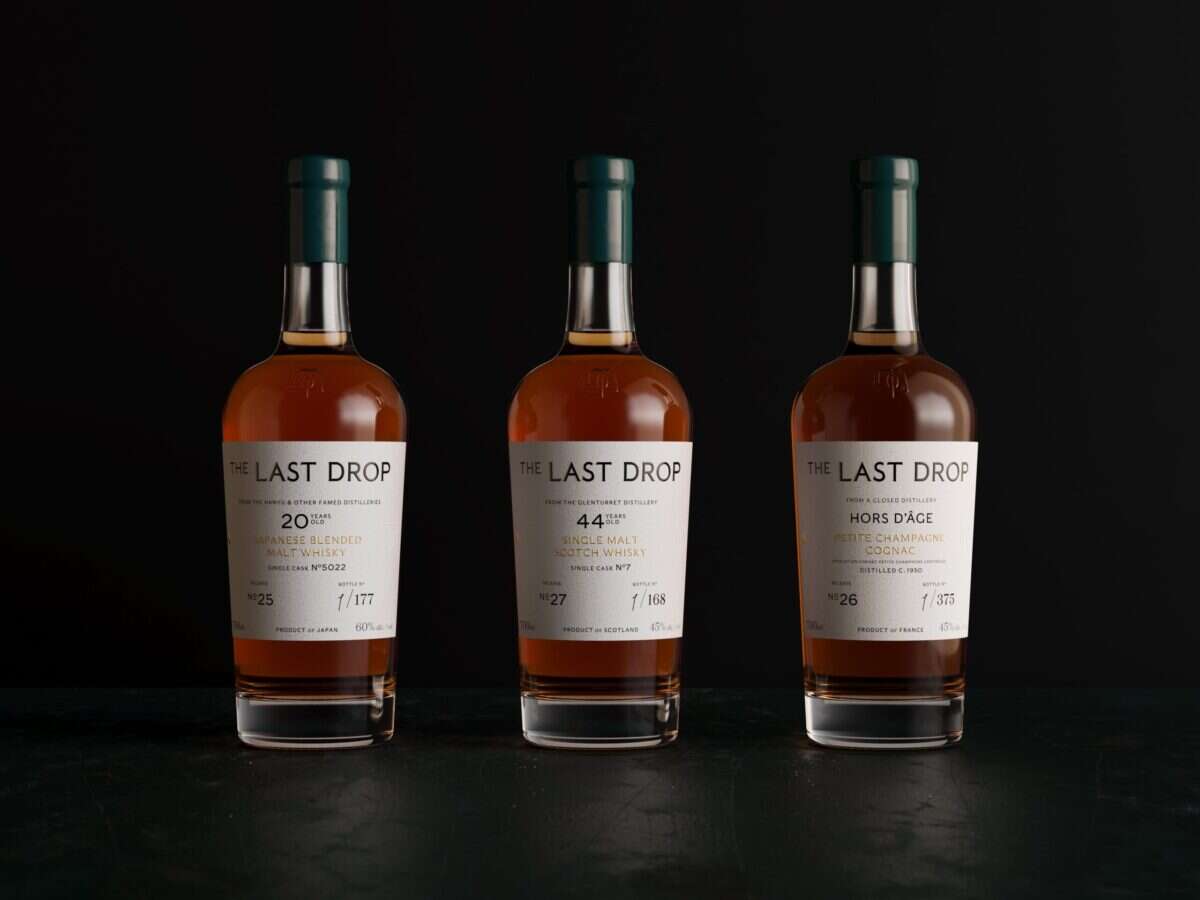 If you want to get a sense of what Last Drop Distillers is all about, you only need to know two things: the year the company was founded and the number of rare spirits it has released. The first answer is 2008. The second answer is 27. Weith fewer than two releases per year on average, the curators at Last Drop Distillers are nothing if not selective. So, when the Last Drop Distillers 2022 collection arrived containing three new expressions (in newly designed decanters), you can consider it a bountiful year.
Regularly described as rare spirit hunters, it is easy to imagine managing director Rebecca Jago (her father, Tom Jago, co-founded the company with James Espey) discovering long-forgotten casks in abandoned warehouses. Sometimes, that is the case but these three releases were all found via something far more pragmatic than an Indiana Jones-style quest: good industry connections.
[See also: The Finest Rare Whisky and Spirit Releases of 2021]
"The whisky industry is built on collaboration more than anything," Jago told Elite Traveler. "It's one of the most wonderful things about it. Independent bottlers have been around almost as long as distilleries and in many cases, the part that businesses like Gordon & MacPhail play in bolstering the industry can't be understated.
"We've made a lot of contacts and spread our web so that people know what we're looking for. I hope that in a very small way, people start to see us as a natural home for their oddities, rarities or something that is never going to be a mass-market release.
"We are confident in and supportive of the idea of showcasing other people's work. That's what brings us to the description as curators of the world's most remarkable spirits. We halo things that might not otherwise have their moment in the spotlight."
Glenturret 44 Year Old
That reputation lead them to an extraordinary 44 Year Old distilled at Glenturret, Scotland's oldest operational distillery. Distilled in 1977, a time when most of its whisky was going into blends, this cask made its way around independent brokers for decades before finding its way to Last Drop Distillers.
Jago said: "I am absolutely thrilled. I got in touch with John Laurie (MD at Glenturret) immediately after we bought the barrel both to tell him and ask them if we can name them. There was a sense of looking after someone's baby. When I told John he said, 'you've got a real unicorn there'. That stayed with me, a sense that this is something we need to cherish and give it its moment in the sun. That's what I think we've done."
[See also: Course of a Feast: The Singleton's New Epicurean Odyssey]
In an industry with so many peaks and troughs, a whisky distillery cannot be as old as Glenturret without a checkered past. It has naturally gone through long periods of closure and was even dismantled in the 1920s before being rebuilt 40 years later.
Today, thanks to enthusiastic investment from the Lalique Group, its reputation as a single malt is regrowing and it has an eye on the luxury market (it recently became the first distillery to have a Michelin star restaurant on-site). This 44 Year Old, then, is a preview of what may be to come from the distillery in the years ahead.
The whisky has been matured in an ex-sherry cask that has had a gentle influence on the liquid, leaving just a hint of spice after a delicate mixture of exotic fruits. Just 168 bottles of the Glenturret are available and one of those has already been reserved for the distillery restaurant.
Japanese whisky
Those same deep-rooted connections also lead Last Drop Distillers to their first Japanese whisky, a blended malt containing liquid from the legendary ghost distillery Hanyu  (the other distilleries are undisclosed). Having searched for a Japanese whisky for years, Jago knew this was the one straight away.
She said: "We were offered several barrels, about six, but this one really stood out. The cask contains 20 years of history from a distillery that has become iconic but had such an unsuccessful life when it was operating. It's a romantic tragedy because there is so little left and it is so sought after."
Despite being bottled at a punchy 60%, this whisky shows its elegance ahead of its strength with a bouquet of jasmine tea and summer grass. However, paring it back to around 45% reveals sweeter notes of vanilla and apricot.
Hors d'Age Cognac
The final release is a 70 Year Old cognac from a family domaine that recently closed its doors after generations in the business. It is the latest in a series of extraordinary cognacs, none more so than the 1925 Grande Champagne cognac. Extraordinarily, despite officially being in the Petite Champagne terroir, this latest release was distilled less than half a mile from that jaw-dropping 1925.
Distilled in 1950 at a time when most of France was recovering from World War II, the liquid was aged in a large cask made of old wood, helping it to age for seven decades. Naturally, there is a heavy wood influence in this cognac but only after a wonderful sweetness that defies its age.
Tasting notes: The Last Drop Distillers 2022 Collection
Release No. 25: The Last Drop 20 Year Old Japanese Blended Malt Whisky
60% abv
177 bottles
£4,200 ($5,544)
Tasting notes: At 60%, this is a powerful whiskey both on the nose and palate. Tasting this as it was straight from the cask, however, is a wonderful experience. In the right glass, the liquid's complexity shines through. Fragrant tea on the nose translates to sharp apple on the palate. A generous drop of water brings out fruitier notes of ripe stone fruit and soft vanilla spice. A challenging liquid for an experienced palate. Score: 8.5
Release No. 26: The Last Drop Hors d'Age Petite Champagne Cognac (70 Years Old)
45% abv 3
75 bottles
£3,250 ($4,224)
Tasting notes: On the nose, there is a light freshness that defies its old age. That is not to say the cask has not had an influence on the cognac. The deep amber hue suggests otherwise, as does the last oak spice on the palate. Before that, however, there is a zingy freshness of sherbert, lemon juice and candied fruits. Earthy tones come to the fore in the form of rich cacao before the wood finally takes over. A wonderful example of single estate cognac, something that remains far too elusive even to this day. Score: 8.5
Release No. 27: The Last Drop 1977 Glenturret Single Malt Scotch Whisky (44 Years Old)
45% abv
168 bottles
£4,500 ($5,940)
Tasting notes: A very balanced sherried whisky on the nose and palate. Tropical fruits mix in with sumer meadow. There is lychee, mango, red apple and grapes, all in harmony. Walnuts and almonds come to the fore as the wood influence takes over before a delicate spearmint reveals itself for a long-lasting finish. An extraordinary dram. Something the moneymen at Glenturret would stick this in a Lalique decanter and sell it for many times the price. If you have the means, snap this up. Score: 9