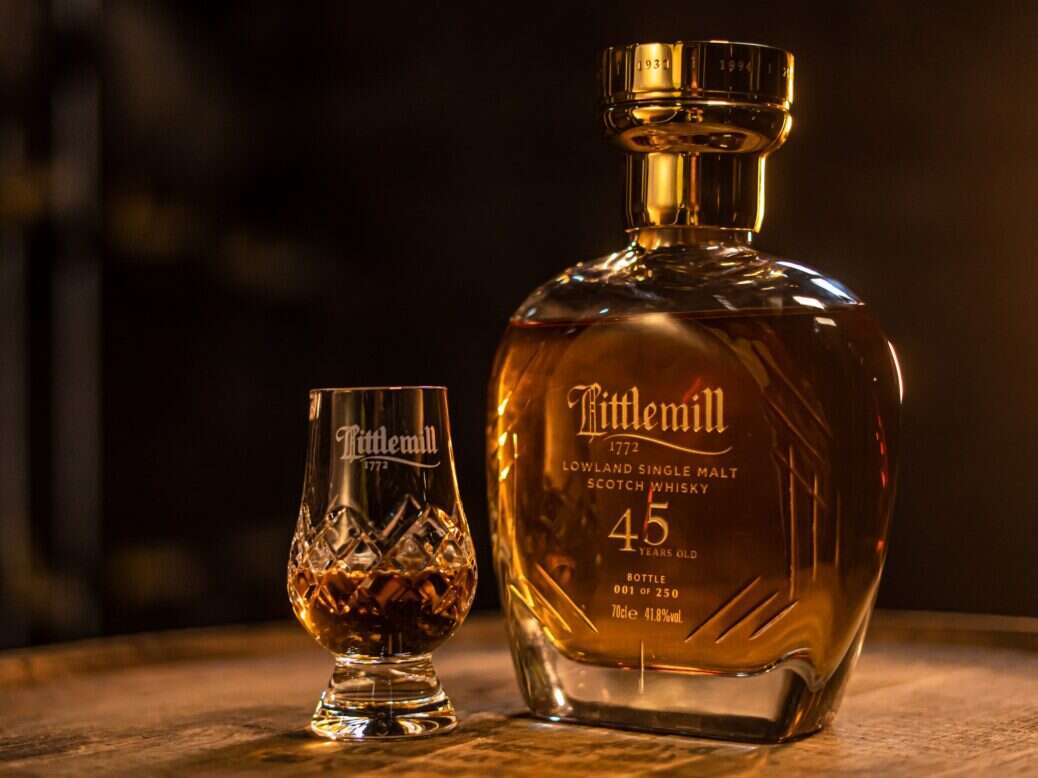 Whenever owners talk about fabled ghost whisky distilleries, there is always an insinuation that, given the right circumstances, it could come back to life. That is not the case for poor Littlemill. Following closure in 1994 and dismantling in 1997, a fire put paid to its remains in 2004.
While it no longer stands, it will forever remain Scotland's oldest licensed distillery. Had it stood today, it would be celebrating its 250th year in production. To mark the milestone, the guardians of Littlemill's remaining stocks have released its oldest whisky to date, a 45 Year Old limited to just 250 decanters.
Michael Henry, the master blender at Loch Lomond Group, is the guardian of Littlemill's dwindling stocks and personally selected a heavily-aged whisky for the milestone. He finished the 45 Year Old in an oloroso sherry cask for six months, in keeping with the sherry-led history of the distillery.

[See also: Glenfiddich Adds 50 Year Old to Time Re:Imagined Series]
He said: "Double distilled in Littlemill's bespoke straight neck pot stills which were designed to give a triple distillation style character, this is a lowland single malt whisky of exceptional character.

"You can taste the history in every precious drop, from elderflower, chamomile and lemon zest, to the silk-like creme caramel and tart green apple, and the warming ginger and cinnamon spice finish."
Aligned history
Founded in 1772, the Lowland distillery shares its formative years with the invention of photography. While the earliest surviving photograph dates back to 1826, scientists were fixated on the idea of capturing imagery throughout the 18th century. To celebrate this alignment in history, Littlemill partnered with renowned photographer Stefan Sappert to bring the two histories together.
Using traditional techniques, Sappert created 250 silver on black glass plate photographs, capturing a romantic view of the River Clyde, which sits in close proximity to the distillery's original site. Each of the 250 plates are individually numbered and signed by Sappert.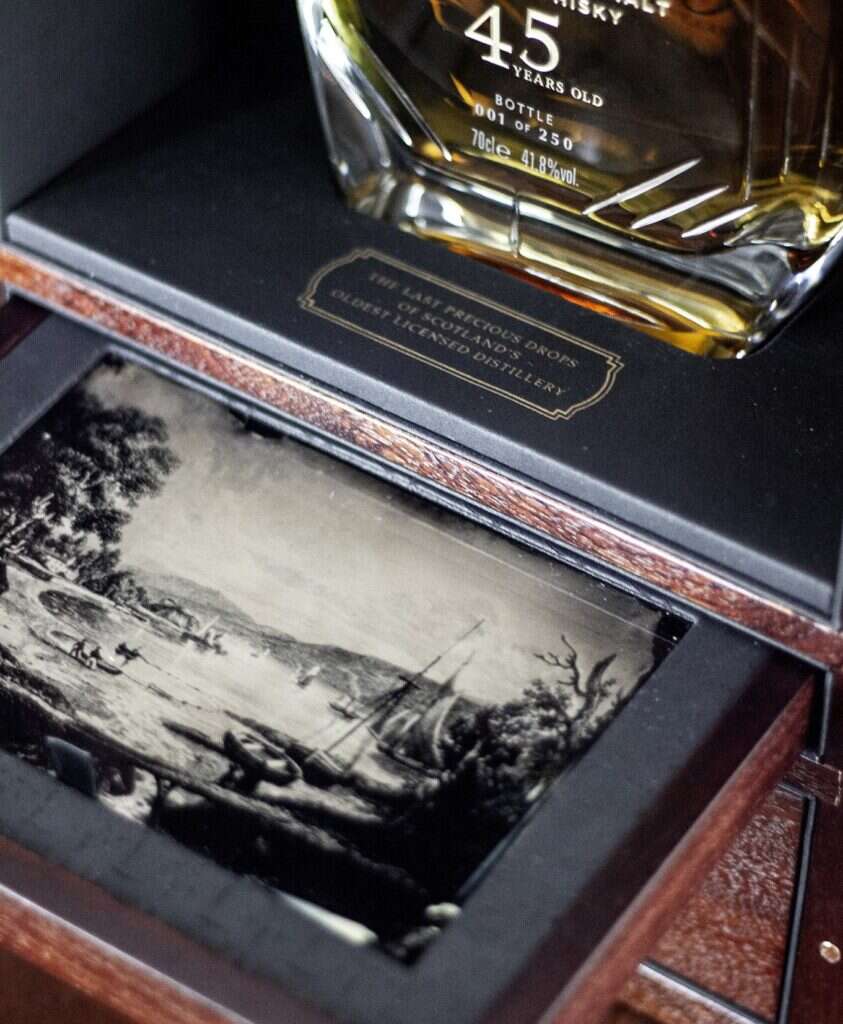 He said: "My work uses one of the oldest photographic processes that links directly to the 1770s, where the basis of creating permanent photographs was discovered and when Littlemill was founded. I work with an old wooden camera and a historic lens that is over 160 years old. The result is not just a digital image, but a genuine piece of art."

The plate and the whisky are presented in a cabinet that takes inspiration from a Victorian camera box.
Littlemill 45 Year Old Tasting Notes
Nose: Deep flavors hit first with stewed berries, leather and pencil shavings. There is plenty of wood influence in this, but not in an overpowering way. Some time in the glass allows the floral notes to come through, including dried tea leaves and orange zest.

Palate: A wonderfully silky texture compliments the initial sweetness of this whisky. Official tasting notes suggest creme caramel and I am inclined to agree. The same citrus notes linger in the background but that oloroso influence eventually dominates with darker notes of cinnamon spice and stewed berries.

Finish: A long finish with the wood influence taking over. Slightly dry with Christmas spices and pencil shavings mixed in harmony.

Verdict: A nice whisky that needs to be drunk without water. Littlemill is evidently a light spirit that takes plenty of influence from its time in casks. Putting this liquid in oloroso for six months has certainly injected more life into it. Although lacking the complexity of other whiskies of the same age, it is nonetheless a very nice drinker, full of historical narrative and elegantly presented.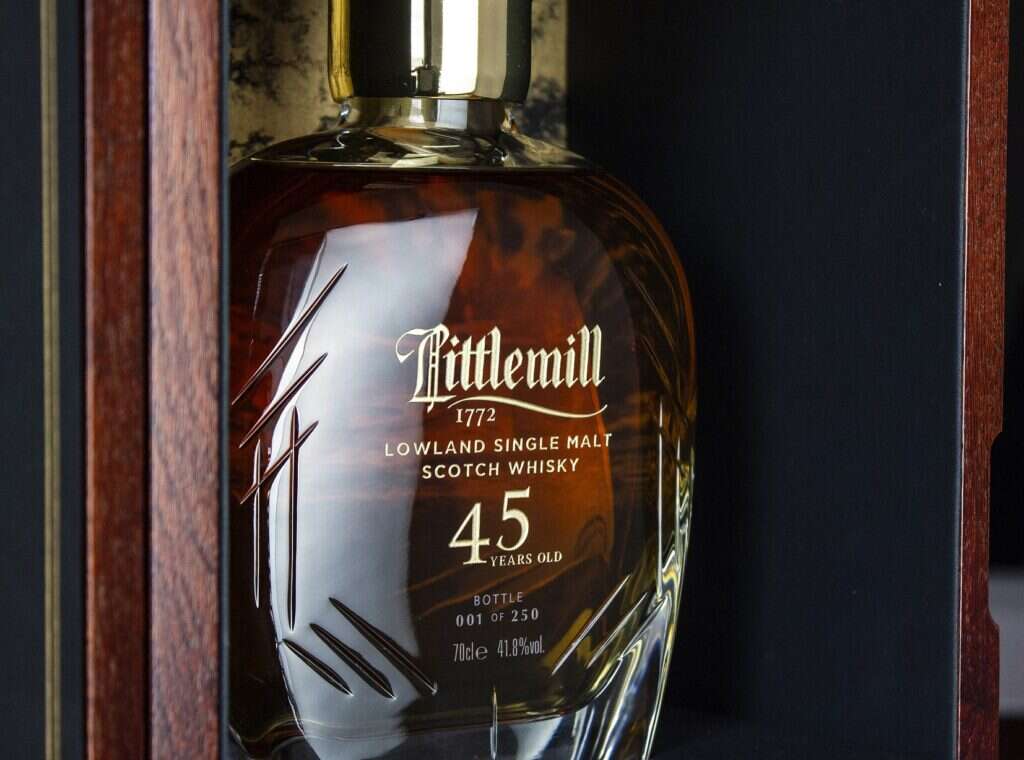 Bottled at 41.8% ABV, the Littlemill 45 Year Old 250th Anniversary Release is available at littlemilldistillery.com, and through specialized retailers for an RRP of £9,500 ($11,000).