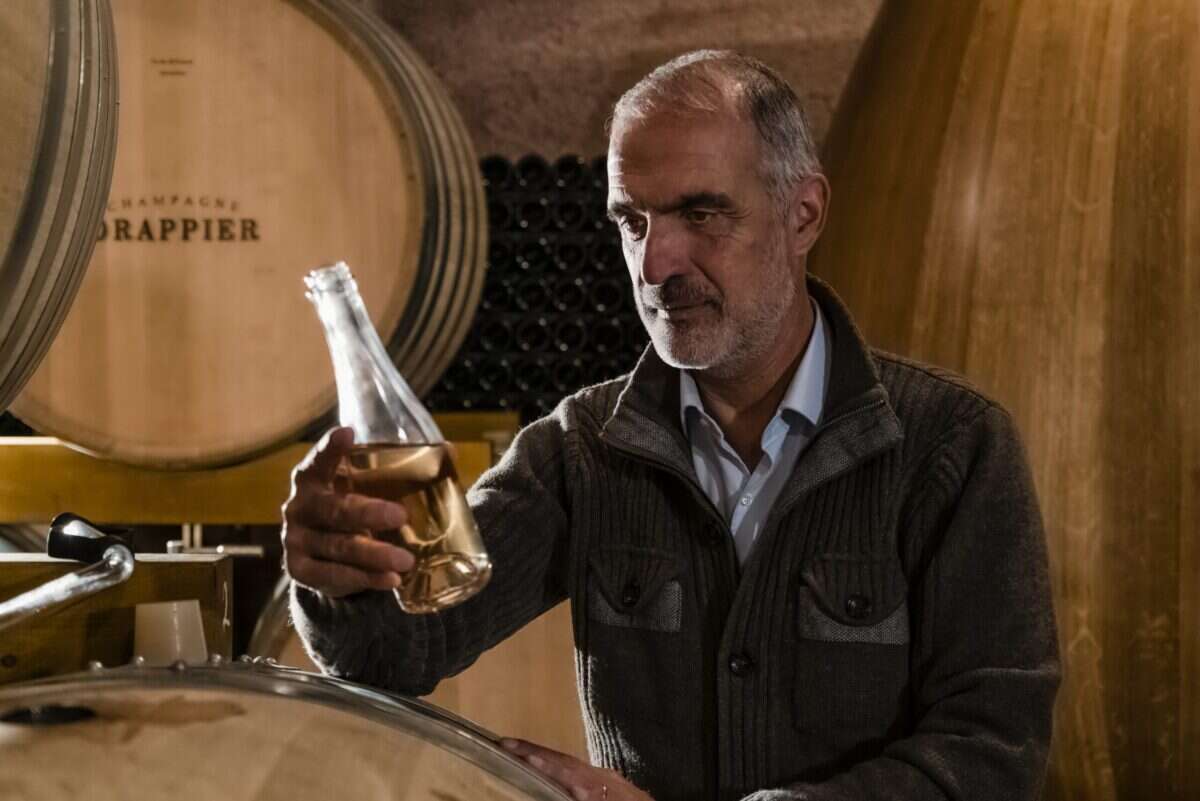 When Michel Drappier's daughter, Charline, was born in the late eighties, he made a decision that would alter the course of his family's Champagne house to this day.
"I looked down at my baby – beautiful, innocent, pure, and said 'I'm not going to bring this new generation into a dirty, polluted world'," he recalls.
That same year he began weaving sustainability into every aspect of the winemaking process – a long and arduous journey that would culminate in Drappier becoming the world's first carbon neutral Champagne house in 2016.
[See more: The Best Champagne Brands to Try in 2022]
Today, over half the estate's vineyards are certified organic, with another 49.4 acres of land currently in the process of converting.
There were times when getting to this point seemed all but impossible. "It took years [to move to organic production] because my father was very stubborn with old techniques," explains Michel. "He's always been the man to fight against pests and doesn't like to see rabbits eating the vines. It's still the subject of arguments between us today because my children and I love seeing all of the nature come back to life."
It wasn't a decision that was taken lightly. In fact, Michel had to wait until he turned 45 before his father, André, finally handed him the reigns.
"It got to the point where we couldn't both be in charge," remembers Michel. "There wasn't room for two. One day I said to the workers, it's him or me. It was then that my father decided to leave the cellar. I think, by that point, he was confident I would be a good winemaker."
Over the next two decades, Michel introduced an array of measures to minimize the carbon footprint of the estate, including adding solar panels to the roof, starting the transition to electric tractors and creating lighter champagne bottles made from recycled glass.
He also began implementing a sustainable approach to viticulture, avoiding herbicides and planting trees and hedges to attract insects to help maintain the health of the grapes. Above all, he says, "everything we do is calculated to reestablish a balance between nature and our vineyards."
The gamble certainly paid off. Drappier went on to become a trailblazer in the world of sustainable winemaking, with Michel scooping The Drinks Business' Green Personality of the Year award in 2017 and Prix d'Innovation two years later.
Even his father, who is now 96, admits the champagne tastes good and "drinks it with pleasure". Although, adds Michel with a chuckle, "I'm not sure he understands how it can be so successful with all those pests crawling around."
To say Michel is passionate about champagne is an understatement – his tireless devotion to his wine is absolute. It is perhaps little wonder given his upbringing. He still lives in Urville, a tiny village in the depths of the Côte des Bar, where his family has been growing grapes for over a century. It was here, in 1116 that Saint Bernard, a monk from Cîteaux Abbey, planted Pinot Noir in the Champagne region for the first time.
"I was playing in the vineyards as a little boy while my parents were pruning and trimming the vines," says Michel. "It's all I've ever known."
By the time he turned 15, Michel was "absolutely clear" that he would follow in his father's footsteps and become a winemaker. After studying oenology and viticulture in Burgundy, he joined the family business to fulfill his dream. As an only child, he was in charge of everything from planting vines to shipping wines.
At times it could be lonely. But this all changed with the arrival of his three children. Today, each has their own specialist field. His oldest son, Hugo, is responsible for viticulture and oenology, while Charline oversees the day-to-day running of the estate. Antoine, his youngest son, plows the organically-farmed vineyards with horses to prevent erosion of the precious soil.
It's not unusual for Michel and his wife Sylvie to pass their children while out driving through Urville. "I'm a lucky man to have all my family near me," he says with a smile. "The village is very small – it's almost a family village."
After so long in charge, has it been difficult to pass on the baton to the next generation?
Michel pauses. "Yes, it has," he says. "But I try not to make the same mistakes as my father. I try to be more open-minded and understand what will happen in the future. Every day we have discussions and arguments."
Another hotly contested topic around the Drappier dinner table came in the form of the vines themselves. In the early 2000s, Michel took a gamble, replanting rare heirloom grape varieties from the Champagne region that were at risk of vanishing altogether due to their low production yield.
"I thought it would be a mistake for the biodiversity to let them disappear," explains Michel. Curious to see the type of wine these rare grape varieties would produce using modern vinification methods, he set about planting a small patch of vines.
"My father was absolutely against it," he recalls with a laugh. "He said 'You're not going to survive – you're working for nothing'."
That was over two decades ago. The experiment paid off and Michel has since used the forgotten varietals to create Drappier's celebrated Blanc de Quatre Blancs (a blend of Arbanne, Petit Meslier, Blanc Vrai and Chardonnay) and the newly released Trop M'en Faut produced entirely from Fromenteau grapes.
Wherever possible, the Drappier family use minimal sulfur in their wines – a decision that stems from Michel and André's own intolerance to sulfites.
Allergies aside, Michel explains, "sulfur acts as an anesthetic to your taste buds and dries out your tongue and palate," masking the true nature of the wine.
With this in mind, he began a lengthy process of creating an entirely sulfur-free champagne – the Brut Nature Sans Soufre. "I discovered that if you have perfect grapes, not a single rotten berry, clean equipment, with no exposure to oxygen throughout the process from the vineyard to bottling, it is possible to have a zero sulfur champagne that keeps well with natural acidity," he says. "And, thanks to that, we export our sulfur-free champagne from here to the other side of the planet with no problems."
Going forward, the Drappier family is showing no signs of slowing down in their innovative approach to the entire winemaking process and Michel is eager to push the boundaries even further to become carbon negative.
Within the next decade, the family hopes to convert all of the estate's land to organic farming methods and phase out gasoline tractors altogether. Not stopping there, the Drappiers also plan to ship their exports to the US using TransOcean Wind Transport's decarbonized fleet of wind-powered sailboats, which are currently under construction.
Ultimately, Michel hopes his family's work will pave the way to a greener future for champagne. When asked about the wider industry's ability to change, the talented winemaker sounds cautiously optimistic. "Being carbon neutral isn't easy," he says, "but it is possible. We are not rich, we are not big, we are not experts, but we made it happen."
[See more: How Champagne is Going Green]