It has been a year like no other for the champagne industry. Increased temperatures and low rainfall, coupled with the disruption felt by Covid-19, have led some to worry about the future of champagne.
Dry weather throughout March and one of the lowest July rainfalls in recent history led to the earliest champagne harvest on record, with some vineyards beginning as early as August 17th. However, these so-called early "hot harvests" are becoming increasingly common, with the fingers of blame unanimously pointing at one factor: climate change.
As an industry that relies so heavily on the natural environment, it should come as no surprise that an environmental crisis is having such a huge impact. However, having recognized the threat nearly 20 years ago, the champagne industry is trying to lower carbon its footprint and adapt to climate change at the same time – but have they done enough?
The impact of climate change on champagne's future
Of course, we all know that climate change is one of the greatest threats to our planet, and that we must collectively work to reverse the impacts of global warming. However, in a somewhat twisted consolation prize, the impact of rising global temperatures has actually been remarkably good when it comes to champagne.
According to Thibaut Le Mailloux, the director of communications at Comité Champagne: "The impact of climate change is that we are making great champagne more often than ever. […] The rise in the temperature of Champagne, which is 1.1° over 30 years, is leading to an increased number of vintage years."
Climate change has not only impacted the champagne itself, but has also led to a change in practice, as increased temperatures have led to a riper fruit, and therefore a sweeter wine. The presence of this natural sweetness has simplified the production process, removing the need for additional sugar to be added.
However, whilst the industry can currently revel in exceptional champagne and a higher number of vintages, it is widely accepted that this is temporary. The champagne may be excellent right now, but with the continuing rise in global temperatures, there is no certainty as to how long these excellent harvests will continue. Industry leaders have no choice but to look forward and develop new ways to maintain the prestigious industry, and continue making outstanding champagne.
One significant way that growers and manufacturers are securing the future of champagne is through hybrid grapes. Extensive research has already found that certain grapes are resistant to heat and drought, as well as resistant to damaging fungus, therefore reducing the need for pesticides and protecting from the increased risks of climate change.
According to Mailloux, the goal of the 15-year hybrid grape program, which will mix European vine species with American, is to maintain the unique style and taste of champagne, while defending against the impact of climate change. Fortunately, researchers have so far found that when combined with the chardonnay grape, the forerunning hybrid grapes do not impair the taste nor style of the wine.
Sustainability: how the champagne industry is making changes
While the previous few years' harvests, and probably the years to come, have yielded amazing quality grapes, those in the champagne industry are aware that it is their duty to look forward, and commit to lowering their collective carbon footprint.
What many visitors don't know is that Champagne is a pioneering region for sustainability, having begun to take actions towards cutting its carbon emissions years before the French government made such action legally binding. Since 2003, the industry has equipped itself with an ambitious climate plan, in a committed effort to improve sustainability and reduce its impact on the environment.
Champagne's carbon footprint reduction commitment is separated into three primary focuses: water, air and biodiversity – and the results are already impressively positive across the board.
By focusing on their consumption, the region has successfully ensured that 100% of the water used to make champagne is treated and re-used. In terms of air, the CO2 emissions have been decreased by 20% per bottle of Champagne – put into perspective, that has the same environmental significance as taking 80,000 cars off the road over 10 years.
Most significantly, however, is the focus on biodiversity – namely pesticides. According to Comité Champagne, the industry has reduced the use of phytosanitary products and nitrogen fertilizers by 50% across the regions, with half of the pesticides that are used allowed in organic farming.
However, although the industry has made impressive steps towards lowering its collective carbon footprint, there is clearly more to do to preserve the region's terroirs, and minimize impact to the climate. Over the course of the next 30 years, champagne houses across the region have committed to a series of objectives:
– The use of zero herbicides by 2025
– Cut each bottle's carbon footprint by 75% by 2050
– Achieving environmental certification across 100% of land by 2030
Sustainable tourism in the Champagne region
Behind Bordeaux, Champagne is the second most popular wine region in France, encouraged in no small part by the fact that the hillsides, cellars and houses are recognized by UNESCO as World Heritage Sites.
Whilst the large number of visitors each year (with the exception of 2020) is invaluable in generating revenue for the region, growers, producers and sellers must work together to ensure that tourists visit in a sustainable way, protecting both the product and the planet.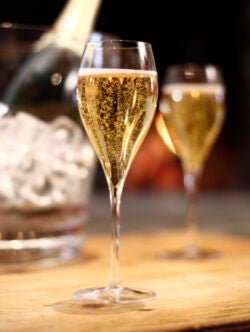 Comité Champagne's head of PR, Philippe Wibrotte, has stated that sustainability and tourism in the region go hand-in-hand, as travelers begin to seek more eco-friendly destinations: "Sustainability, eco-friendly choices and authenticity are what our visitors want to discover."
It is this visitor demand for eco-friendly practices and organic produce that has acted as a motivator for the region to slash their use of pesticides in half, using certified organic products where possible.
Champagne's location is also a key contributor to promoting sustainable tourism: being within driving distance from both Paris and London ensures that the vineyards can be visited without unnecessary airplane journeys, reducing individual visitor's carbon footprint.
Collectively, champagne houses are focused on making the region more appealing and accessible to tourists as part of the UNESCO project, including offering unique experiences and seeking private investments into the area's hospitality scene.
The future of champagne
What is increasingly clear is that as an industry, champagne makers are prepared for the challenges ahead. By incorporating sustainability into the very core of their operations, the wine continues to improve in quality and the tourists continue to visit this esteemed part of the world.
Another key to the Champagne industry's longevity is the shared responsibility for tackling the issues they are all facing, and working together to find solutions. Christian Holthausen, of AR Lenoble Champagne, has commented on this sense of comradery: "Overall it's important for us to remember we are all in this together: for climate change, for Covid-19, for everything. We have to really support each other, continue to form coalitions, and take care of each other."
If tourists can continue to visit the area in a sustainable manner, and the industry continues to seek eco-friendly solutions, the future of champagne will not be as bleak as some say.