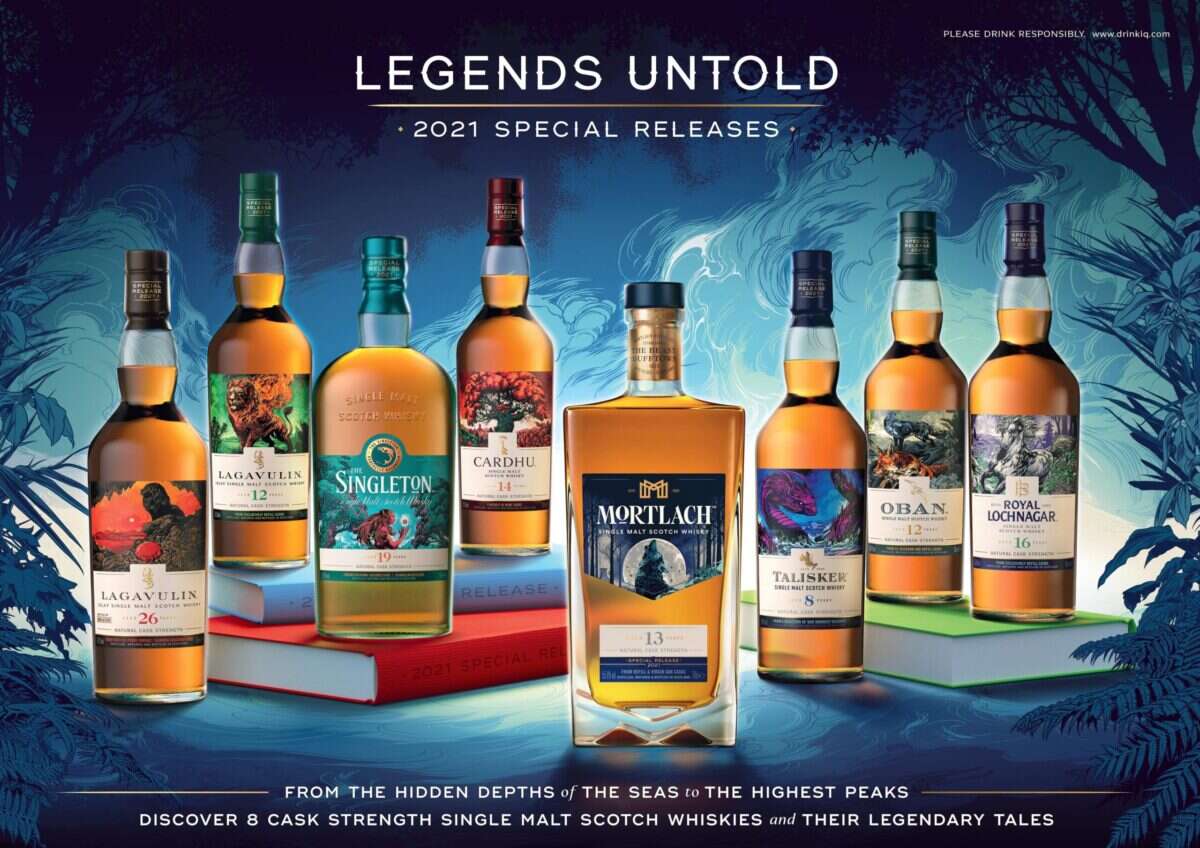 The Diageo Special Releases has become a marked day in any whisky enthusiast's calendar, no more so than in 2021. Comprising eight whiskies from some of Scotland's most prized distilleries including Talisker and Lagavulin, this year's Special Releases capture the imagination like never before.
Using the power of modern technology, the eight cask-strength whiskies come complete with their own fabled beast. Scottish folklore dictates that each distillery's heartland has its own protector. All have been beautifully represented by renowned digital illustrator Ken Taylor on both the label and presentation box. The multi-sensory journey continues through a QR code, which takes owners on a detailed narration of the whisky's journey. Whisky fans are then guided through a mixed reality tasting experience, designed to elevate their senses and capture an essence that may otherwise be missed.
[See also: The Most Expensive Whisky Ever Sold at Auction]
This is all before you get to the whisky itself. The entire collection will set you back around $3,500. For that, you gain ownership of eight limited-edition Scotch whiskies that are unlikely to be seen again. Each one represents the height of experimentation with rare cask finishes and unusual age statements.
Dr Craig Wilson, who hand-picked each whisky in the collection, said: "We have delved into the core characteristics of several classic distilleries, exploring the elements and reimagining the liquids for the Legends Untold collection. The mythical creatures of this year's collection represent the true expressions of the distilleries. Taking inspiration from them, we have revealed new depths of flavor and embraced the essence of each whisky's unique flavor profile."
Do not be deterred by talk of limited quantities. While they won't be around forever, this is a much wider release than what we usually cover on Elite Traveler. Where Diageo's ultra-rare Prima & Ultima collection may be destined for the investment portfolio, the accessible prices and wider availability of the Special Releases 2021 make them ripe for opening.
But if you're not in the market for eight new bottles of Scotch, we've tested and rated all of them to help you pick out your favorites.
[See also: The Best Scotch Whisky Brands in the World]
Tasting Notes
Note: At cask-strength, only the most seasoned of drinkers will reveal each whisky's true character without water. With the exception of the Lagavulin 26, all tasting notes are given after several drops of water have been added.
Oban 12 Year Old
56.2%, $115
Cask: Freshly charred American Oak
Nose: Unmistakably coastal. A savory start with sea salt and seaweed. Citrus and pepper are delicately balanced with a smokiness from the charred casks.
Palate: Surprisingly fresh and fruity character that was completely absent on the nose. Well balanced with the savory notes and a hint of wood spice.
Finish: A medium finish of spicy wood notes and black pepper.
Rating: 7.5/10
Lagavulin 26 Year Old
44.2% $2,400
Cask: PX/Oloroso seasoned first fill casks

Nose: Wonderfully complex with oak spices evolving into heavier notes of bonfire and ash. Underlaid by a deep sweetness of toasted marshmallows, poached pears and blackberries.
Palate: A deep sweetness. Baked figs and vanilla. Fades quickly to make way for an oak spice and smoky notes that intensify over time. A classic Lagavulin texture with an ultra-smooth texture.
Finish: A long finish as the peat take over your palate to offer notes of an empty cigar box.
Rating: 8.5/10
Singleton 19 Year Old
59.7%, $175
Cask: Refill American oak casks, finished in cognac casks
Nose: Vibrant with citrus. Orange oil, lemon zest and raw honey leave the senses tingling with anticipation.
Palate: Lots of spice with an oak-infused dryness. Pencil shavings and ginger, but the sweetness doesn't carry through from the nose. More water brings out a freshness of green apples and grapes.
Finish: A long finish with hints of ginger and spent tea leaves. The dryness remains.
Rating: 6.5/10
Mortlach 13 Year Old
55.9%, $125
Cask: Virgin and refill American oak casks

Nose: Freshly cut grass that is in-keeping with Speyside mixed with a tartness akin to marmalade.
Palate: A creamy texture with floral notes that evolves into a savory finish.
Finish: A long a complex finish that suggests something much older than its age statement. A powerful Speyside malt that does justice to the Beast of Dufftown.
Rating: 8.5/10
Cardhu 14 Year Old
55.5%, $150
Cask: Refill American oak casks, finished in red wine casks
Nose: Very sweet. Lychees, coconut and hints of cream sherry. An underlying note of chardonnay white wine.
Palate: In keeping with the nose, sweet notes dominate. Grapes and red apple skin combine with oak. Extra water smoothens out the liquid further.
Finish: A short and fragrant finish with spicy pepper and further notes of sharp grapes.
Rating: 6.5/10
Talisker 8 Year Old
59.7%, $115
Cask: Heavily peated refill casks
Nose: Instantly identifiable as Talisker. Menthol notes mix in with the seaweed and brine that Talisker is famous for. A real bomb of a whisky.
Palate: What a hit. Big, bold and unabashed. The added peat gives extra fire to the traditional Talisker profile. An uncomplicated whisky with nothing too surprising.
Finish: Smoke remains on the palate as other notes evolve from brine and salt to pears and pepper. An excellent alternative for Islay enthusiasts.
Rating: 7/10
Lagavulin 12 Year Old
56.5%, $150
Cask: Refill American Oak casks
Nose: A heavy maritime influence that evolves into dark chocolate. Water reveals the underlying citrus zest with a hint of ginger akin to tequila.
Palate: An uncomplicated malt that delivers what you'd expect from Lagavulin. Sourdough, freshly squeezed lemon and hints of bonfire.
Finish: Water extends the finish to reveal fruitier notes. Smoke clings on from start to finish.
Rating: 7/10
Royal Lochnagar 16 Year Old
57.5% $250
Cask: American Oak and European Oak refill casks
Nose: A good balance of fresh fruit and wood spice. Subtle notes and a mellow aroma suggest something far easier to drink than the ABV would have you believe.
Palate: An acidic texture, like drinking juice first thing in the morning. Orange zest comes to the fore before the wooded notes come through in a lengthy finish.
Finish: A long and woody finish that warms the body. A real winter dram that is best enjoyed in deepest winter.
Rating: 8/10