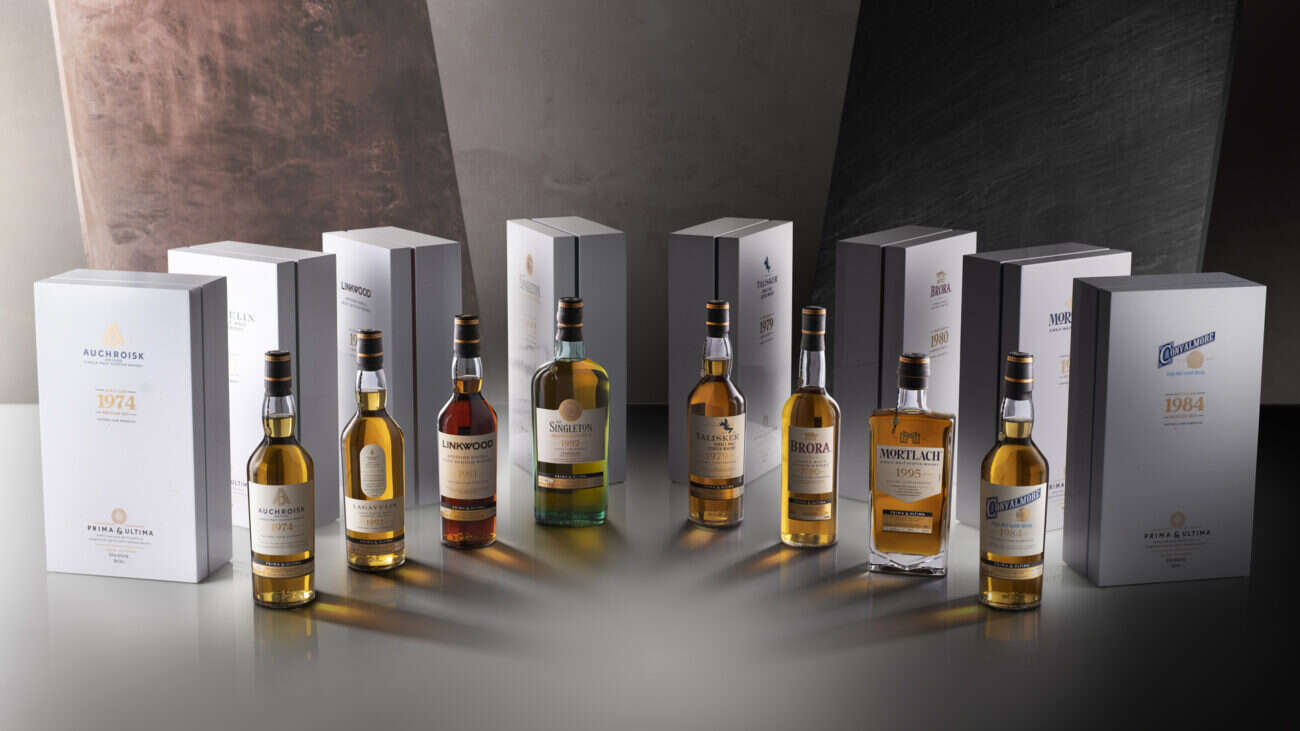 Prima and ultima, first and last. The name suggested that last year's exclusive release from Diageo was a one-off. After all, it cannot be easy to find an eclectic mix of eight highly unusual, heavily aged whiskies on an annual basis. But then again this is Diageo, the owner of 28 Scotch distilleries. It comes as no surprise that 12 months on from that impressive release, a new set of equally extraordinary liquids has arrived.
The collection is comprised of cask-strength bottlings drawn from the historic stocks of some of Scotland's most revered and storied distilleries. Each one comes with an impressive back story and none will exist again. From the first cask ever filled at a distillery to unrepeated experiments, all are either the first or last of their kind.
Taking over from Jim Beveridge, this year's collection was curated by the equally qualified Maureen Robinson. With over 40 years in the industry, the master blender took inspiration from her own journey, selecting casks that she has had her eye on for decades. Distilleries range from household names like Talisker and Lagavulin to the almost forgotten ghost distillery, Convalmore. The biggest name of all is the legendary Brora, a revered ghost distillery that was reanimated earlier this year.
[See more: The Best Scotch Whisky Brands in the World]
All eight are remarkable in their own way, but none more so than the 47 Year Old from Speyside distillery Auchroisk. The 48.7% liquid was drawn from the very first cask filled on the very first day of distilling on January 15, 1974. For any single cask to mature for 47 years is rare in itself. The fact that the first cask ever has made it to this age may well be unique. The liquid is rich and spicy with a mellow taste of baked apple and cut grass. It is a perfectly aged Speyside single malt, of which just 382 bottles exist (the rarest in the collection).
Whereas Auchroisk marks the beginning of a distillery's journey, the 36 Year Old from Canvalmore marks an end. The 48.6% whisky was drawn from three American Oak hogsheads filled just months before Convalmore closed. Very little of the distillery's stocks remain, so this is likely to be one of the final releases ever. Similarly, the headline act, the 40 Year Old Brora, is drawn from Diageo's final 1980 casks, bringing an end to the height of its peated era.
[See more: The Most Expensive Whisky Ever Sold at Auction]
Robinson said: "This is a selection of very special Single Malts – some that have never before seen the light of day and others that are the fleeting and final examples of their kind. Each bottling shares a glimpse into the history of Scotch and one that I am honored to have witnessed in person.
"I remember choosing to hold back the cask filled at Auchroisk knowing it would be special for the future and the anticipation and excitement of the maturation trials we undertook with Linkwood and The Singleton, now realized in these releases. Some of these casks I helped to lay down, and have taken great pleasure in tending to them since, so I chose them with rich memories in mind. Each has its own unique style, which you can now explore for yourself."
Just 376 full sets of the Prima & Ultima Second Release are available for purchase. Those interested have until August 23 to register their interest here. The set is priced at £23,500 (approx $33,000) and is available globally exclusively through Prima & Ultima agents.
There will also be a chance to own the elusive set No 1 – with each bottle personally signed by Robinson – when it goes under the hammer at Sotheby's Hong Kong from September 15-24. All the proceeds of the sale will support Care International UK's work to empower women and their communities around the world through encouraging entrepreneurship, building livelihoods, improving access to education and healthcare, and responding to the Covid-19 pandemic.
Prima & Ultima Second Release
Auchroisk 1974
47-Year-Old | 48.7% ABV
Single Refill European Oak Butt
Number Bottled: 382 | Mulben, Speyside
Lagavulin 1992
28-Year-Old | 47.7% ABV
5 Freshly Charred American Oak Hogsheads
Number Bottled: 1,081 | Port Ellen, Isle of Islay
Linkwood 1981
39-Year-Old | 52.9% ABV
4 new American Oak casks, PX Oloroso seasoned
Number Bottled: 701 | Elgin | Speyside
The Singleton of Glendullan 1992
28-Year-Old | 60.1% ABV
Double Matured in 2 Madeira Casks for 14 Years
Number Bottled: 420 | Glendullan, Speyside
Talisker 1979
41-Year-Old | 47.5%ABV
4 Refill American Oak Hogsheads
Number Bottled: 556 | Carbost, Isle of Skye
Brora 1980
40-Year-Old | 49.4% ABV
3 Refill American Oak Hogsheads
Number Bottled: 505 | Brora, Highlands
Mortlach 1995
25-Year-Old | 52.4% ABV
Single PX/Oloroso Seasoned European Oak Butt
Number Bottled: 454 | Dufftown, Speyside
Convalmore 1984
36-Year-Old | 48.6% ABV
3 Refill American Oak Hogsheads
Number Bottled: 647 | Dufftown, Speyside