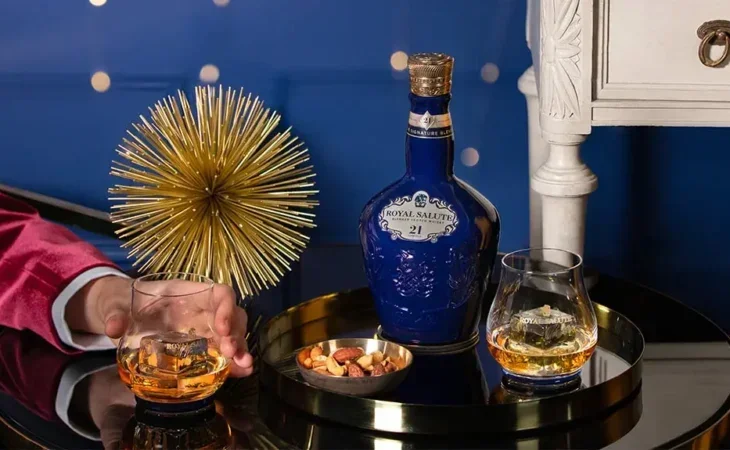 Royal Salute is making fresh advancements in its mission to limit its overall environmental footprint with the revealing of its new eco-friendly packaging.
Moving away from the rich blue-colored porcelain bottle that has been used to house the 21 Year Old Signature Blend since 1953, the new flagon will be made of a sleek coated glass, chosen for its less energy-intensive production process and wide recyclability. The switch has seen the blended Scotch whisky master reduce its packaging carbon footprint by an impressive 70%.
Great care and consideration have been taken in designing a new full-recyclable bottle that is not only better for the planet but also retains the distinctive Royal Salute aesthetic and quality. Thanks to this meticulous process, the new sustainable glass alternative is virtually identical to its porcelain predecessor.
[See also: Katy Fennema on Scotch Whisky's Bright Future]
"It is incredibly important to us that we play our part in taking care of the world around us, by reducing the environmental impact of our whiskies, saving precious natural resources and helping mitigate climate change," says Royal Salute global marketing director, Mathieu Deslandes.
"The introduction of this new more sustainable flagon is a crucial step in our journey to ensure all our packaging will be 100% recyclable, reusable or compostable by 2025. Looking to the future is at the very heart of Royal Salute; our whisky that is laid down in casks today will be aged for a minimum of 21 years, so we need to act today to meet Royal Salute lovers' expectations in the future."
Royal Salute is the latest in a large number of whisky producers that have woken up to the collective need to limit their environmental impact, with the likes of The Macallan, Talisker and Glengoyne, among others, making steadfast sustainability commitments.
The new packaging is already being used to house the 21 Year Old Signature Blend, with plans to extend it to the rest of the Royal Salute whisky portfolio shortly.
[See also: The Best Scotch Whisky Brands in the World]