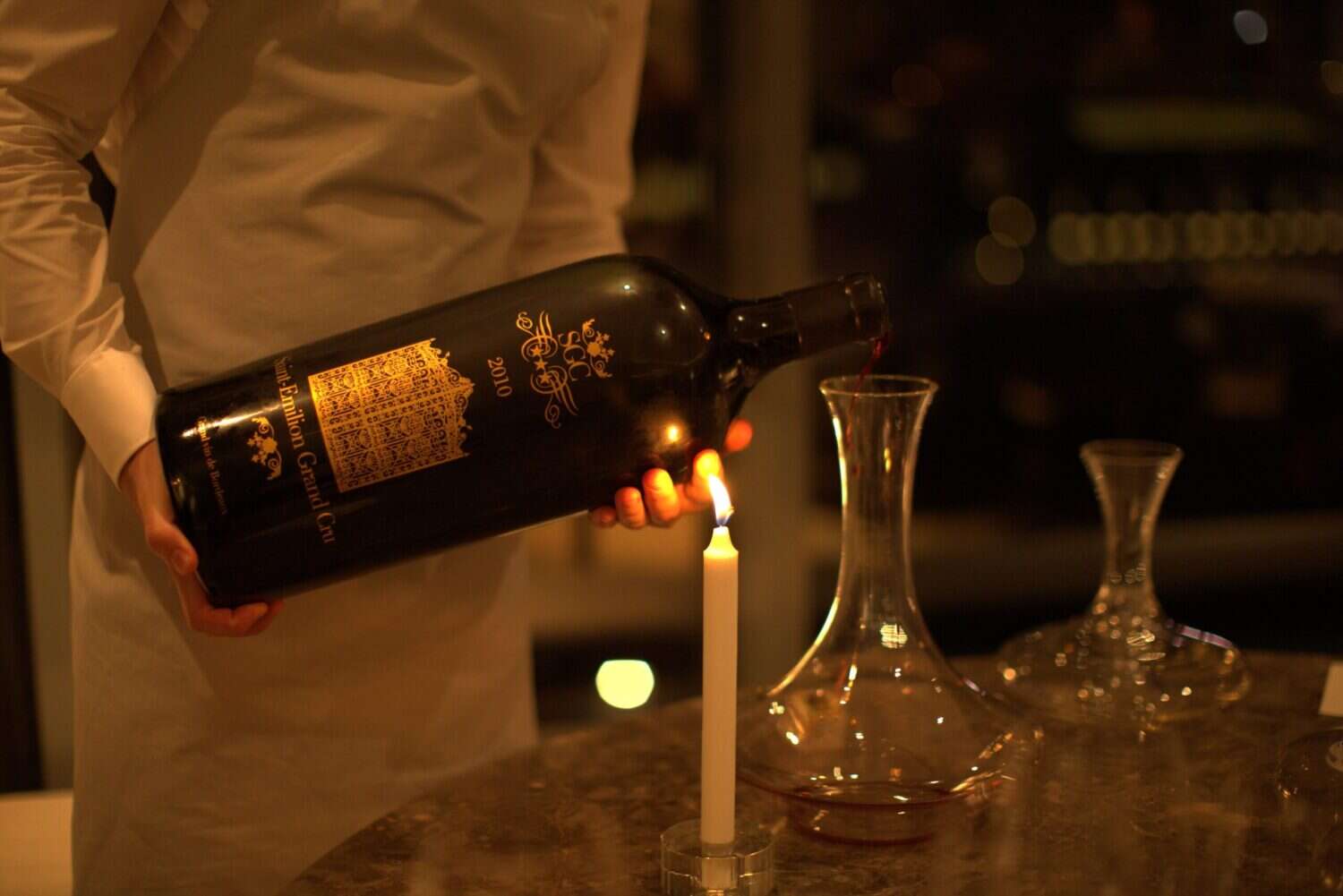 Arnaud Christiaens is reluctant to describe himself as a disrupter, but the journey his wine company, SGC (Le Secret de Grands Cru) Wines, has taken looks an awful lot like a Silicon Valley start-up. An outsider, unconcerned with the industry's rules of engagement, it harnesses modern technology to create a superior product right under the noses of ruling powers. No wonder SGC Wines has been described as the "Tesla of wine." But Christiaens is no Elon Musk. Whereas one is preparing to colonize Mars, the other simply wants to do one thing: make world-class wine.
The story of SGC Wines began not with a desire to make wine but simply to drink it. Christiaens, who at the time was working as a financier, traveled to Bordeaux in 2005 to start his own cellar. He called on the best advisers to guide him around the region's most revered estates and vineyards, but what he found was an industry that had completely failed to move with the times.
"Two things were very shocking to me," Christiaens tells Elite Traveler. "The first one was hearing that there had been zero newcomers enter into the ranking of 1855 (The Bordeaux Wine Official Classification was released in 1855 as a guide to the region's best wines and has not changed since). I thought, in an industry where you have around 12,000 labels, that nobody got access to that ranking, that it showed a high level of conservatism – a dusty industry.
[See also: The Best Champagne Brands to Try in 2022]
"The second was that everybody I talked to would focus on the wine-making process, but I was more interested in the soil. Everybody talked about this vague concept of a terroir. What does that even mean? I wanted something that was a bit more technical. I asked everyone if they knew a soil specialist, but no one could really answer that question."
He went back to his home in Geneva and forgot about it. He sensed there was untapped potential in Bordeaux's soil, but there was nothing he could do without a team of experts. Then, a friend in Bordeaux called out of the blue: "Are you still interested in that soil idea? Because I think I've found what you've been looking for."
What his friend had found was a group of scientists dedicated to analyzing soil across Bordeaux's vineyards using state-of-the-art technology. They had dug 20,000 holes across Bordeaux's great wine regions in search of the perfect growing conditions. Christiaens says: "In the hallway of this lab, there was a map of vineyards with different colors attached to different parcels. If it was dark red, it was very good soil; if it is blue, it was not so good. And I thought, this is exactly what I wanted."
[See also: The Most Beautiful Wineries to Visit in France]
The lab broke a vineyard's soil down to four main pillars: layers of ground quality, irrigation, nitrogen levels and the strength of the vine. The analysis was so in-depth it could take up to a year to complete. Once the results come in, the soil is awarded a score out of 20. The higher the score, the better the soil. The better the soil, the better the wine. Christiaens looked at those dark red spots on the map – the ones that had scored 19 and 20 – and wondered if the estates even knew they were sitting on a gold mine. If they weren't, how could he help them?
"Back then, people started to laugh," Christiaens says. "They didn't think these estates would give me their best soil. I said when I look at the red dots, it is about 3% of the vineyard so what do they do with that 3%? They just blend it with their other quality in order to produce the volume that they need. It becomes invisible. What if we don't put that 3% in the blend? Would it make a big difference to their wine or not?"
Ignoring convention, Christiaens literally turned up on the front door and tried to convince estates to hand over these parcels of land. He admits it was not exactly an enticing offer. Not only would they have to give away some of the best soil to what was essentially a two-year scientific experiment, but the name of the chateaux would not even appear on the SGC bottle (the locations of these parcels are a closely guarded secret).
Christiaens says: "At the beginning, it was very hard because they didn't want to give us their best soil, they didn't even want a second meeting. It was a bit like, 'Show me what you can do, and then we'll talk about contracts later.' Probably a year and a half of negotiation, then another year for soil analysis. Then the first blend coming out and still no contract, just a handshake."
Today, it is a much easier conversation. SGC has a burgeoning reputation on both sides of the Gironde river. If Christiaens knocks on your door, you welcome him with open arms. SGC's wines have created a new standard of quality and won critical acclaim from the likes of Michel Bettane and Jancis Robinson. In some cases, they have transformed the lives of winegrowers who had spent years producing wine for volume, not knowing the potential that sat beneath their feet.
[See also: The Most Beautiful Wineries to Visit in Italy]
"It's a great project because it really enables a lot of people who cannot afford the soil analysis to find out if they are sitting on gold dust," he says. "They are making more money, they see the light again, and they think now that there is a Bordeaux Chapter 2 – a Chapter 2 that can last for the next 200 years. It is a massive movement that we are starting, and I am very excited about that.
"There is one guy who purchased his land 40 years ago, and he had no clue he was sitting on fantastic soil. He was making decent wine, but the analysis showed it could be 10 times better. We helped him improve his tools, and in the end he began producing extraordinary wine. He sold his estate after that for a much larger amount of money."
With a verified and reliable method of producing world-class wine, Christiaens wanted to ensure it was enjoyed by good, honest people with a true passion for it. The quality was so high and yields so low that he could afford to be picky with whom he sold it to, so the invite-only Le Cercle (The Circle) was formed. Members of Le Cercle not only get access to SGC's most exclusive releases but a chance to connect with like-minded individuals at dinners and events. The requirements for inclusion are twofold: you must be a true oenophile, and you must be a nice person.
Christiaens says: "It is not about just being wealthy. There are plenty of wealthy people on the planet, and not all of them are very nice. Wine is about passion, so we wanted to share this wine with a circle of genuinely nice people. The nicest people are those who are kind to others. So naturally the members are great and nice people – they have great and nice friends. Nice people do not usually have not-nice friends. As a result, we try to make sure new members are recommended by current members, and not just those who have dollars to spend."
The dinners and events were put on hold for 2020, but SGC Wines still experienced a record year for orders, and the growth is set to continue. Christiaens has already identified potential opportunities in Italy and Spain. So with the lives of some Bordeaux winegrowers turned around, a loyal band of followers and the great estates of Bordeaux taking notice, can SGC Wines be described as disruptive?
"I don't think we are disrupting," Christiaens says. "If you take the big names of Bordeaux, there is a history, there is a soul attached to them that nobody can remove. We are just producing great wine, and I don't think that is disruption. We are bringing modernity, and I have made it my mission to help a lot of producers that do not have the money to run soil analysis. Implementing all of this is extremely complex, and when you are working in the Bordeaux wine industry, some people find themselves in great difficulty. Their wine can be so diluted with other blends that it basically becomes invisible. I really believe we are bringing fresh air to these estates."
[See also: The Most Beautiful Wineries in Spain]