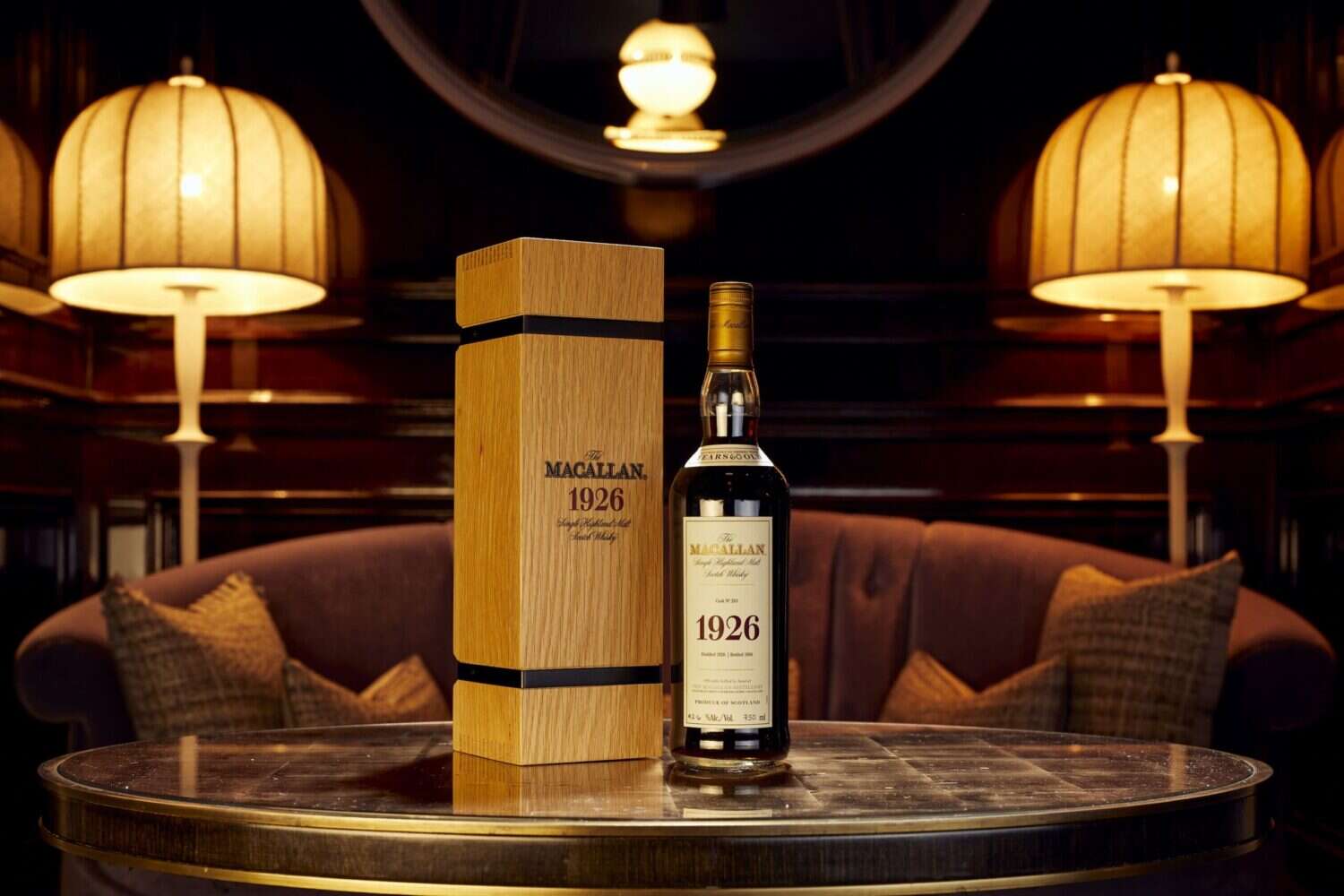 A bottle of the world's most expensive Scotch whisky, The Macallan 1926, is predicted to break records when it goes under the auction hammer in February. Thought to be one of only 14 in existence, the coveted Rare 60 Year Old has been given a sales estimate of over $1.4m.
The Macallan 1926 became the most expensive whisky ever when a bottle sold for $1.9m at Sotheby's in 2019. Since then, prices for old and rare bottles have continued to grow, with collectors willing to spend more and more on a select few labels. All 14 bottles are believed to be housed in private collections, so it could be years before another opportunity to buy one comes along. The auction, which runs on Whisky Auctioneer from February 12 to 22, is expected to draw bids from serious collectors across the globe.
This Fine and Rare 60 Year Old, drawn from Cask #263, contains liquid distilled almost a century ago in the height of the Roaring 20s and US Prohibition. It is considered the founding father of The Macallan Fine and Rare series, which remains the most coveted whisky collection to this day.
[See also: The Most Exclusive Whiskies in the World]
Old and rare-whisky expert Angus MacRaild, says: "The Macallan 1926 Fine and Rare is one of those handful of iconic whisky releases which has accrued such a lofty status that it exists more in relation to fine art these days than other whisky bottlings. Its performance at auction will no doubt be a powerful, bellwether statement about just how iconic and culturally relevant Scotch whisky remains in the 21st century. Irrespective of where you sit in the whisky world, the chance to see such a bottling come to auction and potentially break price records is undeniably fascinating and exciting."
The Macallan 1926 leads the second part of the Perfect Collection auction, which was amassed by former US bottling magnate Richard Gooding, who died in 2014. It is the largest private whisky collection to go to auction and includes a number of iconic bottles from some of the world's most fabled distilleries. Over 1,900 bottles of the rarest, most coveted and expensive single malts in existence will be made available, including The Balvenie 1937 50 Year Old and the legendary Bowmore 1964.
Iain McClune, founder of Whisky Auctioneer, says: "Mr Gooding's collection is nothing short of extraordinary, and we are honored and delighted to bring it to auction. Collectors, investors and whisky lovers alike will have their interest sparked by the truly astonishing array of whiskies on offer.
"Undoubtedly, the entire collection is crowned by the incomparable The Macallan 1926 Fine and Rare, a whisky that has in recent years become the pinnacle of whisky collecting, and for good reason. With no more than 14 bottles in existence, the rarity of this opportunity cannot be overstated, and we anticipate that the battle for this icon of whisky will be a mighty one."
The Perfect Collection Part Two was initially launched in April but had to be postponed following a major cyberattack. Part One took place in February 2020 and fetched a total of $4.5m. It also became the first online auction to sell a bottle for over $1m.
[See also: Black Bowmore DB5: Uniting Icons of Motoring and Whisky]