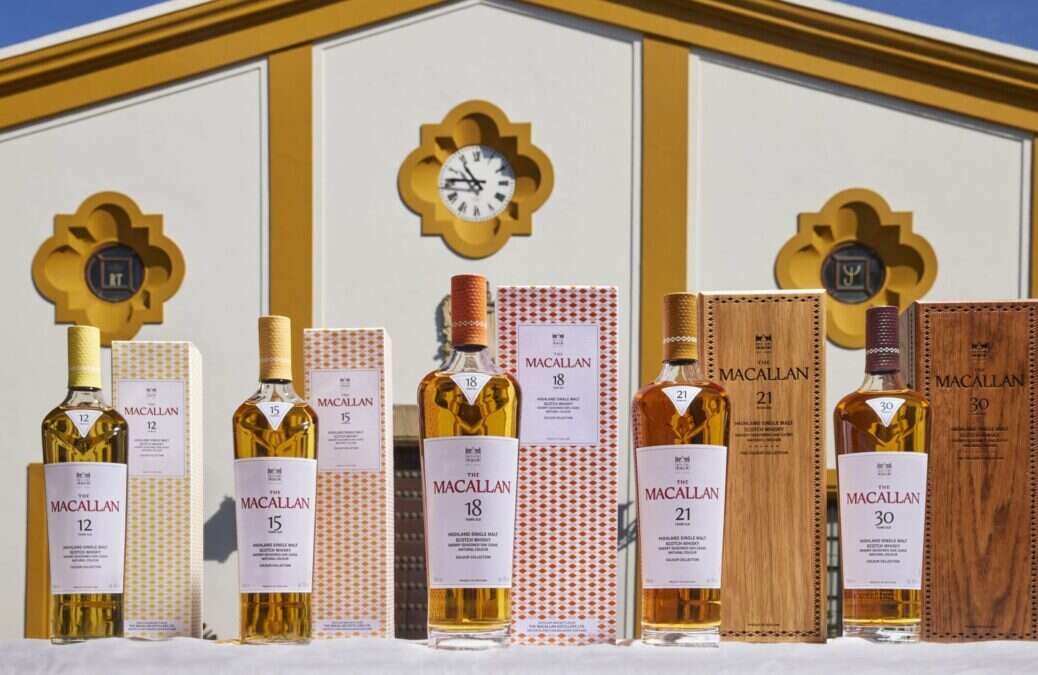 The Macallan has launched the Colour Collection – a new range of whiskies celebrating the natural amber hues of its single malts.
With vibrant packaging designed in collaboration with US graphic designer David Carson, the collection comprises five scotch whiskies ranging in age from 12 to 30 years, spanning a spectrum of natural tones from golden oak to burnished chestnut.
Each liquid has been matured in sherry seasoned oak casks imbuing them with a beautiful color, distinctive aroma and flavor. The American oak casks are crafted in Jerez and shipped to The Macallan's distillery in Scotland for aging.
[See also: The Macallan Launches Luxury Experience for Monterey Car Week]
Carson drew on the golden tones of the whiskies to craft the packaging. "The expressive wonder of color is something that never gets old," he commented. "You just can't beat nature's palette. I see Jerez as one huge, white canvas, its mysteries waiting to be discovered. Working with The Macallan is like having a conversation with an old friend – one who happens to be an excellent craftsman."
He continued: "To experience the shapes, the colors, the textures, the soil from Jerez de la Frontera, it's really inspiring. This is where every one of The Macallan's sherry-seasoned casks comes from. This is the soul of the Colour Collection. It all starts here."
Kirsteen Campbell, master whisky maker at The Macallan added: "The Macallan Colour Collection is a visual celebration of our commitment to natural color and sherry seasoning, with each of the dive distinctive whiskies taking travelers through a compelling sensory journey of the remarkable spectrum of natural hues derived from maturation in The Macallan's sherry seasoned oak casks."
She added: "Deepening in color with age, each expression tells its own story and is a prism through which consumers can explore the unique characteristics that underpin the exceptional craftsmanship, renowned quality and rich character of our single malt."
So what can you expect from the liquids themselves? The most exclusive bottle from the new Colour Collection – the 30 Years Old – which expertly balances notes of pineapple, dried mango and caramelized banana with sweet aged oak and orange oil, finishing with a heady mix of sweet wood spice and tropical fruits.
If you're hoping to get your hands on a bottle, the Colour Collection will be available in The Macallan Global boutiques and key airports around the world. Prices start at £70 (approx. $88) for the 12 Years Old and climb to £3,910 (approx. $4,993) for the 30 Years Old bottle.
[See also: The Macallan Creates New York Single Cask Edition for Auction]