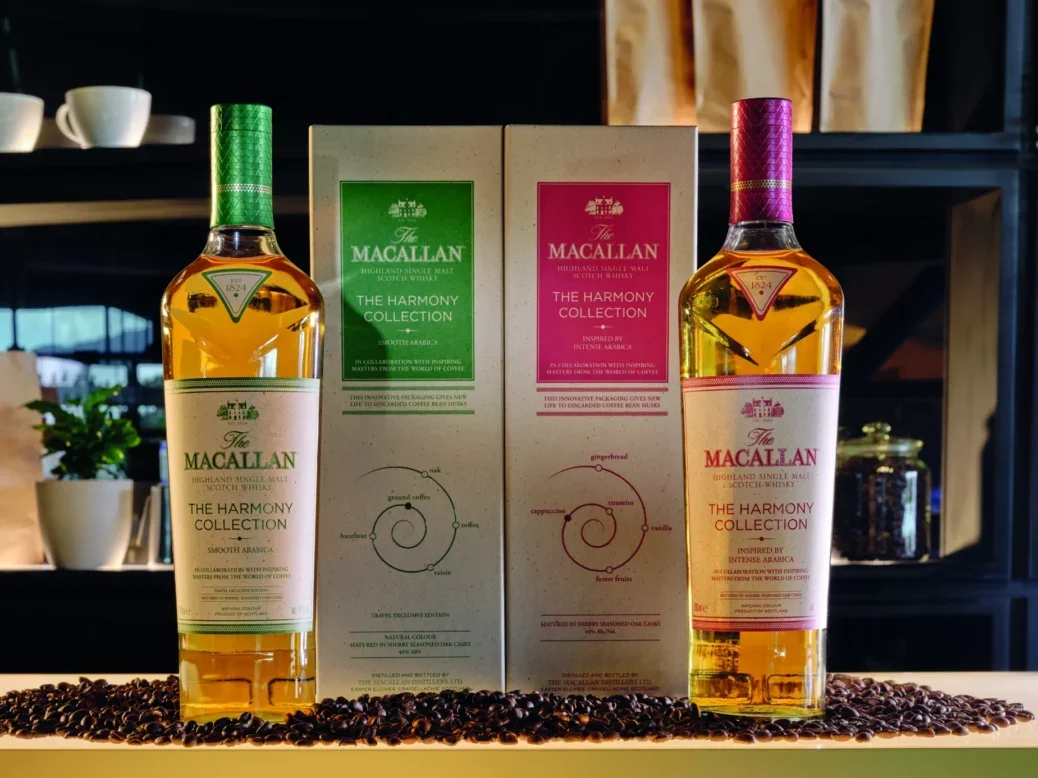 The Macallan Harmony Collection has doubled in size following the release of two new expressions. The series, first revealed last year, draws inspiration from the world of gastronomy. Last year, chocolate took center stage. This year, it's coffee.
The two new expressions, 'Intense Arabica' and 'Smooth Arabica' have been developed to celebrate the complexity of the Ethiopian Arabica coffee bean. Whisky maker Steven Bremner sought the advice of world renowned coffee experts to ensure the expressions could be paired with the finest beans.
Following a masterclass in coffee's journey from field to cup at The Macallan Estate, Bremner selected a combination of American and European oak casks to achieve a distinctive flavor reminiscent of the Arabica bean.
Intense Arabica, which comes in at a generous 44% ABV, has been developed to mimic a sweet espresso while Smooth Arabica, at 40%, tastes like an americano.
[See also: The Oldest Whisky Ever Released]
[See also: The Best Scotch Whisky Brands in the World]
Bremner said: "Exploring the world of coffee with our masters in the industry, who shared their knowledge, creativity, and love for their art, was both an education and an inspiration. There are many parallels between the approach to creating incomparable whisky and coffee. Each requires unique skills and craftsmanship to achieve depth and complexity of taste and both worlds aim to deliver an extraordinary consumption experience. 
"To create the coffee-inspired second edition of The Harmony Collection, I sought out intense notes in The Macallan's traditional sherry seasoned European oak casks that would offer the rich and satisfying elements of coffee, with the influence of sherry seasoned American oak casks adding sweeter and softer vanilla notes for a balanced and rounded experience.  
"Each expression has been paired with two different variations of Ethiopian coffee, which accentuate the unique tasting notes within the whisky when enjoyed side by side, creating an exciting new sensorial experience of The Macallan."
As with last year, The Harmony Collection 2022 retains a sustainable element. The presentation boxes have been partially created using repurposed coffee bean husks, lowering the environmental impact.
Both expressions will be sought-after by collectors, particularly as the use of American oak casks is becoming vanishingly rare in the sherry-led Macallan portfolio. Intense Arabica, with a stronger ABV, will be the one everyone has their eye on but both will fly off the shelves as soon as they land. Both will be available globally from November with Smooth Arabica available from Macallan airport boutiques.
The Macallan Harmony Collection Intense Arabica and Smooth Arabica will be available from November for an SRP of $185, themacallan.com
The Elite Traveler Holiday Gift Guide launches on November 2 with over 100 ideas across 10 categories. Visit the Elite Traveler Holiday Gift Guide here.