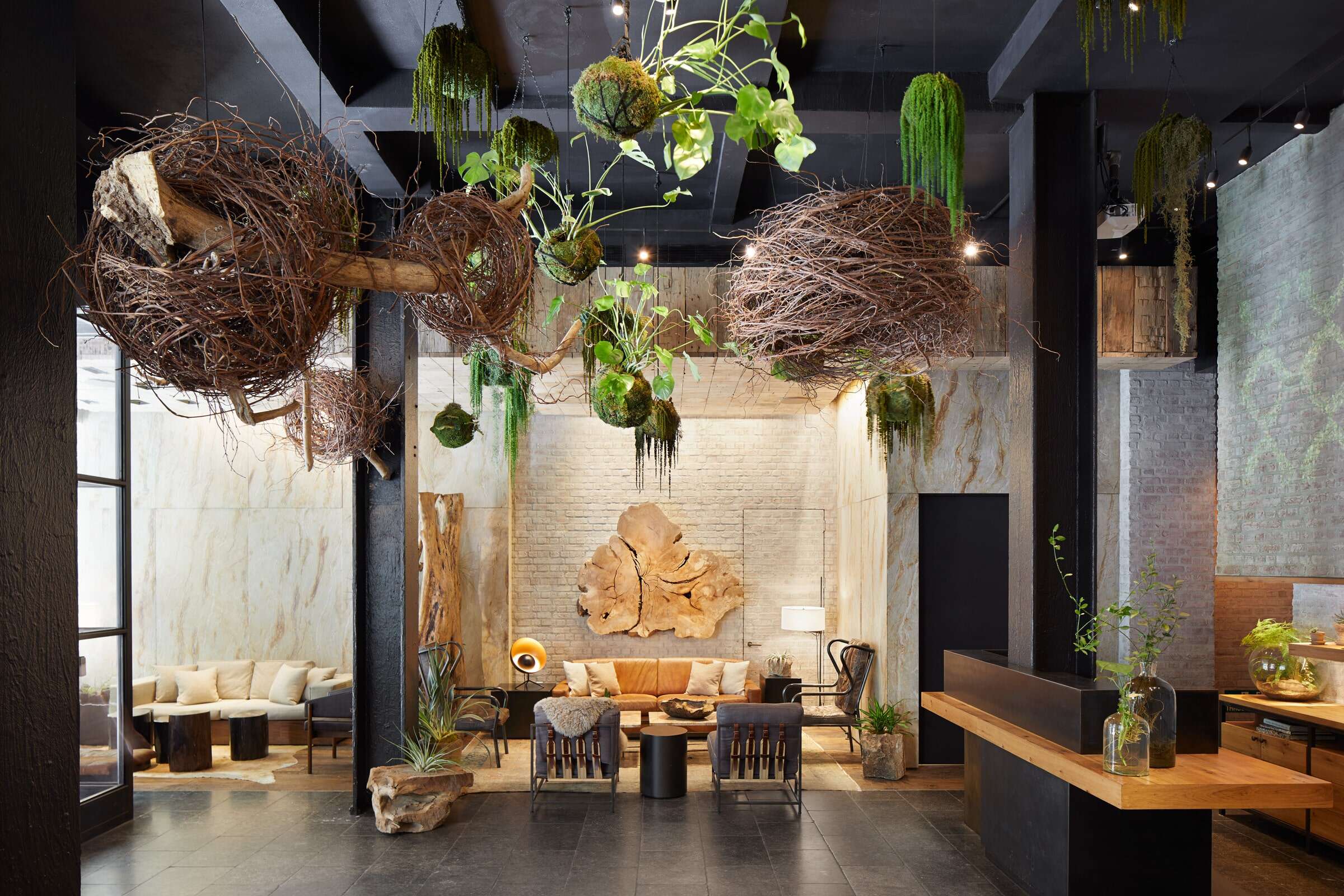 While many luxury hotels are now recognizing the urgent need to consider their environmental impact and make immediate changes accordingly, some have built their brand on sustainability from day one. One such brand is nature-inspired hotel group 1 Hotels; under the lead of group CEO Arash Azarbarzin, 1 Hotels has put care for the environment first in every decision it makes.
Launched in 2015 with the opening of its Miami Beach destination, 1 Hotels fits under the wider umbrella of SH Hotels and Resorts alongside other global brands including Baccarat Hotels and SH Collection. However, while 1 Hotel is similar to its siblings in the level of luxury it provides its guests, its mission-led philosophy is what sets it apart.
The brand is propelled by the seemingly simple notion that those who enjoy the privilege of traveling the world should also be responsible for caring for it. Every element of the hotels operates with the environment in mind, from the building materials used in construction to smaller, everyday considerations such as using natural materials for key fobs instead of plastic.
The core structures of the hotel buildings are sustainable, prioritizing regional, reclaimed or recycled materials wherever possible. For example, in 1 Hotel Central Park, redwood staves from New York City water tanks were used in the hotel's façade and timber from local barns was used in the guest rooms. At the South Beach property, Colorado beetle kill pine was used to create headboards, while wood from the original building's boardwalk was reimagined as the new pool deck in a bit to limit the number of new materials used.
This isn't to say that when you arrive at a 1 Hotel destination the group's environmental commitments will hit you in the face, nor will you feel a cult-like pressure to conform with its ideology – that isn't the 1 Hotel way. Yes, the hotels have a décor that is nature-inspired with lush greenery and natural wood finishes in abundance, but it is the behind-the-scenes commitments that really matter.
According to Azarbarzin, it is this approach that is the magic ingredient when it comes to combining luxury with sustainability: "For us, the secret has been doing what we do [in a way] that is seamless to the guests, [and] a lot of the work that we do is behind the scenes."
The efforts are plentiful: in addition to the zero plastic policy and sustainable building commitment, 1Hotels has a robust waste management policy: "We monitor every piece of trash that leaves our hotels [meaning] we know how exactly much [waste] we have," Azarbarzin explains. As well as implementing smarter ordering practices to minimize waste in the first place, 1 Hotel tries to handle the waste it does generate smartly, with composting initiatives in place across each destination.
Energy management is another core initiative in minimizing 1 Hotel's environmental footprint. As with waste, energy usage is consistently monitored across the group with efforts to prevent excess usage wherever possible. Of course, while such efforts go a long way in limiting a hotel's impact on the earth, Azarbarzin is not shy to admit the business benefits. "It actually saves you money when we monitor energy. [If] we monitor the usage and make sure we're not wasting, guess what? We're saving our investors and our owners' money but at the same time we're helping the environment," he says.
However, a few hotels putting the environment first isn't going to save the planet, and Azarbarzin knows this. "What we have done, I think, is paved the way for other hotels to follow in our footsteps and take measures that will help secure a better environment for everyone," he says. "For me, imitation is that the biggest form of flattery, and when I hear other hotel companies putting out messages and trying to use some of the same strategies that we have used for the last five, six years, it makes me happy."
[See also: Red Carnation Hotels Set to go Green by 2030]
Azarbarzin is also all too aware that the only way to achieve truly sustainable travel is through collaboration; gatekeeping best practices will only serve to benefit the individual, not the wider world. "We don't keep any secrets," he says. "If there's any best practices that we find or anything that we want to do, I have regular calls with colleagues to share [them] with them, because we feel it's not a competitive advantage."
This mission-led approach is clearly working; despite the past year's trials, 1 Hotel has an abundance of new openings on the horizon, including Toronto, Nashville, and London. "The hotels that are opening this year have been in the works since well before the pandemic," Azarbarzin explains. "1 Hotel Toronto is opening as soon as the borders open – we're ready to go."
Next year will also see the opening of 1 Hotel Hanalei Bay, Hawaii, a 251-room resort that will act as the group's flagship destination. "[The Hawaii hotel] is the best project I have ever been involved with – and I've been involved with many," Azarbarzin tells Elite Traveler.
As well as new openings around the world, 1 Hotels is also playing a key part in the rollout of SH Hotel's new loyalty program, which aims to revolutionize the guest experience. Mission by SH will operate as a tier membership program with exclusive rewards, including complimentary upgrades and custom experiences, unlocked as guests scale the tiers. But according to Azarbarzin, the real intent of Mission by SH is to offer as tailored and personalized a guest experience as possible across the whole group.
[See also: Earth Day: The Luxury Hotels and Resorts Going Green]
"Our goal [was] to create a loyalty program that [allows us to] remember each guest, so we can recognize you on your birthday, we can recognize your special events," he says. The program will even go as far as to remember individual likes and dislikes. "We'll know that you don't like salmon and you don't like cheese," says Azabarzin, and your hotel experience will be tailored to these tastes – no matter which of its global destinations you visit.
Of course, as is to be expected of any 1 Hotels project, environmental care plays a key part in the Mission by SH program. Every time a member books a stay at a participating location, the group will offer to cover the cost and handle the logistics of offsetting your vacation, including the carbon produced during your journey. 1 Hotels is working with a variety of partners to ensure that its offsetting efforts are effective; they include forest and river conservation, wind projects and sustainable agroforestry. "We have vetted dozens of companies and we are always evolving [our] partnerships because we don't want it to be a greenwashing [exercise]. We want it to be real," Azarbarzin explains.
For Azabarzin, it is this strive for realness that is key across all that he, and his hotels, do. "I chose the hotel business to be able to provide incredible memories for our guests. And that's what we do. And if these memories and these experiences can make them want to come back and re-live it, then we have done our job. [And] if we can do that in a sustainable [way], then we have [fulfilled] our mission. This is a mission company that is driven by Mother Earth," he concludes.
[See also: IHG's Jane Mackie on the Future of Travel]
Mission by SH launched April 22 across 1 Hotels properties, with other hotels in the SH group to follow shortly.