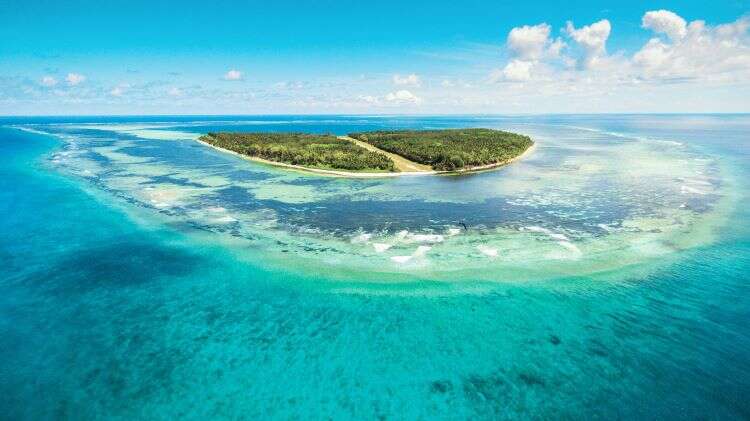 You would be hard-pushed to meet someone in the travel industry who lives and breathes the environment quite as much as Keith Rose-Innes does. Despite the gradual shift in the tourism sector towards more responsible practices, the Blue Safari founder's genuine passion and willingness to hold the natural world above all else is still somewhat unusual for the managing partner of a successful luxury travel firm.  
For Rose-Innes, who is also a world-renowned fly fisherman, the journey to establishing Blue Safaris began nearly 25 years ago on one of his many globe-spanning fishing trips: "I realized the Seychelles has these amazing outer islands," he tells Elite Traveler.  Experiencing something special that he hadn't found elsewhere, Rose-Innes set about creating fly-fishing expeditions on the island nation's secluded outer atolls.
As the expeditions grew in popularity, Rose-Innes began to consider how he could ensure the safeguarding of the pristine environment while welcoming an increasing number of guests to the unique Indian ocean landscape. It was then that the Blue Safaris brand was officially established in 2018. 
The luxury experiential travel company now spans four islands: Alphonse, Cosmoledo, Astove and Poivre. For visitors, it is a chance to witness the unique wildlife of this corner of the Indian Ocean close up, with the environmentalist describing Blue Safari as the "marine version" of a game safari. 
"Our rangers are all very experienced in nature," says Rose-Innes. "We'll show you dolphins; we'll show you manta rays; we'll take your scuba diving; we'll take you snorkeling; we'll take you on nature walks where you'll experience turtles in the water, nesting, hatching," he lists. "It really is a marine playground. We encourage our guests to get at least one activity a day. The beauty about the whole thing is that you can do it as a family."
[See also: 1 Hotels CEO Arash Azarbarzin on Putting Nature First]
Guests can opt to stay on three of the four islands but it is Alphonse that is at the heart of Blue Safari's operations. The accommodation comes in the form of 22 small but perfectly formed wooden beach bungalows, a handful of sumptuous suites with their own private pools and the most luxurious of all: two privately positioned beach villas, located near the shore. The island also has three bars and a restaurant serving up exceptional views as well as delicious cuisine, not to mention the resort's Azure Spa. 
Despite all its luxuries, Blue Safari guests are actually doing a lot more than jetting off on a straightforward lavish vacation, even if they do decide to spend their entire getaway lying on the beach with a cocktail in one hand and a good book in the other. 
Behind the experiential travel company is a mission to preserve its precious marine habitat for future generations, with the islands playing host to numerous conservation projects 365 days of the year (even throughout the past year of lockdowns). To fund this work, Rose-Innes and his team have established a foundation for each island. "Each guest that stays with us donates $25 a day to the foundations," explains Rose-Innes. "We also donate 25% of our turnover to conservation as well." The funds raised go to an independent charity called the Island Conservation Society which promotes the preservation and restoration of island ecosystems in the Seychelles. They in turn re-invest Blue Safari's funds into conservation programs across the four islands. 
So what do these conservation efforts look like? No tokenistic gestures will be found here. While so many luxury tropical resorts treat marine protection initiatives as 'nice to haves' it is clear that conserving this special landscape and its native species runs to the very soul of why Blue Safaris was established. And the list of programs is endless: "We remove FADs (fish aggregating devices) — which are fish tracking devices put in by the tuna boats — that become washed up on the reefs and are detrimental to the coral itself; we monitor coral; we have satellite turtle and red-footed booby tagging projects," says Rose-Innes, naming just a handful. 
Blue Safari is also monitoring the impact of its fly fishing expeditions on the Giant Trevally, a large marine fish native to the Indo-Pacific region. Rose-Innes describes how marine scientists have placed harmless acoustic tracking tags behind the dorsal fins of around 200 Giant Trevally. He says: "We've got 160 listening stations around the islands. If you're catching those same fish over and over it means we're putting a lot of pressure on the fish." He tells us that only eight fish have been caught more than once in the past three years (all of the fish caught by Blue Safari guests are put back in the water.)
[See also: Terre Blanche Increases Protection of Provencal Biodiversity]
Rose-Innes is keen to emphasize the key role in which the charity plays: "[Blue Safari] like to be seen as, as an organization which is showing [guests] that conservation," explains Rose-Innes. "We prefer to stay separate and be dictated to guided by an independent NGO that tells us 'this is the way it should be done so there is no conflict of interest."
Where Rose-Innes does take the lead is ensuring Blue Safari is run as sustainably as possible. "We are solar sufficient on Alphonse island; we have a [water treatment] plant for grey and black water and also make our own water. We also don't use plastics." He mentions that solar power has also been installed on both Astove island and Poivre in the last month. 
Guests on the island will only eat the freshest ingredients: "We do not buy any fish in at all," Keith affirms. "We believe in catching our own fish. We don't support commercial fishing in any way." And it's not just the fish, with 80% of the fruit and veg Blue Safari's guests consume grown on the islands. "It's really self-sustainable," adds Rose-Innes.
One of Rose-Innes' latest projects is the establishment of an eco-camp on Cosmoledo island. The temporary five-year camp has been thoughtfully placed and its environmental impact is currently being monitored before a more permanent structure is built in its place. "We want you to have a minimal footprint. So basically something that can be broken down or taken away completely," explains Rose-Innes. "There was a previous footprint from buildings that were there in the 70s, so we actually cleaned that up when we went there."
One welcome side-effect of the camp's creation has been its impact on poaching vessels, explains Rose-Innes. "[Cosmoledo] is 160 nautical miles away from Madagascar and 140 nautical miles away from the Comoros," he says. "Since we've been there, we've assisted in identifying five vessels that are illegally fishing in the lagoon. And these are not Seychellois boats, these are illegal fishing boats from the Comoros and Madagascar, taking turtles, sea cucumbers, fish." With this in mind, along with the scientific research data gathered to date, he believes the positive impact outweighs the negative.
[See also: Wilderness Safaris Unveils New DumaTau Camps]
So where does Rose-Innes's passion for ecotourism come from? "It's that passion for showing everyone what we have, and how we can protect it; how we can make choices in life and how those choices affect our islands. A family will arrive at one of our destinations and see so many different things and they'll go back and realize 'now I know why I shouldn't be buying plastic straws, now I know why I should be buying certain detergents, why I shouldn't be voting for a certain politician based on their view on climate change.'" 
Once travel bans are lifted, Rose-Innes is looking forward to welcoming back both familiar faces (he tells us many of his guests come back year after year) as well as new travelers in search of adventure. 
Blue Safari Beach Villa from $5,495 per night, bluesafari.com