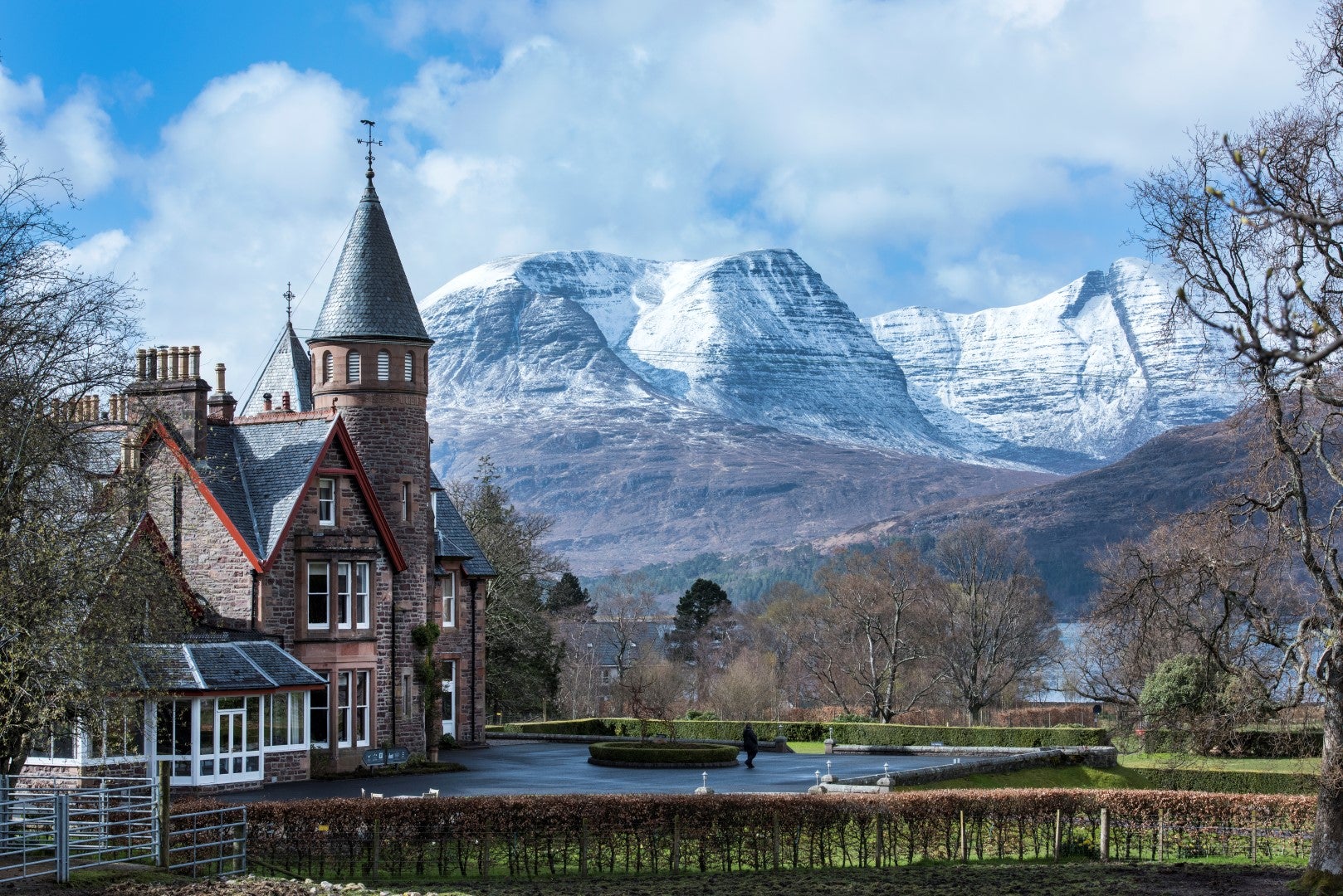 Although an excellent selling point, running a hotel in the heart of the Scottish wilderness is not without its challenges. However, Dan Rose-Bristow, who co-owns The Torridon with his wife Rohaise, has taken these challenges and run with them, successfully elevating the hotel to be one of the best in the country.
With an on-site farm and garden kitchen, and a team of chefs skilled in creating menus around foraged ingredients, as well as a range of immersive guest experiences, The Torridon celebrates the bounty of the surrounding environment, rather than shying from it. It is this commitment to delivering an authentic experience in wild Scotland – with an added element of luxury – that has seen guests flock from far and wide.
Even those who have not yet had the privilege of visiting The Torridon for themselves will likely recognize the grand building and its grounds: the hotel recently appeared on BBC's Amazing Hotels: Life Beyond the Lobby series, which gave viewers insider insight into the inner workings of the hotel, as well the dedicated staff that keep it running.
Elite Traveler spoke with Dan Rose-Bristow about the trials and tribulations of The Torridon's spectacular location, sustainability in hospitality, and the on-going impact of Covid-19 on the hotel industry.
Congratulations on appearing on the BBC's Amazing Hotels series. How was the experience of inviting a filming crew into The Torridon?
The BBC's Amazing Hotels team were great to work with and it was wonderful to spend time with them and allow them into the inner workings of The Torridon and meet some of the unique characters that work with us. The film crew were never intrusive and always respectful of the guests, some of whom were delighted to be on camera, while the team always felt at ease with the crew and we hope this came across on TV.
Monica was genuinely amazed by some of the things we are able to do despite our remote location, while Giles always seemed to get the least glamourous roles but was always willing to give it a go. Overall, it was a thoroughly enjoyable and fun experience, and we are very honored to have been chosen.
What has been the response since the show aired – have you seen an influx of bookings since you've been able to re-open post-Covid?
It was a timely boost to our bookings, especially as the airing came just weeks after we had reopened following lockdown. We saw a huge surge in bookings and inquiries following our feature on BBC2's Amazing Hotels: Life Beyond the Lobby in July.
Following transmission of the show, our average booking value also increased when compared to the same period last year, enabling us to recover some of the losses we endured during lockdown. Total revenue in the week after airing totaled more than all bookings generated in March-July 2019, despite the major impact Covid-19 has had on consumer confidence and the travel industry.
What has been the highlight of your career as a hotelier to date?
There have been so many highlights over the past few years for so many reasons. Becoming a Master Innholder in 2012 was a personal highlight for me as it's such an esteemed honor and the Master Innholders are an integral part of the hospitality industry.
Winning The Cateys Independent Hotel of the Year 2018 was a business highlight, celebrating our hotel alongside so many other amazing UK hotels, and the filming of BBC 2's Amazing Hotels: Life Beyond the Lobby was a highlight for the team. Finally, successfully completing 25 years as a family at The Torridon has been a family highlight.
What are the main challenges that come with owning one of the UK's most remote hotels?
Our remote location can create some challenges when we're recruiting new members of our team, as you really need to enjoy the rural lifestyle to flourish here. Fortunately, all our team members enjoy outdoors activities and getting out into nature, therefore fit into the Torridon style of living and way of life.
Additionally, due to so many of our team living on-site in our purpose-built accommodation, we have become a close-knit family that can help with homesickness and mental wellbeing. For guests, the location, especially with so many people craving open spaces and fresh air due to the ongoing climate, is only a positive.
For some hotels, the location may also create problems with sourcing supplies for F&B outlets, but due to our ongoing dedication to sustainability and utilizing the abundance of produce that surrounds us, we are mainly self-sufficient and change menus daily if certain produce isn't available from our own land or our suppliers.
Prior to The Torridon, you had no hospitality experience – what do you wish you had known then that you do now?
That there is no substitute for hard work in hospitality. It's so important to trust your instincts and gut, and as my career in the industry has progressed, I've done this more as time and time again, it has proven to make the right decisions.
Also, working with my wonderful wife Rohaise can sometimes be a challenge as we're thinking about the business and our team 24/7, but working together and teamwork has made The Torridon into the success it is today.
With a second wave of Covid-19 threatening fresh lockdowns, it appears that the hotel/hospitality industry has a new batch of challenges to face. How are you prepared for this at The Torridon, and how do you think the industry as a whole is prepared?
Sought after space is in abundance at The Torridon, where we offer guests a change of scene, pace and place. We are thoroughly enjoying welcoming back families and friends to our home in the Highlands to reconnect, enjoy new experiences and have fun safely. We have newly implemented measures including a single point of check in to reduce multiple guest touchpoints, five-day team rota to help with social distancing, and being closed on Mondays and Tuesdays for additional deep cleaning.
Due to ongoing fluctuations in restrictions for the UK as a whole, and different sectors within the hospitality industry facing different regulations, I believe it's been hard for everyone to adapt to meet the guidelines whilst still operating, especially in more populated areas like towns and cities. With new regulations being brought in almost weekly, the hospitality industry is fighting hard to continue, however we're a resilient industry that has truly rallied together in these tough times.
Dining and the origins of food are of huge importance at The Torridon. The hotel's location makes this essential, but do you think this focus on self-sufficiency and locally sourced ingredients will become more prominent throughout the hospitality industry?
Sustainability is one of our core values and we rate ourselves highly within the sector across all key pillars; environmental, economic and social. This can be seen within our menus and supplier choices, working entirely with local companies and individuals to ensure we are responsible with every stage of sourcing while delivering exceptional Scottish food to our guests.
The past six months have allowed consumers to value sustainability and their local community more than ever and I believe there needs to be a reset in the supply chain so that margins increase across the board and organizations have less need for non-local suppliers.
Consumers have been spending more at their local, independent shops and this will hopefully be replicated when they travel again, with more understanding of the importance of paying more for fresh, high-quality ingredients, fair wages for farmers and producers, a reduction in mass-produced items, and sustainability commitments.
You have made several steps towards more sustainable operations at The Torridon, including switching to biomass energy, introducing electric car charging ports and implementing thorough waste management programs. Do you think guests are beginning to expect to see greener initiatives at all hotels they visit?
There has been a steady rise in consumers seeking more sustainable hotels, in both the UK and internationally, and for certain age-groups, such as those under 45, it's a key factor in their decision-making process when researching where to visit and stay.
We hope that customers will continue to expect more from the hospitality industry, so that we continue to push ourselves to innovate in pioneering sustainable initiatives and protect the beautiful environments that so many travelers want to experience.
And finally, how would you describe the typical Torridon experience?
The Torridon is a place like no other. A glamorous hotel where Victorian heritage and design blend with homeliness, beautifully set against the natural playground of the Highlands. It's ideal for those wanting to clear the head, reset and re-energize with exhilarating walks, wildlife spotting, and stargazing in the big skies, and hearty suppers with produce-led menus inspired by the natural larder of the Scottish Highlands.
With a commitment to being self-sufficient and working in harmony with nature, The Torridon is inspired by its beguiling surroundings to offer guests the perfect getaway to immerse themselves in nature, providing an antidote to city living and the pressures of the daily grind.
UK viewers can watch Amazing Hotels: Life Beyond the Lobby on BBC iPlayer. The Torridon is a Luxury Scotland member.