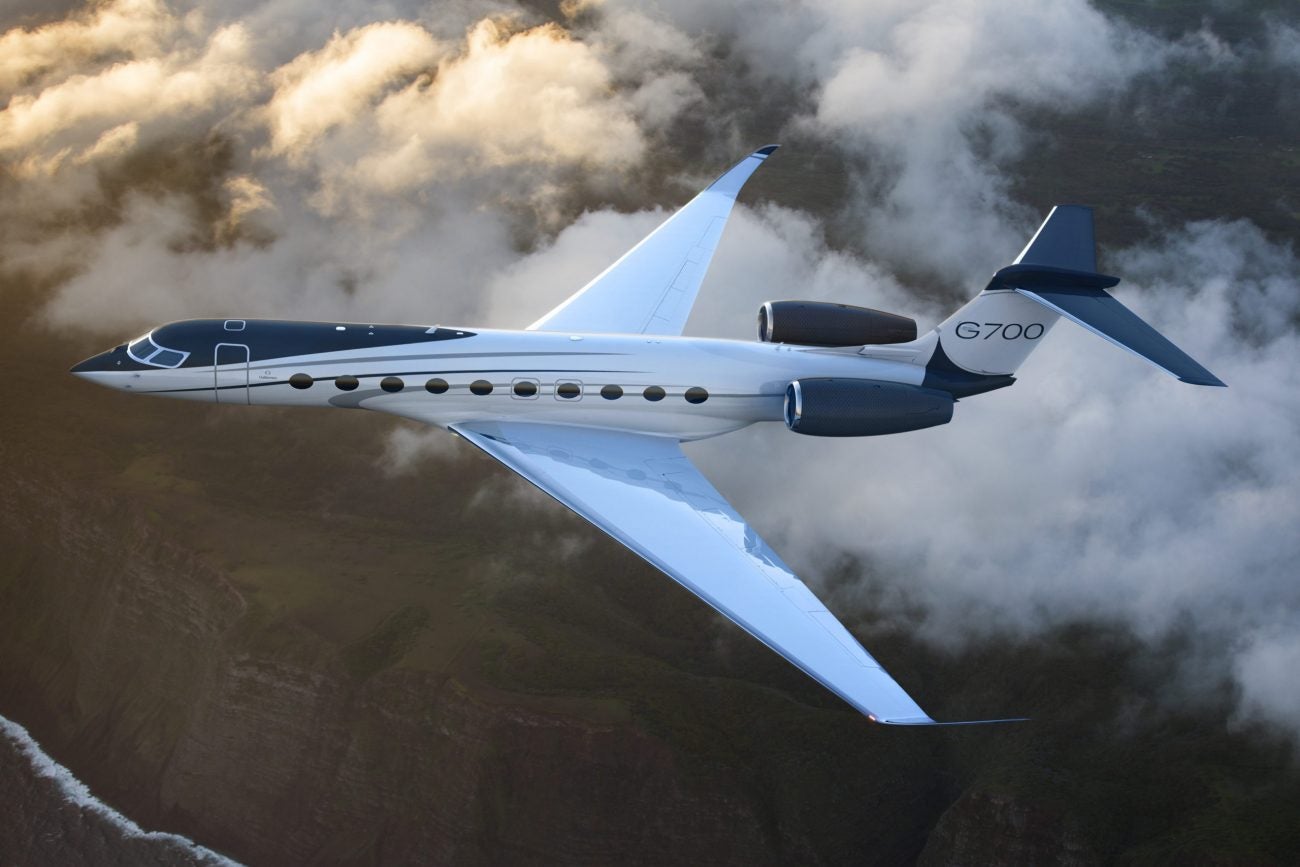 Gulfstream Aerospace has thrown down the gauntlet in the battle of ultralong-range business jets with the introduction of its new flagship model, the G700.
The G700 was revealed on the eve of the National Business Aviation Association Convention and Exhibition in Las Vegas on what proved to be a historical night for the private aviation industry.
The $75million jet has broken notable records, becoming the tallest, widest and longest cabin in the industry. The cabin length is 56 feet and 11 inches, not including a 195-cubic-foot baggage area. It stands six feet and three inches high, and measures eight feet and two inches wide. All three records were previously held by the Bombardier Global 7500.
It has also pipped the Global 7500 for living space with five separate areas compared to four. That includes an extra-large ultra-gallery with a passenger lounge or crew compartment; a six-place dining or conference room; and a master suite with shower. The cabin also has 20 panoramic oval windows – the largest in the industry – and can seat 19 passengers or sleep 10.
Gulfstream's new flagship model also boasts industry-leading fuel efficiency with a claimed range of 7,500 nautical miles at Mach 0.85 or 6,400nm at Mach 0.90. In comparison, the Global 7500 has a range of 7,700nm and can achieve speeds of Mach 0.92.
"The Gulfstream G700 takes the very best elements from our most innovative products and unites them with cutting-edge advances to create an all-new, advanced-technology aircraft that redefines safety, comfort and range at speed," said Gulfstream President Mark Burns.
"This announcement is the biggest news in business aviation history and is the result of the investments General Dynamics made to develop Gulfstream technology for Gulfstream products. Thanks to our nearly 18,000 employees around the world, the G700 is continuing a long Gulfstream tradition: raising the bar for ourselves and the industry."
The G700 is the result of extensive testing, including 14,000 hours in the lab and five different test vehicles. The company expects to start fulfiling orders in 2022 with Flexjet confirmed as the first North American customer for an undisclosed number of units. Gulfstream has also secured 10 orders from Qatar Airways for its Executive division.
"We are excited to be the launch customer of the G700, the largest business jet in the industry, and are looking forward to the aircraft joining our fleet," CEO of Qatar Airways Akbar Al Baker said in a statement.
"Qatar Executive's customers have extremely high standards, and this aircraft will help us meet their requirements by delivering unrivaled performance that complements our excellence in customer service."