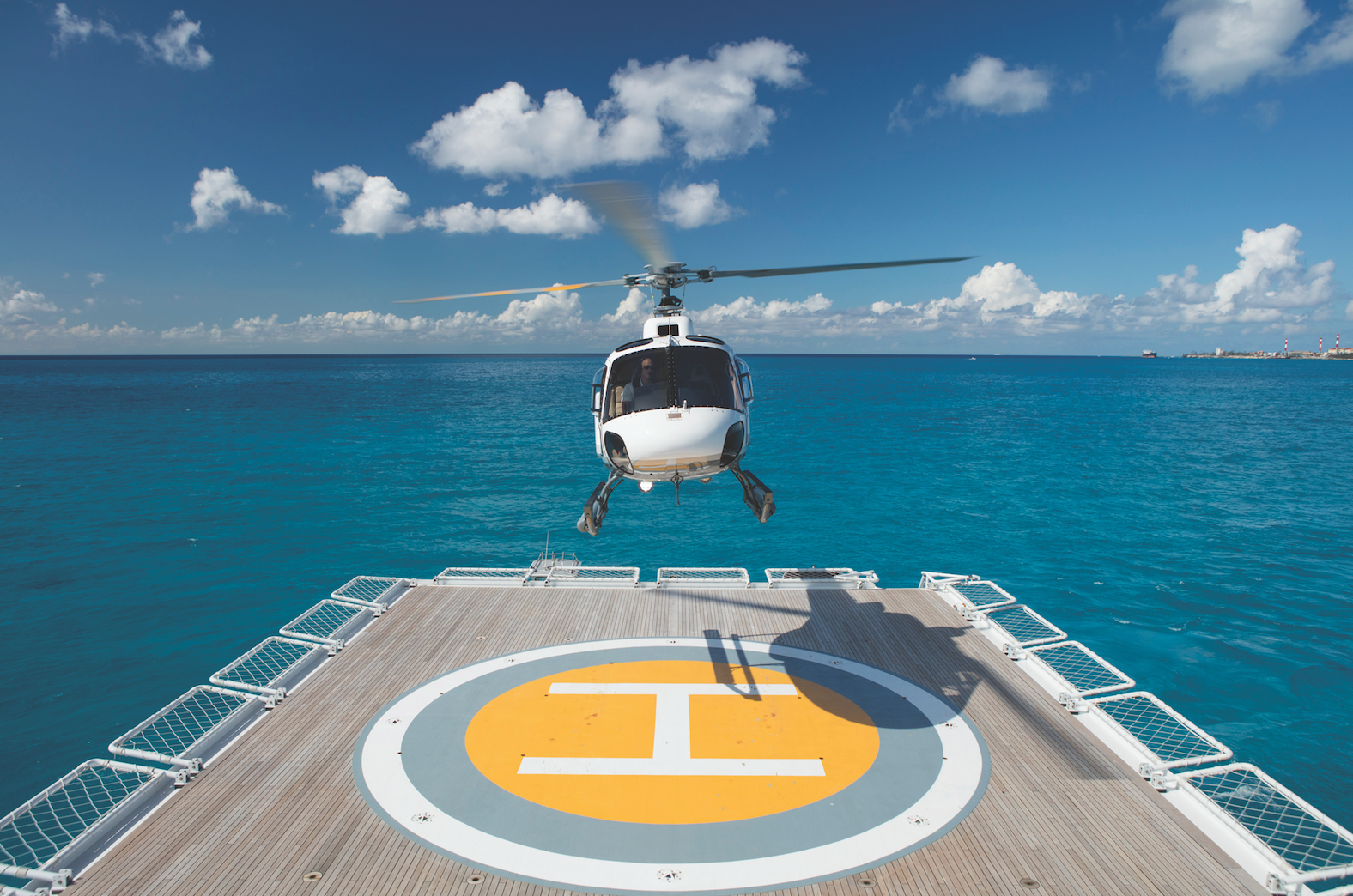 There's nothing quite like feeling the wind in your hair and breathing in that fresh, salty air. And, here, there are no cookie-cutter hotel packages; just the open ocean, endless opportunities and an unmatched sense of freedom. Whether you charter a luxury yacht for a jaunt around the Greek Isles, a longer stint cruising around the Malay Archipelago or a unique voyage to somewhere a little different like Patagonia, expert itinerary managers will see to your every whim. We've handpicked some of the most experienced brokers out there and asked for their top recommendations on where and when to go, how to get there and the specifications of each vessel. Of course, your own high-seas adventure can be customized to fulfill your wildest dreams, but here's a little taste to get you started.
[See also: The Best Superyacht Charter Itineraries in the World]
For the Family
SuRi in French Polynesia
With more than 100 islands dotted across 1,240 miles of ocean, the best way to visit French Polynesia is by yacht. SuRi is a fine vessel for gliding through the aquamarine waters of the South Pacific, and there is something to suit even the most devoted ocean enthusiast on board: extensive dive equipment, wakeboards, Zapata hoverboards, surfboards, kayaks, rowboats, Seabob underwater scooters, an inflatable water slide and gear for trawling, jigging and big- game fishing. There's a two-person seaplane and a five-person helicopter on board, should you prefer to explore from the skies.
The adventure begins at the island of Moorea: Characterized by jagged volcanic peaks, lush rain forest and sandy beaches, it is home to the sheltered anchorage of Opunohu Bay. At the head of the bay, there is a track to an exceptional viewpoint that overlooks the Pacific; from there, you can hike through the rain forest or scooter through pineapple plantations and local farms.
A short tender ride from the anchorage is a special spot for feeding stingrays in the wild (not to be missed), or you can view the kite surfers at Les Tipaniers (and join in for a lesson).
Travel downwind to Huahine Island to marvel at humpback whales nursing their young — you can even snorkel among these gentle giants. Launch one of her tenders to access the southern anchorage of Parea and dock alongside the most serene turquoise blue waters. Visit the local pearl farm near Port Bourayne, or take a trip to see the Sacred Blue-Eyed Eels.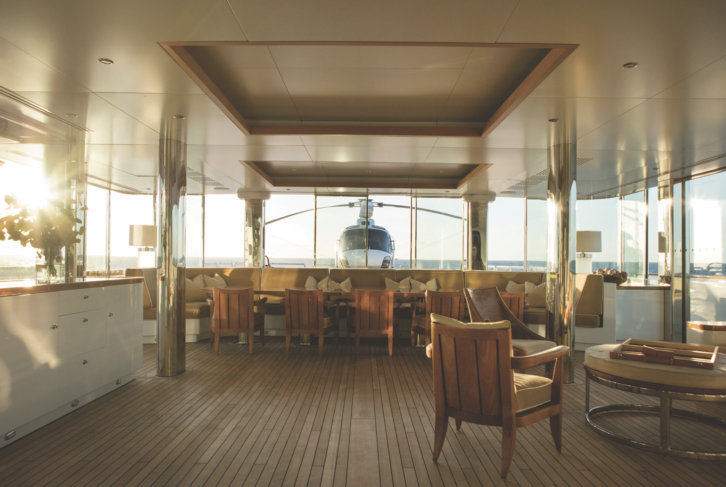 The main town of Fare is a seafood lover's dream: full of fresh fish, crabs and lobster. Some of the best traditional tattoo artists reside here, should you want a permanent and authentic memento of your trip. Following a short sail across to Raiatéa into another pristine and wonderfully calm lagoon, head up the Faaora River in a kayak to visit the most sacred marae (Maori meeting grounds) in French Polynesia. Then hike the river trails of the three cascades, buy some local carvings from the township of Utoroa or take a horseback tour. The lagoon is home to the Island of Tahaa (also known as vanilla island because of the many plantations — the sweet scent fills the air).
Tour the vanilla plantations on a 4×4 or quad bike, following by a chilled picnic on the beach. Sail on to Bora Bora for more water adventures: catamaran sailing, diving with lemon sharks and encounters with manta rays, or head onto solid ground to shop for pearl jewelry.
Price: From $350,000 per week LOA: 211 ft Number of guests: 12 in 7 cabins Crew: 20 Builder: Halter Marine Year of build: 1978/2016 Outstanding features: Extensive water toys and tenders
Contact: Jackie Guenther, charter fleet manager, jackie@yacht-zoo.com, +1 954 767 1035, yacht-zoo.com
For the Adventurer
Legend in Antarctica
Vast, snow-covered land stretching as far as the eye can see, not another human in sight, gargantuan icebergs and rich wildlife — it's no surprise Antarctica is on any serious adventurer's wish list. To explore the mystical continent in all its glory, you need a vessel that's up to the task. Legend has an ice-breaking hull and is able to charter in the harshest of environments with excellent stability and a range of 7,640 nautical miles. On board, you'll find a fully equipped gym; Balinese spa with Jacuzzi, sauna and treatment room; piano and whisky bar; 14-seat cinema; medical suite; and a 16-person main deck Jacuzzi with a waterfall.
The weeklong charter begins with a flight from Punta Arenas to King George Island, the main island of the South Shetland Islands. Board Legend and journey out into the Bransfield Strait and south along the Antarctic Peninsula. Marvel at the enormous icebergs and keep your eyes peeled for chinstrap penguins. Travel on to the Gerlache Strait, where you'll likely see majestic humpback whales; if you're lucky, you might see one break up through the water's surface and crash back down — it is a sight to behold.
Drop anchor at Orne Harbor and hike up through mainland Antarctica to admire the incredible views overlooking the bay, then cruise through the Neumayer Channel to Port Lockroy for a truly special evening: a night dive on board a submersible. The next day, the team from Port Lockroy will board Legend for an introductory briefing on behalf of UK Antarctic Heritage Trust: Four women live in this remote outpost for four months a year with no running water and just solar electricity.
Go ashore and see the protected base site (now a museum), Port Lockroy on Goudier Island, to learn about Antarctica wildlife in a lecture led by an expert. There are more opportunities to explore the depths with submersible dives: Reaching depths of up to 200 ft, you'll see starfish, coral and octopus. To see the land wildlife, head to Jougla Point on Wiencke Island and spot gentoo penguins and their adorably fluffy chicks. Back on board, the truly brave can plunge into the polar waters and celebrate their bravery with champagne in the hot tub.
You will then traverse through the Neumayer Channel to Deloncle Bay and see leopard, weddell and crabeater seals. Want to get a little closer to the wildlife? Launch the two Zodiac tenders and one limo-style tender and drift through the icy waters, getting as close as 10 ft to the animals. Don't forget your camera, as you'll travel through the Lemaire Channel — it's nicknamed 'Kodak Gap' for a reason. For the next few days, launch the Zodiacs again and search for humpback whales; cruise through the Gerlache Strait; explore the Governoren wreck by kayak; and go on land to explore beaches — look out for arctic fur seals.
Price: From $519,000 per week LOA: 254 ft Number of guests: 26 in 13 cabins Crew: 19 crew (additional 10 expedition staff available) Builder: IHC Verschure/Icon Yachts Year of build: 1974/2015 Outstanding features: Ice-breaking hull, helideck, submersibles, snowmobiles
Contact: Tom DeBuse, charter manager,  experience@y.co, +377 935 012 12, y.co
For Sun Chasers
Northern Sun in Thailand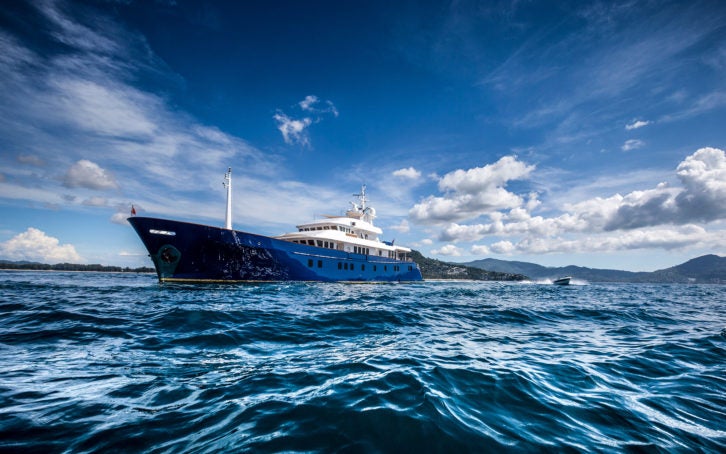 Known for its dreamy beaches, outstanding scenery, fascinating history and rich culture, Thailand has something for everyone. Northern Sun is built for exporing: quite literally as she began life as an ice-class marine research vessel. Sail around Phuket's archipelago and beyond — she has 10 kayaks (four doubles and six singles) on board so you can discover a hidden world at your own pace; weave through the maze of green mangrove forests in Phang Nga Bay and explore the remote wilderness in year-round tranquil waters.
Glide past the famous nail rock of Ko Ta Pu (James Bond Island) and the jaw-dropping surrounding scenery. Enter the sparkling limestone caves to uncover a secret world of hongs — meaning 'sea caves' in Thai, these ancient cave systems have collapsed and eroded over time, creating unique spaces that can only be reached by sea. Koh Panak Hong and Koh Hong are only accessible during low tide, so be sure to visit and explore the curious ecosystems and bountiful flora and fauna.
[See also: The World's Most Expensive Superyachts for Charter]
Paddle on to the unique fishing village of Ko Panyi. The structures sit atop stilts in the shallow waters, and a giant monolith of limestone cliffs looms behind. Enjoy a fresh seafood lunch in one of the many restaurants and visit the souvenir market.
Ashore, become immersed in the local culture. Stop at the sacred Wat Suwan Kuha temple cave, where a surprise awaits visitors — an immense reclining golden Buddha. Travel further inland to see the gorgeous Raman Waterfall Forest Park and nature trail. The Samet Nangshe Viewpoint offers some stunning views over the chain of islands and bays in a 180-degree panorama. It faces due east, so the sunrise is breathtaking as it appears between the limestone karsts.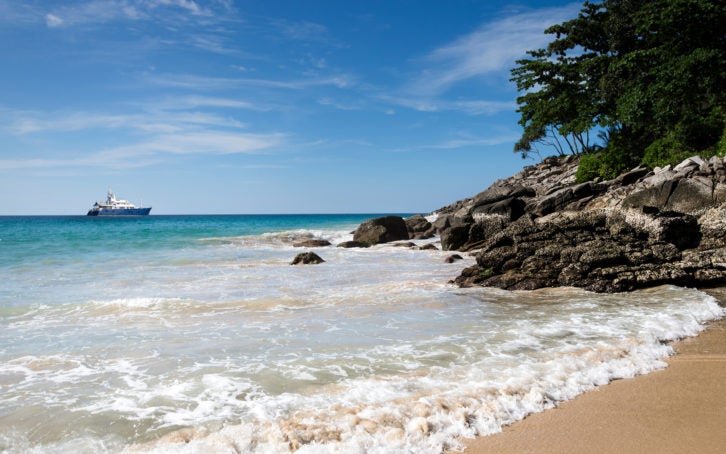 Although there may be a week or two of intemperate weather each year, Phuket is fun virtually any time of year, even in the low season. The islands and hongs can take on a dreamlike beauty when it rains; inside the caves the stalactites sparkle even more. However, for those who like guaranteed sunshine, the December to March season is highly recommended — soak up the rays on her sun deck (complete with a Jacuzzi) or enjoy a few cocktails on the foredeck before having an al fresco dinner on the aft deck.
Price: From $140,000 per week LOA: 167 ft Number of guests: 12 in 6 cabins Crew: 12 Builder: Narasaki Shipbuilding Co. Year of build: 1976/2015 Outstanding features: Extensive diving equipment and water toys, including inflatable slide
Contact: Kirsty Halfacree, charter manager, zurich@ocyachts.com, +44 207 381 7600, oceanindependence.com
For La Dolce Vita
North Star in Italy
The South of Italy has been a source of inspiration for poets, authors and artists for centuries, and it's easy to see why: It's whimsical and utterly romantic with fascinating historical buildings, Unesco sites, flourishing gardens and pretty towns galore. And you can see the best of the coast with a voyage on board North Star. Designed by renowned architect Espen Oenio, she is 207 ft of magnificence: an enormous sun deck with a glass-fronted Jacuzzi, gym, beach club and swimming platform, two lounging areas and a bridge deck with a full bar and dining area. Beginning in Naples, history buffs will delight in the sheer number of ancient churches — there are close to 450 within the city walls. Be sure to visit the city's cathedral, Duomo di San Gennaro; it is filled with captivating frescoes.
Sail on to Ischia, a volcanic island in the Gulf of Naples, and marvel at the bountiful vineyards, crumbling castles and buried relics. The island is known for its mineral-rich thermal waters and hot springs, and the healing properties they possess. Back on board North Star, head to her expansive sundeck to spot whales and dolphins — the surrounding waters are home to approximately seven species, including sperm whales.
Let the call of the Sirens seduce you in Capri, the next destination on the itinerary. The jaw-droppingly beautiful island is made for exploring; amble through the cobbled streets and dine like the locals in an off-the-beaten-path restaurant, or enjoy a romantic dinner back on board North Star with the enchanting scenery as your backdrop.
[See also: Inside Flying Fox: The Largest Charter Yacht in the World]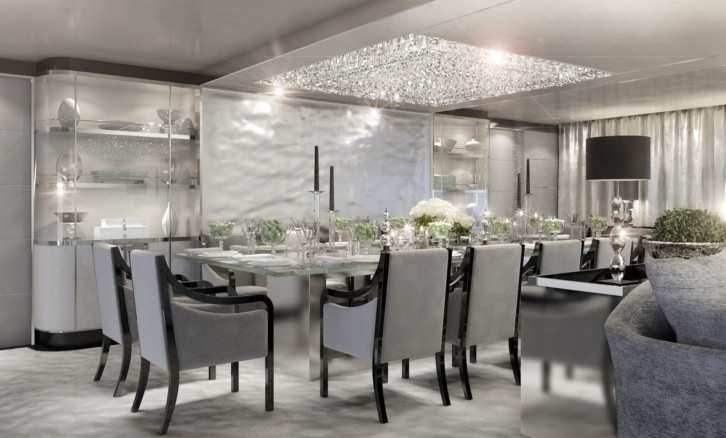 Next, you'll journey on to the impossibly pretty Positano, where pastel-hued houses appear to sit on top of one another on the tumbling cliffside. Visit charming boutiques for one-of-a-kind clothing, jewelry and shoes, and dine by the light of hundreds of candles at Michelin-starred La Sponda at the famous Le Sirenuse hotel. To paraphrase John Steinbeck, Positano certainly bites deep.
Journey onward to Amalfi. Sitting beneath the mouth of a gorge, it is encircled by dramatic cliffs and is one of the most historic towns along the coast. Visit Saint Andrew's Cathedral (Duomo) and take your time savoring all the details: Baroque interiors, Byzantine exteriors, bronze sculptures and gilded paintings.
Spend the penultimate few days exploring the mythical Aeolian Islands. Named after the demigod of the winds, Aeolus, the volcanic archipelago consists of Vulcano, Lipari, Salina, Panarea, Stromboli, Filicudi and Alicudi. While here, sail around the islands: see Stromboli's black beaches; hike Monte Fossa delle Felci, the highest point on Salina island; walk the length of Panarea (it's just 1.5 miles long and there are strictly no cars allowed); witness volcanic wonder at Vulcano and treat yourself to a sulphuric mud bath.
The trip comes to an end in Sicily, where you'll visit Taormina — it sits on top of a hill near Mount Etna, an active volcano. Check out Teatro Antico di Taormina, an ancient Greek theater that is still used today, or get the chef to pack a picnic from one of the many delicious delis and head down to a secluded cove on the beach.
Price: From $549,000 per week in high season LOA: 207 ft Number of guests: 12 in 6 cabins Crew: 16 Builder: Sunrise Yachts Year of build: 2019 Outstanding features: 7,373-sq-ft exterior deck, cinema room/den
Contact: Simon Goldsworthy, senior broker, sg@edmiston.com, +44 207 495 5151, edmiston.com
For Traditionalists
Aristarchos in the Greek Islands
Dotted throughout the Aegean and Ionian seas, the Greek Islands are home to historic fables, myths and legends, pretty beaches, whitewashed old towns and some of the most spectacular sunsets you'll ever see. Aristarchos is a sleek, elegant single-mast sailing yacht with a head-turning exterior designed by German Frers. At 131 ft, she is the largest Nautor's Swan sailing yacht to date. The interior is timeless and classic with furnishings in walnut and coffee hues, sumptuous leather and polished timber.
Your very own Greek odyssey begins and ends in Athens: Sail to Sounion on the first day to frolic on the secluded beach with the temple of Poseidon watching over and dine on fresh seafood in the local taverns, then visit neighboring Kythnos to find secret bays and coves or wander through the narrow cobbled streets. Journey on to Syros and, for an authentic slice of Greek history, disembark to discover the most fascinating architecture — see the neoclassical homes, City Hall and the Apollo Theater.
The next stop is Naousa. As you glide into the tiny, but gorgeous, port, you'll see the colorful fishing boats (called caiques) bobbing in the water. This fishing village is naturally home to a number of seafood restaurants — some have rows of octopus drying in the sun. Even though Naousa is a popular tourist spot, it is still a favorite destination among the Greeks and has preserved its authentic charm.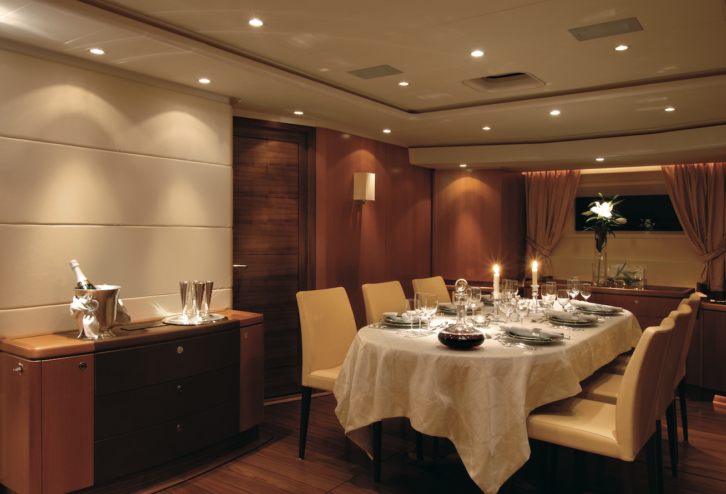 Journey on to Aliki and watch the windsurfers from Aristarchos' teak deck, or disembark and visit the Folklore Art Museum of Cycladic Civilization to learn about the island's traditions, peruse the handmade exhibits and see the important monuments.
Go for a swim from her ample swim platform to build up your appetite before the penultimate port of call: Sifnos is famed for its gourmet offerings and is the birthplace of many an award-winning chef (the master of Greek cuisine, Nikólaos Tselementés, hailed from Sifnos). Visit family-run Mosaico restaurant for a carafe of tsipouro (brandy) and a meze platter, then head to the tiny fish bar Omega3 to enjoy seafood delights while you people-watch. Be sure to try bourekia (almond, cinnamon and honey pastries), manoura (cream cheese) and mastelo (lamb cooked in red wine and spices).
[See also: The Best Superyachts to Charter This Summer]
Spend the final day in Aegina: According to ancient mythology, nymph Aegina (who was one of river god Asopus' 50 daughters) seduced Zeus and took him to the island (which was then called Oenone). She gave birth to Aeacus, first king of the island and grandfather of the famous Trojan hero, Achilles; Aeacus renamed the island after his mother. Ancient history buffs will love exploring the well-preserved structures: the Temple of Aphaia was built in the fifth century in tribute to the mother-goddess Aphaia; the peachy-pink Tower of Markellos was built in the 17th century and used as headquarters during the Greek Revolution. Aegina is also surrounded by many smaller islands (Moni, Metopi, Diaportia, Lagouses, Kyra, Dorousa, Spalathonisi, Anonyma); take Aristarchos' Zodiac tender to explore them at your own pace.
Price: From $84,000 per week LOA: 131 ft Number of guests: 8 in 3 cabins Crew: 6 Builder: Nautor's Swan Year of build: 2006/2015 Outstanding features: Water skis, paddleboards, fishing equipment board
Contact: Anna Granlund, senior charter manager, +377 979 824 24, iyc.com
For Something Different
Ohana in Patagonia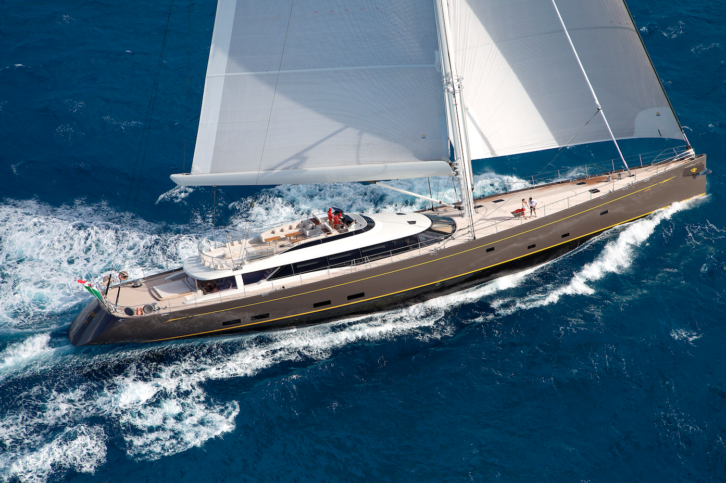 One of the most enchanting destinations on Earth, Patagonia is a land of wonder, with the Andes Mountains separating the Argentinian side and the Chilean side. The Argentinian side is full of barren steppes, grasslands and deserts, while the Chilean side has gargantuan glacial fjords and a tantalizingly unexplored rain forest.
Visiting Patagonia during the winter months can be a challenge for land dwellers due to the colder weather and tricky hiking trails. By chartering Ohana, you can see all the wonders of this mystical place in total comfort and luxury and, when you disembark, there won't be hordes of tourists to contend with — enjoy the peace and solitude as well as those captivating scenes.
Ohana has an impressive history in sailing regattas (including the Loro Piana Superyacht Regatta) and has gorgeous design to boot, with a gray hull and whitewashed oak interior. She has a veritable toy box on board: water skis, a wakeboard and paddleboards, as well as diving gear (the famous dive spot in the Beagle Channel, Ushuaia, is known as the 'City at the End of the World').
Price: From $169,200 per week LOA: 163 ft Number of guests: 10 in 5 cabins Crew: 8 Builder: Fitzroy Yachts Year of build: 2012 Outstanding features: Windsurfing and sailing dinghy equipment and specialist instructor on board
Contact: Anita Dodds, charter manager, monaco@fraseryachts.com, +1 954 463 0600, fraseryachts.com