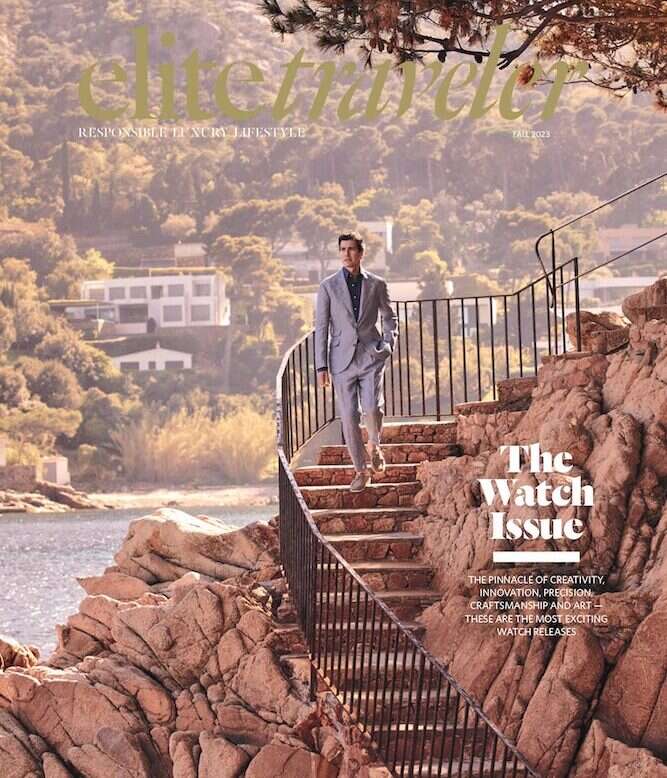 Naturally, our Top Watches issue brings up the topic of time. It's serendipitous that this issue of Elite Traveler coincides with the changing of the seasons: When the leaves turn golden and the crisp fall air sets in, we begin to notice the passing of time more acutely.
Now for the seventh year, Roberta Naas, Elite Traveler's contributing timepiece editor and expert on all things horological, has been meticulously curating this selection of the latest and greatest launches. As ever, Naas implements the strictest criteria for the watches you'll see on the pages: Any watch included must have been introduced in 2023 or late 2022 (after our previous year's Top Watches issue was published).
All watches have to retail for no less than $10,000, and watches with just a new dial color or a different material of an existing watch would not be considered. Turn to page 62 to uncover the magnificent feats of artistry behind each tick and the exquisite detail on these wearable works of art.
Elsewhere in this issue, Naas also speaks to four-time MVP award-winning football player Aaron Rodgers, and she goes behind the scenes at Montblanc to see how the brand's writing instruments are crafted.
As we step into harvest season, we're thinking of delicious fine wines. Elin McCoy looks at high altitude vineyards and the resulting wines; Irenie Forshaw speaks to Telmont Champagne's charismatic CEO, Ludovic du Plessis, on his ambitions for the future; Becca Hensley looks at the bubbly offerings at sea — from an app with a secret champagne button to the sparkling wine that is being aged on the seabed along Norway's coast.
Nicola Leigh Stewart heads to Champagne and to the big domaines to pen an all-encompassing guide to the historical province — which includes a hot-air balloon ride over the vineyards and details on how to book sabrage lessons.
If a health-focused retreat is more your scene, then consider a location that you might not immediately associate with wellness: the Maldives. Kim Ayling lands on Velaa Private Island to experience its new wellness village, Eveylaa, along with the paradisiacal island's many other delights. More of a thrill-seeker? Ramona Saviss details all you need to know for a weekend in Sin City for the Formula 1 Las Vegas Grand Prix — including a cool $1m package.
As ever, we close out this issue with our Flight of Fancy. Dine on a private four-course feast on a stable floating pontoon in the Zambezi River as the wildlife of the surrounding bush serenade you.
This article appears in the 12 Sep 2023 issue of the New Statesman, Fall 2023