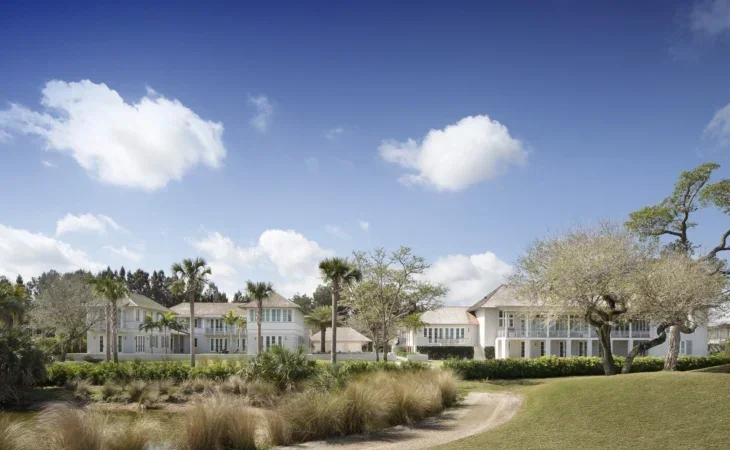 Initially conceived as a seaside village, Windsor is a private sporting club and residential community in Florida that marries the charm of the past with the luxuries of the present. Sitting on 1.7 breathtaking acres that overlook the fairways, lakes, and village beyond, 3340 Savannah Place is Windsor's largest estate. Designed in the signature Anglo-Caribbean architectural style, the home has been envisaged with family gatherings and entertaining at the core.
With a total of 13 bedrooms, the estate consists of a main residence and four separate two- and three-bedroom guest cottages, with high ceilings making the rooms feel light and airy. The white color palette extends across all rooms, with bright pops of color coming from accent furnishings and clever planting.
[See Also: Oceanfront Luxury at Mandarin Oriental Grand Cayman]
The interiors flow seamlessly outside where there is an abundance of porches and exterior space from which to enjoy the spectacular vistas. A pool courtyard is the stand-out feature of the property, with a covered loggia, outdoor fireplace and cabana providing ample opportunity from which to enjoy the garden's southern exposure.
As well as the property, homeowners become part of a buzzing community with an extensive collection of amenities. There are multiple dining and social spaces, as well as cultural performances and private events held for members. There is also a village store and post office, with everything you could possibly need right on your doorstep. For sporting enthusiasts, golf, horse riding and tennis are just a handful of activities that you can enjoy at Windsor. And for those that are charitably minded, the Windsor Charitable Foundation allows Windsor members to give back to the local community.
$19.5m. Contact +1 772 388 8400, windsorflorida.com