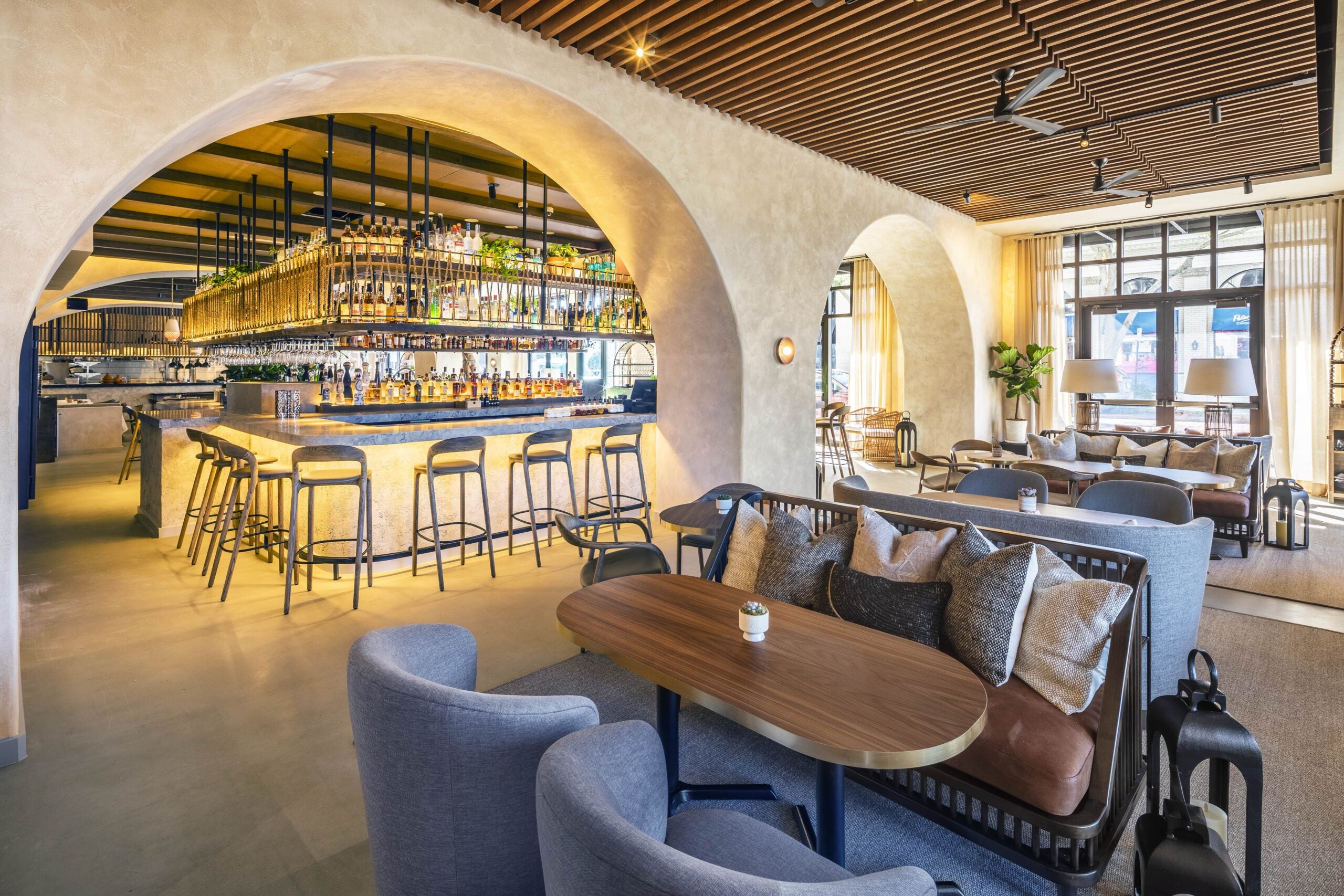 It's hard to match the cuisine of the Mediterranean, with its rainbow of fresh, vibrant ingredients coming together to create what can only be described as sunshine on a plate. And, while Florida may have plenty of sunshine of its own, Winter Park's restaurant scene has just received a dose of Mediterranean magic in the form of the newly opened AVA MediterrAegean.
Taking over the site of what was previously the Luma on Park restaurant, AVA is the latest dining destination from the celebrated Riviera Dining Group, which is also responsible for Miami's much-loved MILA. Like MILA, AVA's offering is on a mission to transport its guests to far-flung corners via thoughtful and authentic cuisine with an added touch of elegance.
"Meaning life, water, island, bird in Greek, 'AVA' is a celebration of splendor, freedom, escapism and joy. With this new concept, we want to bring Winter Park the first multi-sensory experience in the area, a home away from home that transports guests to the beauty of the Mediterranean and the Aegeans," Riviera Dining Group co-founder Marine Galy said. "The community has been very supportive and has inspired us to push the envelope, and we cannot wait for them to start the journey and to create amazing memories with us."
[See also: The Most Exciting Foodie Cities to Visit in the US]
The arrival of AVA marks an exciting chapter in Central Florida's culinary scene, with a new destination focused on great food, great drinks and great company making a very welcome addition to Winter Park.
Chef
AVA also marks the first Riviera Dining Group opening since it welcomed chef Michael Michaelidis into its fold as head of culinary, bringing with him a wealth of experience from 12 years with the celebrated Robuchon Group, during which he helped earn its restaurants an additional seven Michelin stars.
To execute Riviera Dining Group's culinary vision at the all-new AVA, Michaelidis has enlisted the help of Boston-born Keith Bombaugh who will be overseeing the kitchen as executive chef. Bombaugh also brings with him an impressive resume of fine dining expertise with a stint as sous chef at Grant Achatz's incomparable Alinea in Chicago, where freedom of flavors and unrestrained experimentation runs supreme, as well as a successful role as executive chef at Washington DC's elegant Mirabelle.
The two esteemed chefs have worked closely together to craft a menu that not only artfully captures the cuisine of the Mediterranean but also elevates it to the elegant fine dining standards that diners have come to expect of the Riviera Dining Group.
[See also: The Chefs Fighting to Make Fine Dining Sustainable]
Menu
Celebrating the healthy, balanced cuisine that is so prominent in the Mediterranean, AVA's menu will be centered around fresh, high-quality ingredients prepared with love and consideration.
Jovial meals with family and friends are an integral part of the Mediterranean way of life, which is so clearly replicated in AVA's approach to dining. Dishes are served in the middle of the table, with everyone encouraged to dig in and share joy in the meal they are eating; dining here is about slowing down and enjoying the company, as well as the food.
The menu kicks off with oretika (appetizers) and meze (small plates), with highlights including the Grilled octopus with Kalamata olives, charred lemon and bean salad, and Spanakopita filo pie with feta cheese and spinach, as well as the Grilled halloumi cheese with organic blossom honey.
Next, AVA's menu flexes a little bit of culinary freedom in the 'Raw' section of its menu, which features delights such as Maine lobster ceviche with blood orange and citrus caviar, Oysters with AVA mignonette and, the pièce de resistance: an indulgent Seafood Tower complete with lobster, oysters, shrimp, tuna, scallops and crab.
[See also: A Guide to All Three-Michelin-Star Restaurants in the USA]
Entrées are separated into Sea, Earth and Vegetables, with a host of classic Mediterranean dishes and a few mouth-watering fusions. Spetsiota-style sea salt-baked market fish is a highlight from Sea, while the 18oz Rib Eye marinated in Castelvetrano garlic oil is a winner for Earth. Complete the meal with a side order of moreish Sauteed broccolini and Crispy marble potatoes and you're on to a winner.
Dessert is worth saving room for too, with delectable treats like Chocolate fondant with almond crumble and mastika liquor gelato and Whipped Greek yogurt with poached figs, wine sauce, hazelnut crumble and orange blossom honey being must-orders.
And, while the menu at AVA will take inspiration from Europe, the restaurant is placing priority on locally sourced ingredients in order to limit its environmental impact. For example, the impossibly juicy tomatoes that make up such a large proportion of Mediterranean cuisine are sourced at Waterkist Farm – a local independent hydroponic farm that specializes in the finest heirloom tomatoes.
As well as food, AVA's menu will have a strong emphasis on drinks, with an innovative mixology program seeing classic cocktails reinterpreted through a modern lens. The Osnossis Old Fashioned, for example, teams the classic bourbon with fig, brown butter, mushroom, chamomile and apricot, while the intriguing Greek Salad Gibson includes olive oil-washed haku vodka, martini ambrato, Greek salad shrub and a feta crisp.
Interior
The menu isn't the only part of AVA that celebrates the beauty of the Med, with the interiors carefully imagined to recreate the signature aesthetics of the Cycladic islands. Muted tones of cream and gray are highlighted by natural textures like wood and stone, creating a distinctly Grecian vibe, while a back-lit open bar and floor-to-ceiling windows fill the space with warm light.
"AVA MediterrAegean's design highlights natural beauty like the rocky shores of the Mediterranean, though with elegantly unpolished edges. We used traditional limestone plaster throughout the space, gray tone stone and other natural elements," Olya Volkova, designer of AVA MediterrAegean said. "It was important that we embraced various aspects of the existing architecture while completely transforming the space. Fortunately, there were beautiful columns and arches, reminiscent of the beauty of Mediterranean architecture that complimented our design perfectly."
Finishing the stylish spaces is an abundance of lush green plants and an ever-changing rotation of works by local artists. For its first month, AVA will be home to MUSE, a 7-foot stoneware goddess by sculptor Barbara Sorensen.
[See also: The Most Iconic Restaurants of the Elite Traveler Era]