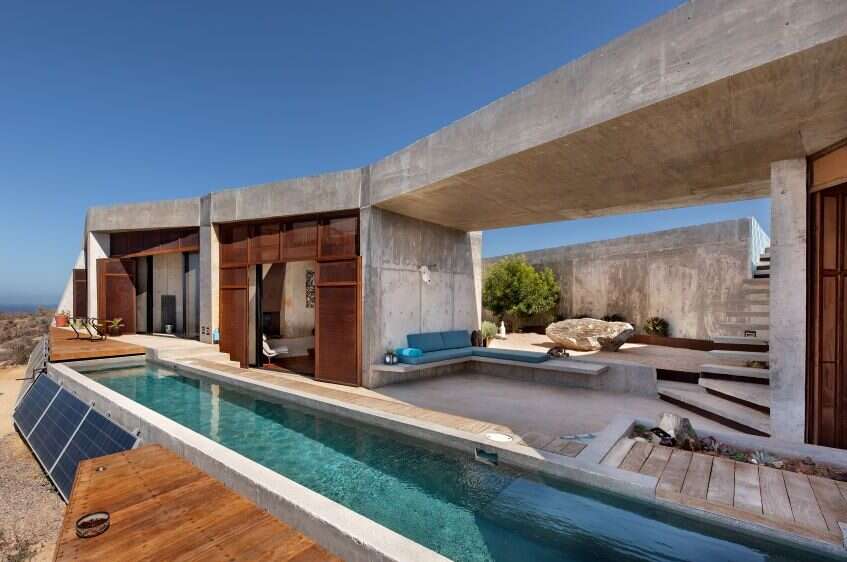 Immersed in the desert, Morada Escondida has been considerately built to provide a nature-oriented, low-impact lifestyle while offering dramatic ocean and mountain views. Echoing the surroundings, the modern and minimal structure is made of monolithic cast-in-place concrete, and the striking geometry has resulted in ceilings of up to 15 ft.
The home is solar powered with a planted roof encouraging the reintroduction of native species and, due to the design and orientation of the home, it requires no mechanical heating or cooling.
[See also: Amazing Eco-Friendly Homes Around the World]
The subterranean property is entered from the roof garden, where visitors descend floating steps into a zen courtyard. A generous main bedroom flanks one end of this expanse, where floor-to-ceiling glass doors open onto a private deck overlooking the ocean and desert scape.
Elsewhere, a gallery-style dining hall runs parallel to the kitchen, and there is a sunken living room with a double-sided fireplace. At the opposite end of the house is an artist's studio, perfect for use as an office or to be transformed into a second suite. To the east of the main house sits the guest casita, where earthy tones mimic the desert topography, and floor-to-ceiling glass doors showcase the mountain range.
$1.5m. Contact Alejandro Mitre, real estate agent, alejandro@theagencyloscabos.com, +52 558 580 6476, theagencyloscabos.com