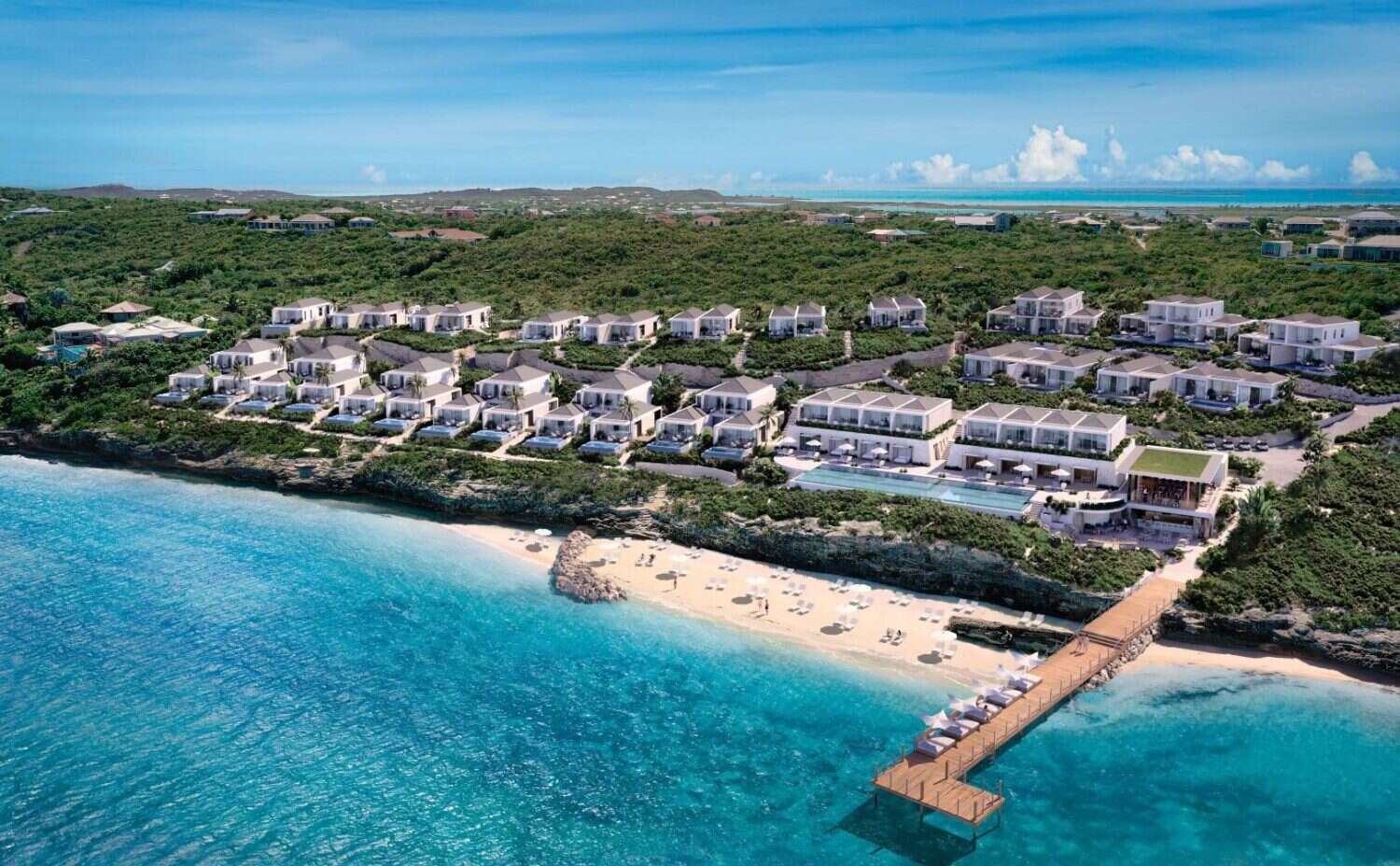 Enviously positioned on the north coast of Providenciales on a 14-acre oceanfront site, Rock House is the latest in Grace Bay Resorts' collection. A unique resort and residential community totaling just 42 villas and cottages, it offers some of the most spectacular views in Turks and Caicos while simultaneously ensuring a sense of privacy.
With The World Property Journal reporting 2021 as a record-breaking year for vacation home sales in Turks and Caicos, Rock House has been an eagerly anticipated addition to the island. Serviced by Grace Bay Resorts, the idea was to provide a 'vacation lifestyle' where residents can enjoy the same sense of calm found on holiday while the onsite team manages all day-to-day tasks and upkeep; cleaning, cooking, and planning are just some of the ways in which the team take care of guests.
Slated for completion in 2023, Rock House's Reserve Villas are an exciting new offering in Turks and Caicos, with just 10 villas that sit at the highest elevation of the property, ensuring endless views of the ocean and surrounding archipelago. Ranging from two to four bedrooms, they are perfectly positioned within minutes from the resort and Beach Club amenities.
Each villa boasts an open-plan layout where the inside seamlessly flows outside – helped by sliding glass doors and windows – ensuring ample space both to entertain guests as well as spend a quiet moment enjoying the famous Caribbean climate.
On-island architects Coast Architects and AD100 interior designer Shawn Henderson have worked to incorporate the surrounding natural landscape, guaranteeing that only the finest finishes, fixtures, and appliances are used. One stand-out example is the wrap-around stone feature walls that are handcrafted from the limestone cliffs that the resort is built upon.
[See also: A Luxury Weekend Guide to Turks & Caicos]
With expansive outdoor space – balconies, private pools, terraces, and courtyard gardens to name but a few offerings – the villas make the best of their extraordinary setting with views over the rugged coastline. A blend of Mediterranean sophistication and Turks & Caicos history, the residences feel more like an exclusive miniature hotel than a home, which is what makes this new offering so unique.
As well as a beautiful villa, future homeowners gain access to all that Rock House has to offer, including a scenic hilltop restaurant, bar, spa and fitness center, all of which offer breathtaking views of the Atlantic Ocean and Providenciales. There is also an oversized pool with a glass infinity edge that is perched on the top of a 25-ft limestone cliff, overlooking the beach while offering panoramic views.
[See also: Property in Turks and Caicos Doesn't Get Better than This]
The star of the show, however, is the secluded beach – a rarity on the island. With most coastlines densely populated by tourists and locals alike, Rock House's private beach offers privacy and serenity, while the beach concierge is on hand to arrange excursions or transport you anywhere on the island.
When envisioning this resort, sustainability was at the top of the list for developers. To ensure their environmental impact is as low as possible, several initiatives have been implemented: repurposing the limestone excavated during construction, harvesting rainwater, and protecting native flora by replanting more than 4,000 indigenous plants and trees in an onsite nursery. An impressive feat.
The Reserve Villas are available from $2.125m, rockhouseresort.com
[See also: The Solaire: An Urban Waterfront Oasis in Manhattan]