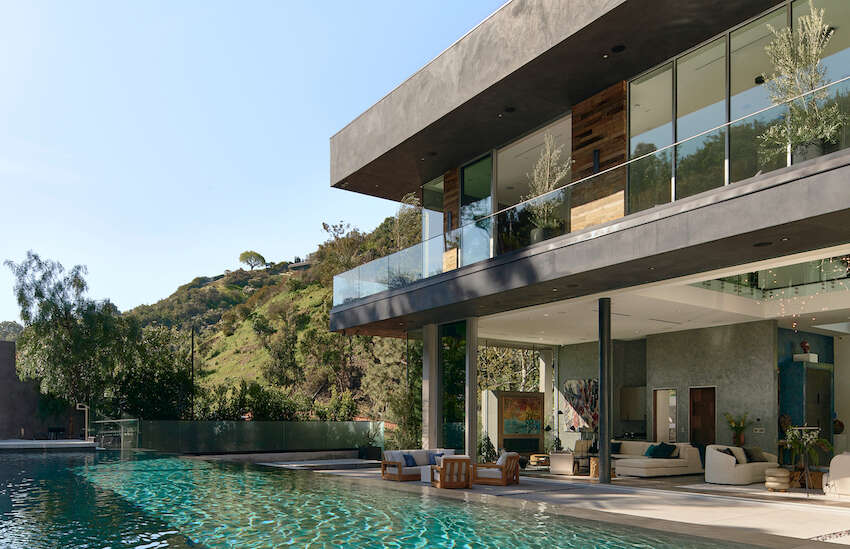 Sprawling over 18,500 sq ft of uber-exclusive Bel Air land, mega-mansion El Canto del Agua is an absolute triumph of pioneering architecture and amenity-studded design. Designed to complement its natural Californian surroundings – and yet far from hiding within it – this is an unmissable piece of real estate in one of the most sought-after spots across the US.
With 10 bedrooms and 11 bathrooms (and, naturally, copious other features and amenities) the property is so large it feels somewhat akin to a small hotel, a standard of luxury only heightened by the wizardry of the design.
With both the interior nodding to subtle 1960s and 1970s influences that have come to define our collective memory of the period in Southern California – think curved sofas and round stools, mahogany dining furniture and bright abstract art – the exterior is totally modern and utterly fresh without once feeling inappropriate for a home space.
[See also: Elite Traveler Reveals Top Adventures in the World 2023]
Floor-to-ceiling glass windows usher in the brilliant Californian sunlight into the property, while also framing the rooms with vistas of the surrounding tree-laden hills. Geometric shapes characterize the architecture, in which vivid greenery envelopes the glass panels that outline the property's façade.
Inside, one is greeted by a double-height foyer and a grand living space, with a stone-slab fireplace offering a delightful juxtaposition to the blue skies and lush scenery outside. 
The kitchen is just as spacious as the living spaces with two oversized islands. A large bar constructed of purple heartwood defines one of the living spaces; close by, the home cinema can accommodate up to twenty guests.
[See also: The Most Luxurious California Staycation Destinations]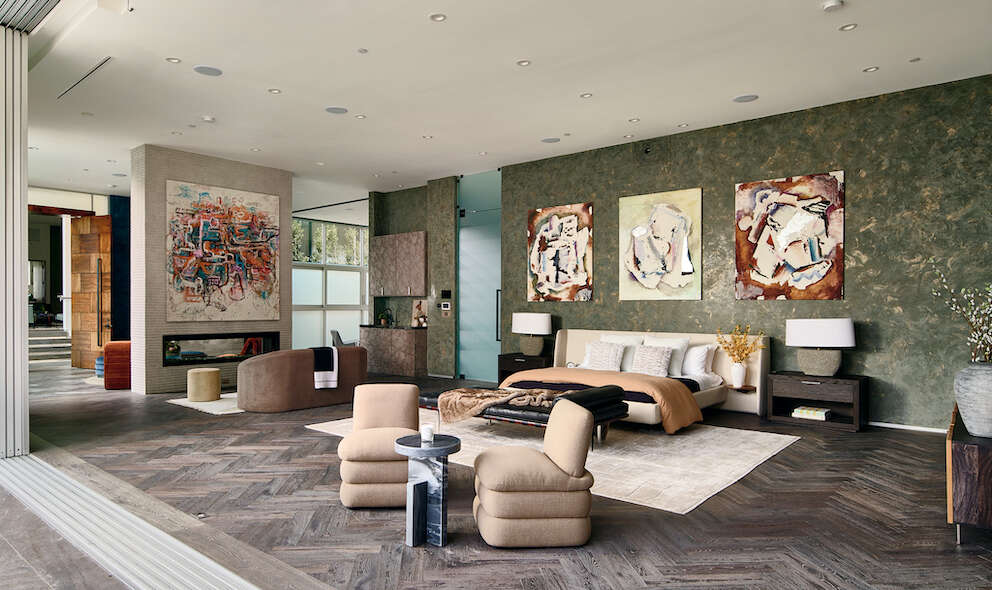 The grand suite upstairs comes in at 2,700 sq ft, and includes a spa-like bathroom. Other amenities featured throughout the property include a fitness and wellness gym that features a colossal Roman-style bath, wraparound balconies and a rooftop sundeck.
Our favorite feature, however, must go to the pool. Right in the heart of the winged property, the colors and straight lines feel akin to a David Hockney painting. Waterfalls and stepping stones, usually a kitsch detail, appear authentic in inclusion and only add to the sanctuary ambiance of the Bel Air mansion.
"This house is designed for all lifestyles and occasions," commented El Canto del Agua developer Adrien Rudomin.
[See also: Remaining Rosewood Residences Mayakoba Cannot Be Missed]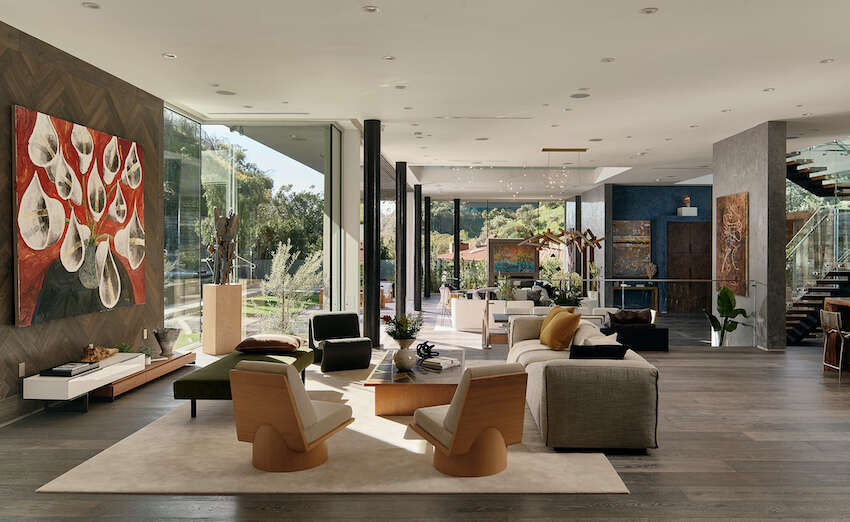 "The spaces are carefully designed to provide perfect harmony and enjoyment for all types of gatherings, the quiet and the loud: from a joyful family dinner, or a group of friends barbequing in the stunning outdoor garden… [to a] stunning celebrational party of 500 or more people." 
$35,680,000. theagencyre.com