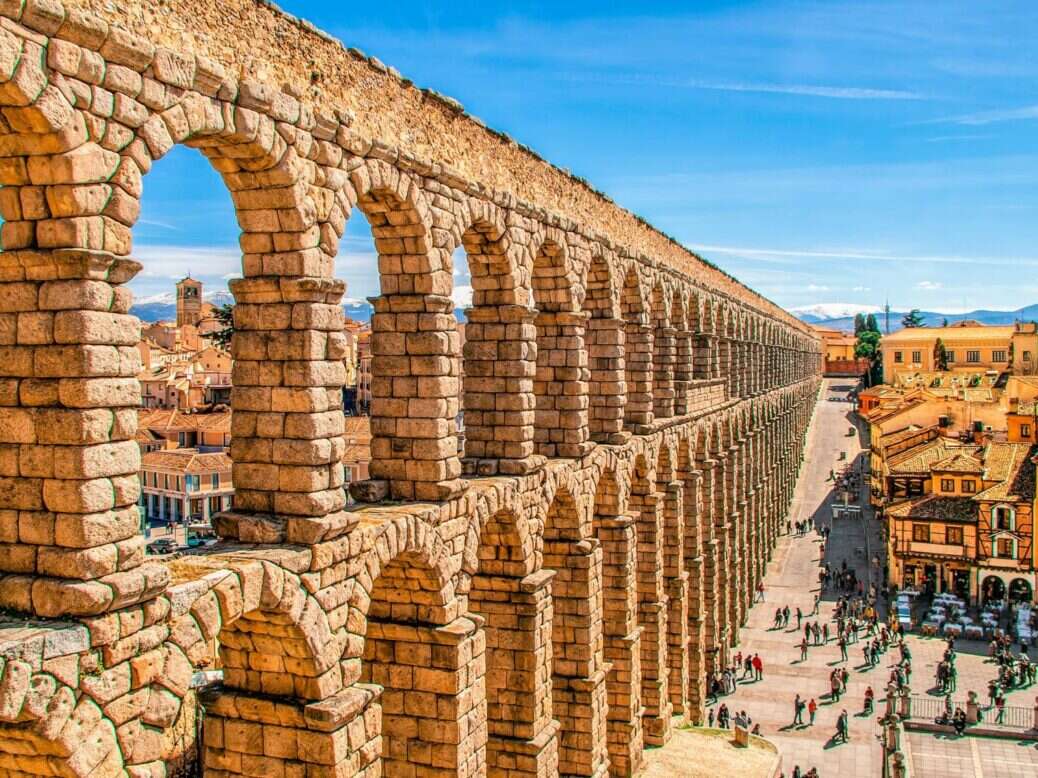 Following a dramatic victory in the Second Punic War, the Republic of Rome gained one of its first footholds outside the borders of modern-day Italy. This territory stretched from the east coast of today's Spain right across the south coast and marked the beginning of over 600 years of Roman influence on the Iberian Peninsula. Today incredible Roman architecture can still be seen at various sites across Spain.
The country we now know as Spain would not be formed for over 800 years after the Roman departure, following the marriage of Isabella I of Castile and Ferdinand II of Aragon in 1469.
Although dating back to antiquity, evidence of Rome's presence in Spain is still clear to this day, with forts, temples and amphitheaters marking the landscape. These sites act as a window to the past, capable of transporting visitors back thousands of years and are partly why many are so enthralled by ancient tales of Rome to this day.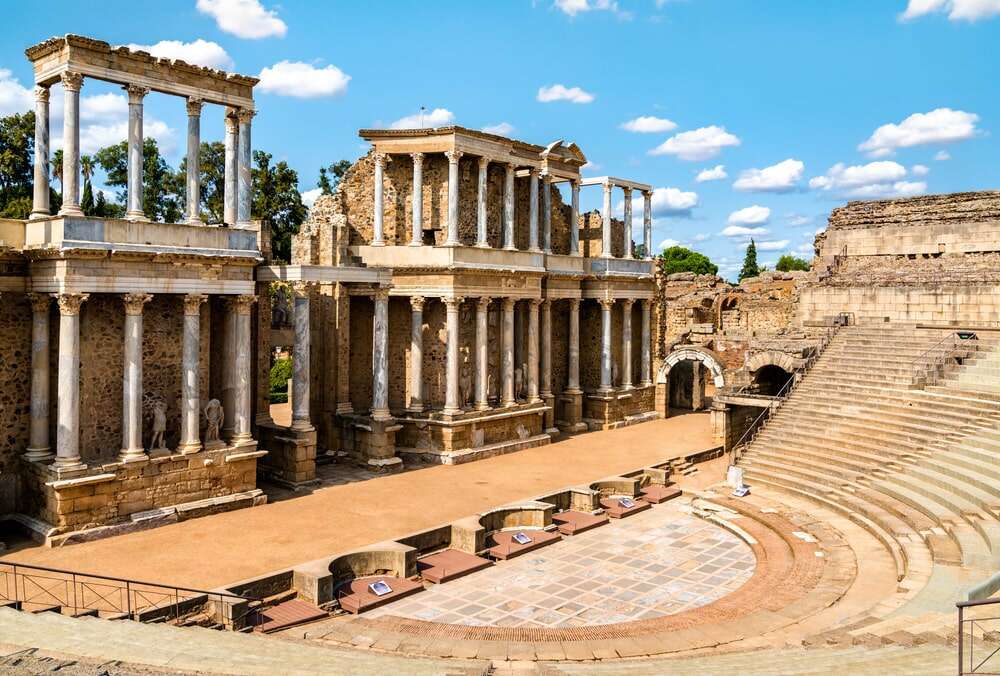 Today, the Roman settlements found across Spain are in varying forms of disrepair. Two thousand years can't be kind and it's simply miraculous that there is a shred of evidence from this period at all. Yet, what remains can be described as far greater than a shred of evidence: The Aqueduct of Segovia for example, with its 167 arches, would be an impressive feat of engineering by modern standards. But modern it is not: it was built around the first century AD and remained in active use by the city of Segovia until 1973.
While historically dubious, in Ridley Scott's historic epic Gladiator, Russell Crowe plays a fictional Roman from Spain who is sometimes referred to as "The Spaniard". This period of Roman conquest clearly still influences the voracious writing rooms of Hollywood.
Rome's reach was vast, and few destinations depict it as well as Spain. Those looking to add a drop of history to their next sortie should seriously consider Spain, be it a quick day trip or an entire vacation in homage to the great Mediterranean empire. And so, take forth the words of the great Roman poet Horace "Don't think, just do!" Flock to Spain and engorge yourself on its Roman resplendence.
[See also: Follow in Pablo Picasso's Footsteps on This Art Trail of Spain]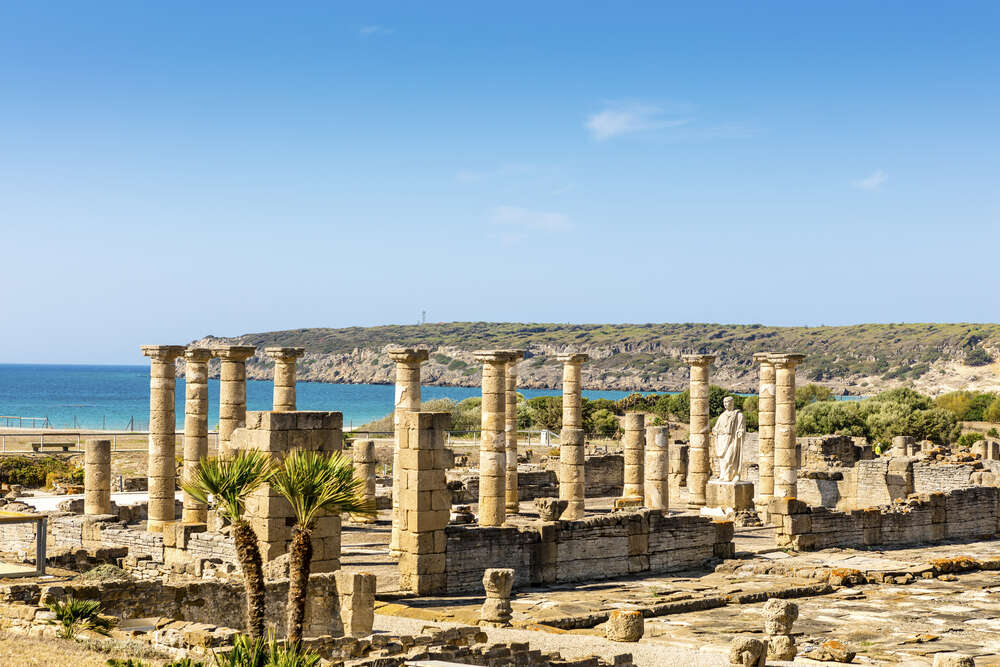 Baelo Claudia
In the very south of Spain, touching the shores of the straights of Gibraltar you will find Baelo Claudia, one of the finest examples of a Roman settlement in Spain.
Once a hub of trade, perfectly placed at the gateway of the Mediterranean, today Baelo Claudia is an ancient ruin set not far from the Spanish town of Tarifa. Part tourist attraction, part archeological site, this spot provides exactly what you would expect from a Roman ruin. Think columns, aqueducts and a theater that has been partially restored.
Part of the majesty of Baelo Claudia is not just the wonderful Roman remains, but also the beauty of their surroundings. The stunning Spanish coastline provides a dramatic backdrop for the inevitable bounty of photographs you take while visiting.
Believed to date back to the 2nd century BC, Baelo Claudia grew substantially under the reign of both emperors Augustus and Claudius. At its peak, the settlement acted as a hub for mercantilism however it began to decline due to regular earthquakes and constant raids from pirates.
A morning at Baelo Claudia would be a great way to spend some time in Andalucía, before heading to the beach that stretches past the site, Playa de Bolonia, for some much-earned rest.
[See also: The Most Iconic Film Locations in Spain]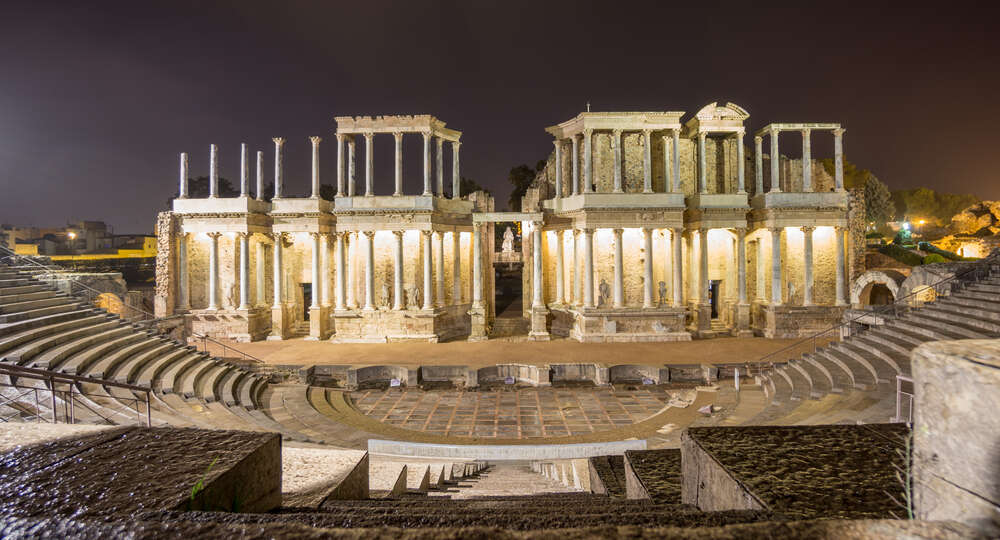 Merida Roman Theater
Easily one of the most impressive Roman sites you can find in Spain is the Merida Roman Theater, which will inspire awe in anyone who witnesses it.
The Spanish city of Merida was founded by the Romans in 25 BC under the orders of Emperor Augustus, known to the Romans as Emerita Augusta. Today there are several Roman sites that can be visited right across the city of Merida. The theater remains the most popular, and it's easy to see why.
Partially reconstructed and exceptionally well preserved, visiting this theater it's easy to hark back to how the world once was. The general concept of an amphitheater has barely changed since Roman times and it's possibly why visitors may feel a strong connection to this site. Aside from living 2,000 years ago, Romans were not too dissimilar from people today and clearly enjoyed similar pastimes, minus watching fights to the death, of course.
Visit during the months of July and August: Not only will the weather be wonderful, but this is also the time of the Festival de Merida, the oldest classical theater festival in Spain. Here you can witness some of the performances the Romans likely enjoyed in the theater millennia ago. If that doesn't get your history bones itching, nothing will.
[See also: The Most Scenic Drives in Spain]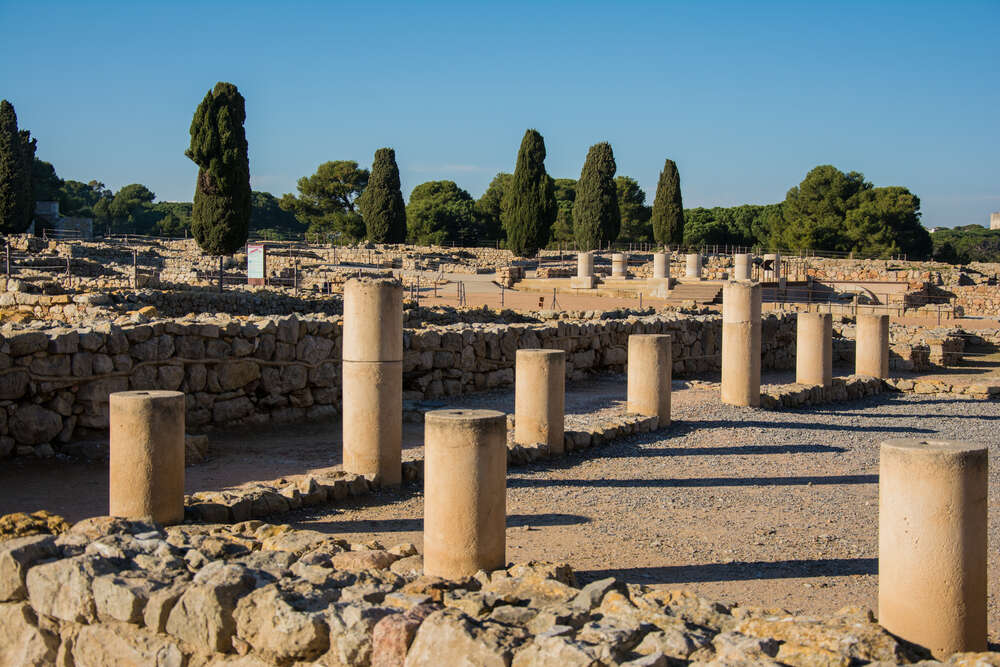 Empuries
One of the oldest Roman sites that can be found in Spain is that of Empuries, a Greco-Roman city in modern-day Catalonia, northeast of Girona. While the site's usage is thought to date back to the iron age, what remains at the site today is a mixture of a Greek trading port and a Roman military camp.
Rome took control of the site in 218 BC in an attempt to block the Carthaginian troops during the Second Punic War. Slowly over the next few years, they became more established, until by 195 BC a full military camp had been constructed.
Empuries remained an important Roman site until it gradually dwindled due to the success of nearby competing Roman cities, namely Barcino which would become Barcelona.
The site sits between the beautiful villages of Sant Marti d'Empuries and L'Escala on the Costa Brava. It's an exceptional place to stop for those looking to soak up a bit of ancient Greece, which pairs wonderfully with a Roman adventure. Don't forget to stop by the on-site museum which contains many of the smaller artifacts that have been recovered from the dig site.
[See also: Elite Traveler Reveals Top 100 Suites in the World]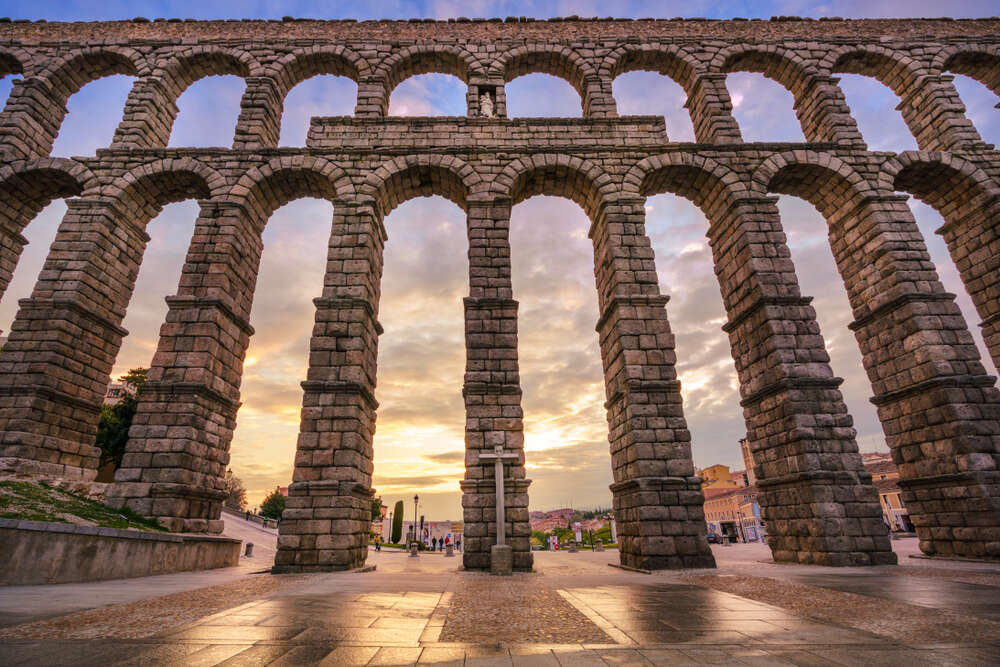 Segovia Aqueduct
The previously mentioned Segovia Aqueduct needs no introduction. Such an impressive monument is the aqueduct that its likeness can be found emblazoned across the Spanish city of Segovia's coat of arms, the very symbol of the city itself.
Constructed during the turn of the 1st century, this lengthy 2600 ft aqueduct comes with two rows of granite arches and boasts a maximum height of almost 100 ft. It's an impressive sight, to say the least. This Unesco-listed bastion of Roman engineering also comes brewing with its own local tale of mystery. Referred to as Puente de Diable (the devil's bridge), there is a story that suggests the devil was involved in its construction in order to impress a woman.
Found just 30 miles north of Madrid, Segovia and its aqueduct make a perfect day trip for those visiting the Spanish capital. Those stopping by need not be blinkered to only Roman sites: Segovia also lies home to the Alcazar of Segovia, a beautiful fairytale-esque royal place and Segovia Cathedral, the last Gothic cathedral constructed in Spain and widely considered a masterpiece.
So much like the history of Romans in Spain, this Iberic Roman escapade has come to its natural conclusion. These four sites represent some of the most impressive that can be found across Spain but like almost everywhere Romans arrived, their remnants continue to be discovered to this day.