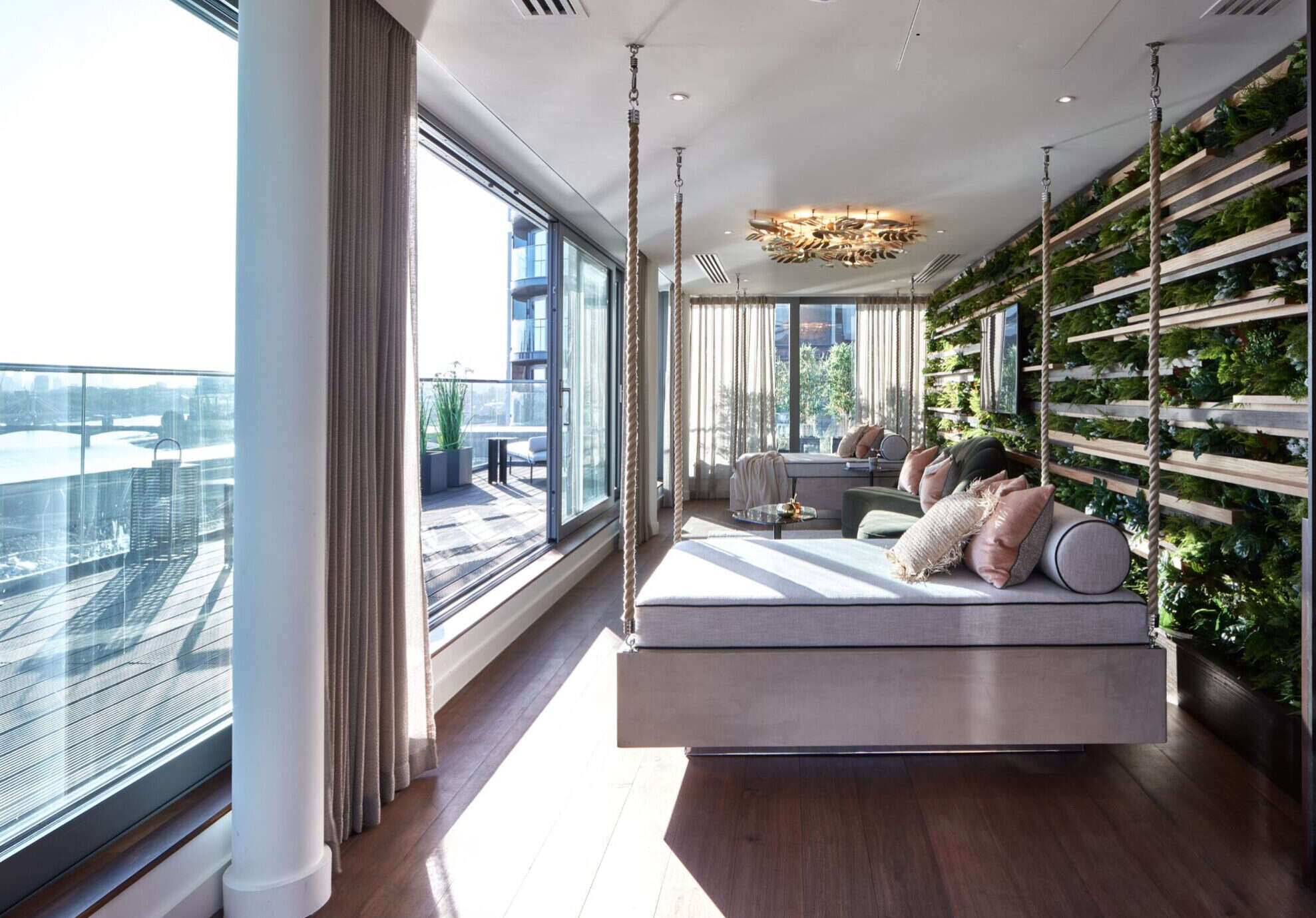 Situated in Chelsea, one of London's most coveted neighborhoods, this beautiful duplex penthouse apartment offers far-reaching views of the city and the River Thames without compromising on space. The penthouse is located within the new development Chelsea Waterfront, which has been master-planned by famed architect Sir Terry Farrell and is the first development of this scale in Chelsea for over 100 years.
The four-bedroom apartment features 3,670 sq ft of interior space and a private roof lounge, with exterior space reaching 1,300 sq ft. Floor-to-ceiling windows can be found throughout the apartment to make the most of the extraordinary views, and the stylish interiors feature an open plan living and dining space, a contemporary kitchen, underfloor heating and exquisite marble bathrooms.
The interiors of the Chelsea Waterfront penthouse have been designed by London-based studio Morpheus & Co. The studio was tasked with creating an interior that was inspired by the site's industrial heritage and close proximity to the Thames, as well as the growing influence of biophilic living. In fact, "bringing the outside in" was a big part of the design for the penthouse, with Morpheus & Co. choosing a range of handmade and natural materials for the interiors and furnishings.
[See also: The Fine Dining Restaurants Delivering in London]
One of the highlights of the Chelsea Waterfront penthouse is the enchanting garden room, which features soft, curved furniture, an exotic leaf-inspired chandelier and a living green wall. The garden room has been designed as a multifunctional space that can be used for a range of activities including exercise, relaxing or entertaining guests. There is direct access from the garden room onto the terrace, with doors opening up to extend the space in the warmer months.
However, Morpheus & Co. wanted the garden room to be useable all year round; the space can be closed off to the elements and features a fire pit table which doubles up as a coffee table. Fuelled by clean-burning e-NRG bioethanol, the fire pit can provide over eight hours of warmth and create a relaxing ambiance for long winter evenings.
The Chelsea Waterfront development is set within almost nine acres of gardens, which have been designed by the award-winning landscape architect Randle Siddeley Associates. Residents of the development also have access to a 24-hour concierge, a health and fitness club complete with a swimming pool and gym, and underground parking.
From $12,793,000. Visit towerwestlondon.com for full details.